Zooey Deschanel turns 33 today and to help celebrate one of entertainment's kookiest and cutest stars (Emma Stone also lives in this category) here are five reasons the 'New Girl' actress is great. Along with plenty of pics for you to get your Deschanel fix...
1. She sounds like an American version of the Caramel bunny
She's the ultimate arty chick that no man can get, as '500 Days Of Summer' proved. And part of that persona is built up by her warm, soothing and slightly husky voice. Kinda like an American version of this sultry bunny...
2. Instagram
With her wide blue eyes, and flirty, flouncy style Deschanel is the camera's best friend, and she knows it. Unlike some stars who use the photo-sharing app to post pictures of themselves in bikinis (*cough* Kim Kardashian), Deschanel shares things such as her wildly creative nail art, from tuxedos to typography to television sets. She's also regularly snaps her food and cute animals, which makes her seem just like the rest of us.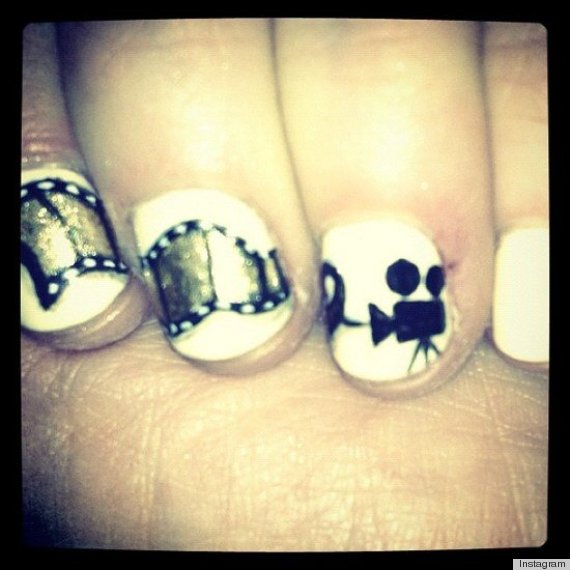 3. Her fringe
Is there anyone on the planet with a better fringe than Deschanel? It's shiny, swooshy and eye skimming and gives her that perfect dorky look that her fans have fallen in love with. Mention her name and 'fringe' comes to mind. Her hair is reportedly one of the most requested celebrity styles in America.
4. Elf
Although her luscious brown locks were swapped for a blonde bob in 'Elf', her role in one of the best Christmas films ever was captivating. Here's a clip of her singing in the shower, which leads us to reason of adoration number five...
5. She can sing
Not only is she a Golden Globe and Emmy Awards nominated actress, she's also got her own band.
As part of indie duo She & Him, Deschanel plays keyboards, percussion, banjo and ukulele. She met her singing partner M. Ward on the set of the film 'The Go-Getter' and they've now got two albums under their belt.
Style Evolution: Zooey Deschanel
2001 A not-so-stylish Zooey at the Jaguar Tribute Gala, chose to team her asymmetric blue dress with fishnet stockings and a red chunky hairpiece.

2001 We were a bit unsure on this dress. Shoulders up Zooey is the perfect Cinderella, but below it looks as if she didn't change out of her day clothes before she went to the ball.

2003 Zooey Deschanel sported this disaster outfit at the 20th Anniversary Gala Cast reunion for The Right Stuff.

2004 Zooey Deschanel arrived in an assortment of blues at the IFP Independent Spirit Awards.

2005 Zooey Deschanel arriving at the Vanity Fair Oscars Party in a geometric gown.

2008 Zooey Deschanel visiting The Late Show with David Letterman wearing a Zac Posen Spring 2008 red dress.

2008 Actress Zooey Deschanel attends Yes Man photocall in Rome.

2009 Zooey sparkled in Elie Saab at the Vanity Fair Oscar party.

2011 Deschanel stepped out in a more flamboyant, monochrome frock for the premiere of Our Idiot Brother.

2011 Zooey looked lovely in a vintage gold dress at GQ's Men of the year party.

2011 Zooey wore a white ruffled hem dress to the X Factor final in LA.

2012 Zooey looked cute in black and white at FOX 2012 Winter TCA All star party.