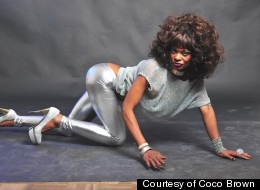 Adult actress Coco Brown is set to be the first porn star in space.
The 32-year-old has paid $100,000 (around £60,000) to be part of a private Dutch mission set to blast off from Earth in spring next year.
Brown, who has starred in a string of classics, including Big Booty Bomb 2, Pizza Africana and Black Panty Chronicles, is already in training ahead of her ride on the SXC rocket (and tweeting about her experiences too).
@ItsCoCoBrown

CoCo Brown
338,000 feet N2 space, um gettin a bit scared. Next mission N March Altitude Chamber, L39 jet, G centrifuge ,Desdemona simulator .. F$%K...
Of her upcoming mission, Brown told the Huffington Post: "I was at a luncheon in Berlin and I was specially invited and they were talking about going into space. It's that simple."
She added: "I do have Zero G gravity training. That's where an aircraft takes you up 30,000 feet and then drops like it's going to have an air crash to about 15,000 feet.
By the way, Brown has no plans to have sex in space (that was achieved in 1999 by Silvia Saint and Nick Lang, who did a 20-second zero gravity sex scene for a film entitled The Uranus Experiment Part Two.)
When asked by Daily Loaf whether she'd be getting her kit off, Brown replied: "We have gear we have to wear but I'll see what I can do up there. Maybe I'll pop my boob out and take a picture of it with the Earth in the background."
Weird News Top 10 (Jan. 27- Feb. 3)
Sometime in March 2014, an adult actress hopes to make one small step for porn and one giant step for pornkind. Coco Brown, 34, who, using that name as well as "Honey Love," has starred in porn epics like "Big Booty Bomb 2," "Sugarwalls Slop Shots" and "It Don't Matter, Just Don't Bite 5" is now in the Netherlands training to become the first adult star and the second African America woman to take the journey into that final frontier. (Read More)

We at HuffPost Weird News wish Ron Jeremy a speedy recovery after the porn legend suffered a heart aneurism Jan. 30. The 59-year-old "Orgasmo" star is an American institution. As "Debbie Does Dallas" actress Robin Byrd put it: "Jeremy knew how to please and pleasure women . . . I was doing a contest with him, once, at a strip club and we were the judges and he asked me if I wanted to go downstairs and sneak into the basement and have him give me head." (Read More)

Slavish devotion to plastic surgery just isn't enough to kindle a romance. When "real-life Barbie" Valeria Lukyanova met "real-life Ken" Justin Jedlica, sparks didn't fly. Instead, Lukyanova had some harsh words for the man who compared her to a drag queen. Lukyanova is a 20-something Ukranian model who has gained fame for her Barbie-esque physique, highlighted by an impossibly small waist, large breasts and wide eyes. Jedlica, an America, has also attained a level of celebrity for spending around $100,000 on 90 surgeries to look like a Ken doll. (Read More)

Lisa habitually eats her kitty's hair -- off the floor, off the couch -- but her favorite way is licking it right off the cat. The 43-year-old Detroit, Mich., woman cannot go more than two hours without consuming her feline's fur and has digested more than 3,200 hairballs since her addiction began, according to a segment of TLC's "My Strange Addiction." (Read More)

This seal pup, named "Smartie" may have just saved his own life by finding the most adorable hiding place. (Read More)

With four legs, two wheels and a future on TV, Norman the bicycling sheepdog is ready for stardom.To his owner-coach, Karen Cobb, this was bound to happen. While other pups were being house-broken, Norman was roaming the streets of Atlanta by scooter. (Read More)

When cops encountered the 33-year-old Hernandez staggering down the street on Friday night, he serenaded them with a ditty. What made his performance memorable, however, was his lack of clothing. Cops say he wasn't wearing pants -- and he was masturbating. (Read More)

Two Bronx women were arrested after allegedly attempting to smuggle 6.5 kilos of cocaine in diapers through John F. Kennedy International Airport. (Read More)

World business leaders and prominent politicians gathered recently to discuss issues or risks that the world may have to confront in the next decade. Among the topics discussed: "The possible social consequences of contact with alien life." (Read More)

Olivia Smith is very lucky. The 19-month-old toddler from New Boston, N.H., is expected to make a full recovery after she fell off a reclining chair onto the end of a colored pencil that pierced her eye.