A Manchester City youth player has admitted causing the deaths of a brother and sister by careless driving.
Courtney Meppen-Walter, 18, was arrested in September after his Mercedes was involved in a crash with a Nissan Micra in Manchester.
The Nissan driver, Kulwant Singh, 32, from Salford, and his sister, front seat passenger Ravel Kaur, 37, from Cheetham Hill, died.
Ms Kaur's two sons, aged 16 and 17, were sitting in the back of the car and were injured in the crash on the evening of September 1 on Great Ducie Street.
Meppen-Walter, of Middleton Road, Blackley, admitted the charges at Manchester Magistrates' Court today.
He was told by magistrates his case was too serious for them to sentence him, and he will be sentenced by a judge at Manchester Crown Court on February 28.
Meppen-Walter left court with his lawyer following the 45-minute hearing without answering any questions.
Wearing a black felt jacket and black jeans, the footballer sat in the glass-fronted dock to hear the arguments about where he should be sentenced.
Mark Kellet, prosecuting, told the bench how the footballer was speeding in a 30mph zone when the accident happened.
He said police investigators found he was travelling at an average of 56mph in the period just before he ploughed into the Micra.
The court heard how the car was emerging from a side street and Meppen-Walter made an attempt to swerve around it.
The two people who died were in the front seats.
Mr Kellet conceded that Meppen-Walter stayed at the scene of the crash and described how witnesses said he was distressed and showed remorse.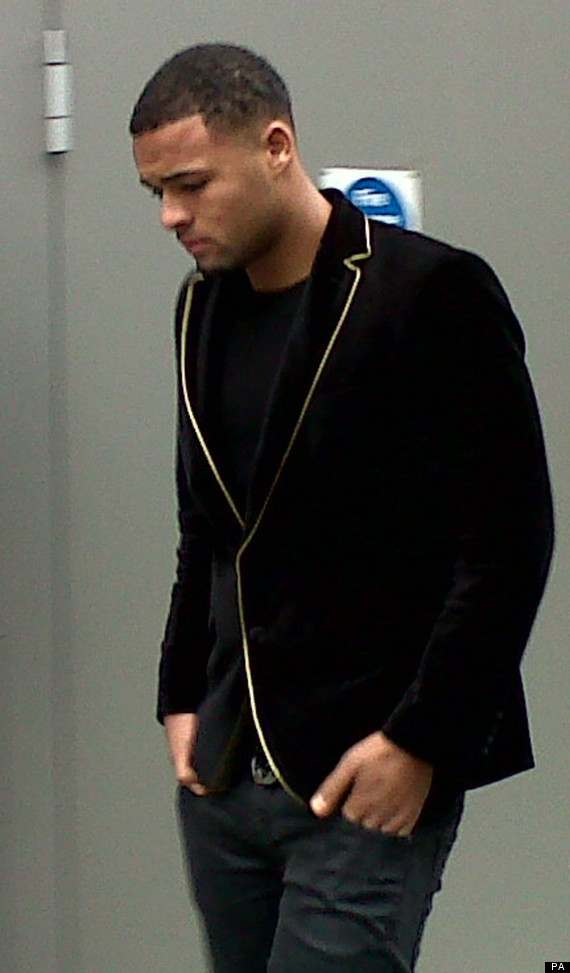 Meppen-Walter arrives at Manchester magistrates' court
The collision happened at about 10.15pm at the junction between Great Ducie Street and Sherborne Street.
Gwyn Lewis, defending, said his client was an inexperienced driver and speeding was the main factor in the careless driving.
He said it was a lapse of "a few seconds" but "the consequences are enormous".
He said Meppen-Walter pleaded guilty at the first opportunity and "accepted his responsibility for this incident".
Mr Lewis asked for the defendant to be sentenced by the magistrates but they refused.
Chairman of the bench Peter O'Keefe said: "We do believe this is not suitable for the magistrates court. We consider your driving in this instance fell not far short of dangerous driving."
Mr O'Keefe said the fact that two people were injured as well as two people dying was an aggravating factor in the case.
Meppen-Walter was given an interim driving ban.
The court heard the player is also facing another speeding allegation.
He was stopped driving at 54mph in a 30mph area in Bury, Greater Manchester, last year. Magistrates were told he had indicated he intends to admit this offence.
Greater Manchester Police said it would not comment on the case until after sentencing. A spokesman said Ms Kaur's two teenage sons, who were injured in the crash, are now making a good recovery.
None of the families of the victims were in court.
The Bury-born defender has been at the Premier League club since 2003 and has represented England at under-17 level.
SUBSCRIBE AND FOLLOW
Get top stories and blog posts emailed to me each day. Newsletters may offer personalized content or advertisements.
Learn more