Ever since the story broke of Zayn Malik allegedly cheating on his Little Mix girlfriend Perrie Edwards with an Aussie waitress, he's been playing the aren't-I-THE-best-boyfriend-in-the-entire-universe card.
Not only has the One Direction star been glued to Perrie's side as she travels up and down the UK on the Little Mix tour (only managing to prise himself away when she goes on stage, although, let's face it, he is pretty enough to become the fifth Little Mixer), he's now taken her on a date to a safari park.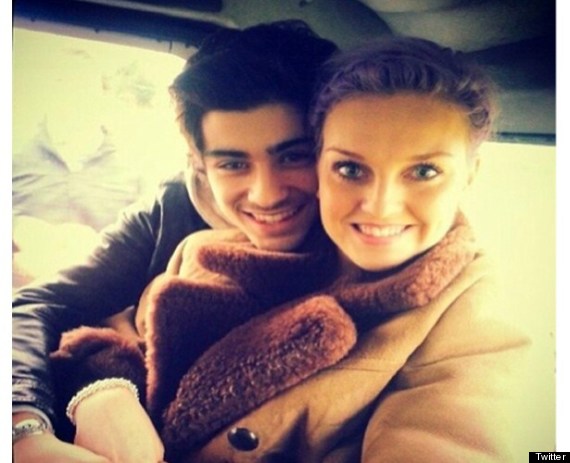 The pair put on a united, loved-up front as they took a tour around Knowsley Safari Park. We know this because they posted a snap of them doing just that on Twitter.
"Had an amazing day today at @knowsleysafari It was such a good day out ! @zaynmalik Perrie <3," Perrie tweeted about the date.
Zayn also tweeted a pic of some cute lions. Aaaawwww.
We wonder if they saw any cheetahs?
HUFFPOST UK CELEB ON FACEBOOK | FOLLOW US ON TWITTER
Ashley Cole became public enemy number one when it was uncovered that he'd been cheating on his wife, and the nation's sweetheart, Cheryl Cole in 2008 with a hairdresser. But even after a string of other women came forward to say Ash had bedded them too, Chezza still took him back. But their marriage came to an end in 2010 after a tabloid exposed him as having done the dirty again.

Hugh Grant stunned us all when he cheated on then girlfriend Liz Hurley with Los Angeles street prostitute Divine Brown in 1995. Unfortunately for him, he was busted by the police as well as by Liz.

MC Harvey left wife Alesha Dixon devastated when he cheated on her with 'Popstars: The Rivals' flop Javine Hylton. The couple went on to have a child together, but later split when Harvey was unfaithful again. Well, a leopard never changes its spots...

Take That star Mark Owen has confessed to having affairs with 10 women since he began seeing his wife Emma - almost putting him on par with Tiger Woods in the infidelity stakes.

Footballers these days seem virtually incapable of keeping their trousers zipped up and Wayne Rooney was no exception when he allegedly paid hooker Juicy Jenny £1200-a-night. They reportedly met up for up to seven romps, all while wife Coleen was pregnant with baby Kai.

Golfing legend Tiger hit the headlines in spectacular fashion in 2009 when a string of women came forward claiming to have had affairs with him.

Vernon Kay has confessed to sending sexy texts to a number of different women, leaving wife Tess Daly furious but still standing by him.

Jude Law was exposed as cheating on Sienna Miller when Daisy Wright sold her story to the press. He got dumped for his troubles, but still Sienna took him back a few years later.

Brad Pitt has always denied cheating on Jennifer Aniston, but he was heavily rumoured to have been hooking up with Angelina Jolie while they filmed 'Mr and Mrs Smith' together.

It was the affair that rocked Hollywood - director Rupert Sanders did the dirty on his model wife Liberty Ross and broke up one of the most solid couples in celebville in the process when he had a secret liaison with Kristen Stewart.

Gareth Gates was alleged to have been conducting an affair with his young 'Les Miserables' co-star Katie Hall, while his wife Suzanne was at home looking after their young child.

Chelsea footballer John Terry lost the England captaincy after it emerged he'd cheated on his wife Toni with the partner of his former team-mate Wayne Bridge.

Zayn Malik broke many Directioners' (and girlfriend Perrie Edwards') hearts when an Aussie waitress claimed to have bedded the boybander after a party at his home, and even had a snap of a sleeping Zayn to prove it.

David Letterman confessed to a string of affairs with female colleagues after he became the victim of an alleged blackmail attempt in September 2009.