The Huffington Post pictures of the day brings you the very best images from around the world chosen by our own photo editors, Elliot Wagland, Matthew Tucker and Tahira Mirza.
We would love to hear your thoughts on the stories of the day - leave a comment at the bottom of the blog.
14/02/2013 16:34 GMT
Sister Of Oscar Pistorius Leaves The Mamelodi Hospital Oscar Is Being Examined Sister of Olympic athlete Oscar Pistorius, Aimee, left, leaves the Mamelodi Hospital, east of Pretoria, South Africa, with unidentified persons, Thursday, Feb. 14, 2013 where she visited her brother while he was being examined. Pistorius was taken into custody after a 30-year-old woman, Reeva Steenkamp, was shot dead at his home
14/02/2013 15:37 GMT
Miliband Urges 10p Tax Rate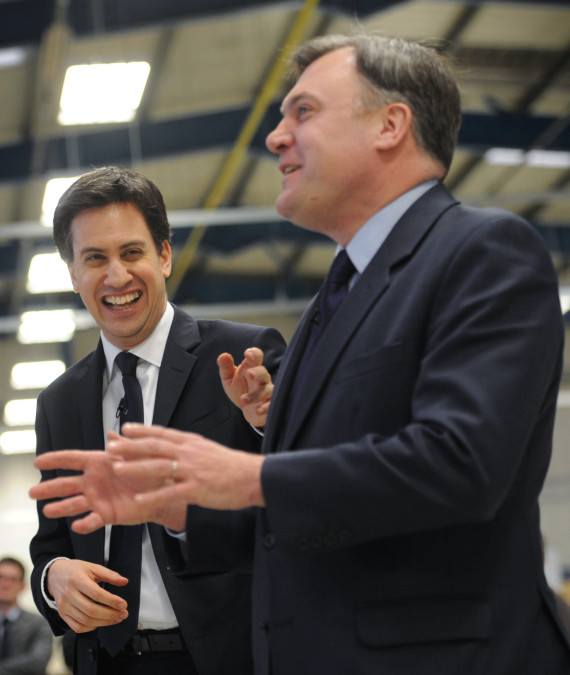 Labour leader Ed Miliband and shadow chancellor Ed Balls speak to apprentices at the Bedford Training Group in Bedfordshire which specialises in teaching engineering skills to young people. Earlier they listened to Mr Miliband make a speech on Labour's plans for rebuilding the economy if they were to regain power.
14/02/2013 14:59 GMT
This Is A Hoot Prince Charles tries some spicy olive oil during a tour of Borough Market by Prince of Wales and Duchess of Cornwall to officially reopen the centre after a redevelopment project.
14/02/2013 14:31 GMT
Campaigning Cameron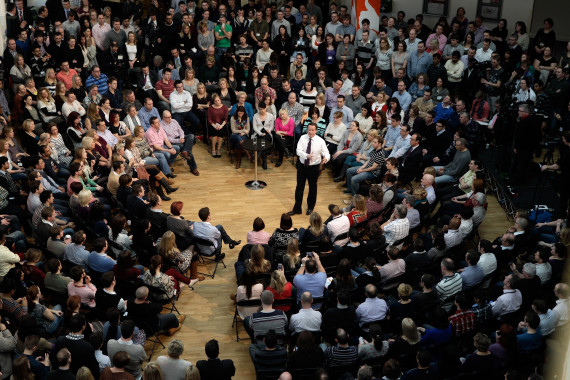 Prime Minister David Cameron talks to employees during a Cameron Direct session at B&Q House in Eastleigh, Hampshire as campaigning in the upcoming by-election continues.
14/02/2013 13:44 GMT
Couple Get Married In IKEA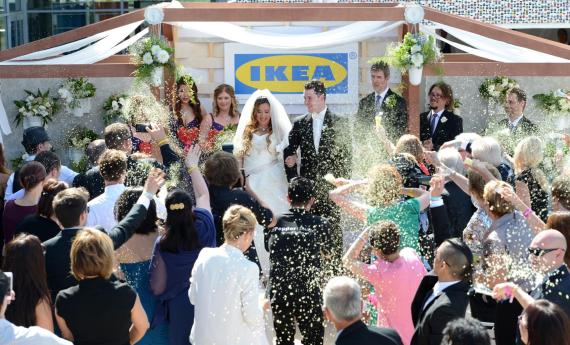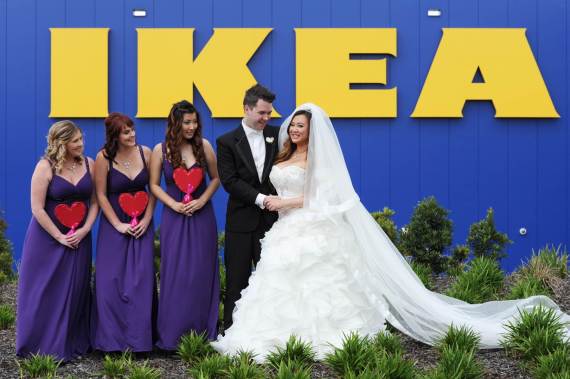 In an Australian first, the romantic flat-pack fans walked down the aisle at IKEA Tempe after winning the wedding of their dreams, which saw over 500 entries from homeware lovers across Australia. "We wanted to get married in IKEA for a very simple reason – we adore IKEA. It felt right to be able to show our commitment to one another by getting married somewhere we both love and to show the world that romance can be alive anywhere, even in the aisles of IKEA," said Lynne and Chad. "Our visits to IKEA over the years have actually brought the two of us closer!" Every element of the special day featured IKEA product handpicked by the happy couple, including crockery, lighting, dining furniture, decorations, glassware and meatballs! A bespoke rotunda adorned with IKEA picture frames and textiles was used as abackdrop to the unique nuptials, which took place in front of the store. The hour-long ceremony was attended by 80 of Chad and Lynne's closest family and friends along with 80 Facebook fans who secured an invite to the big day through IKEA's Facebook page.
14/02/2013 13:43 GMT
Getting Into The Valentines Day Spirit Helen Flanagan is seen out and about in Cheshire on Valentines day picking up dry cleaning and a big bunch of flowers
14/02/2013 13:14 GMT
Landslide Disrupts Rail Services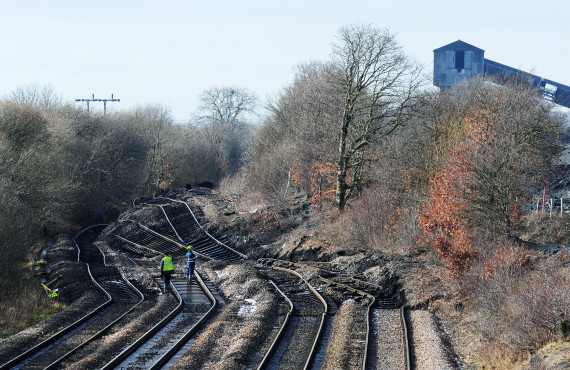 A general view showing the landslide on railway lines at Hatfield Colliery, Stainforth, South Yorkshire. The damage to the line in the Stainforth area is thought to have been caused by movement in a huge colliery spoil heap next to the railway. It has left some of the track almost at right angles to its normal position and around 20ft in the air.
14/02/2013 13:12 GMT
Clashes In Bahrain Bahraini anti-government protesters run away from tear gas fired by riot police during clashes in Daih, Bahrain, on Thursday, Feb. 14, 2013, the second anniversary of the start of a pro-democracy uprising in the Gulf island kingdom. Protests began at daybreak in opposition areas nationwide as protesters attempted to return to the well-barricaded main site of the uprising
14/02/2013 12:26 GMT
'Yoko Ono. Half-A-Wind Show' John Lennon's widow Yoko Ono poses at the Schirn Kunsthalle in Frankfurt, central Germany, Thursday, Feb. 13. 2013. Four days before her 80th birthday the artist opened her exhibition 'Yoko Ono. Half-A-Wind Show' with her own works. The exhibition is open until May 12. (AP
14/02/2013 12:18 GMT
Machine Gun Wedding Lindsae MacDuff holding an automatic weapon at the Gun store in Las Vegas after her "shotgun wedding." One Las Vegas shooting range is selling "take a shot at love" packages that include 50 submachine gun rounds. Another is offering wedding packages in which the bride and groom can pose with Uzis and ammunition belts. And a third invites lovebirds to renew their vows and shoot a paper cutout zombie in the face. Bob MacDuff shows MacDuff holding an automatic weapon at the Gun store in Las Vegas after his "shotgun wedding."
SUBSCRIBE TO & FOLLOW UK DAILY BRIEF