Letting everybody know she isn't afraid to tread new ground, Jessica Chastain has turned horror leading lady in 'Mama' (released this Friday.)
When two girls resurface five years after they disappeared, their uncle's girlfriend Annabel must play mother – until events make it clear the girls may not be alone.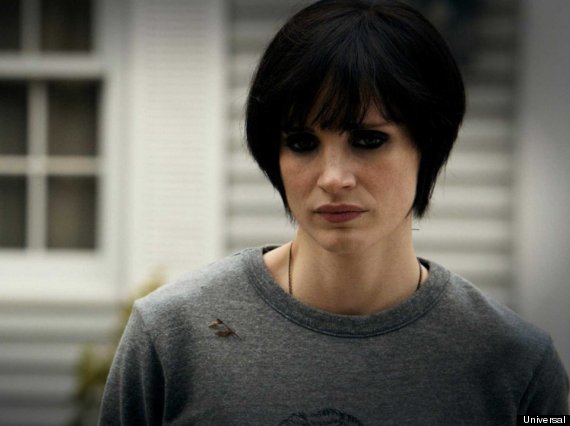 Jessica Chastain, almost unrecognisable in 'Mama'
In this suspense-driven, jumpy thrill ride, Chastain's performance helps elevate this above the standard of its genre.
So, it seems, once again, this fiery-haired, expressive actress has added another meaty role to her ever-growing portfolio, a collection which has made her a favourite with fans, and with her acting peers and directors, queuing up to work with the 25-year-old Californian.
But how did she do it so quickly? On the eve of this year's Oscars which find her one of the front runners for a Best Actress award, we track the actress through eight easy steps to stardom...

Loading Slideshow
The Debt (2010)

Chastain hit the big time following her appearance in this underrated remake from John Madden (Shakespeare In Love,) starring as Mossad agent Rachel Singer, tasked with capturing a Nazi war criminal in the 60s. Helen Mirren plays the same character years later, but Chastain remains in the memory, proving she is a screen presence to be reckoned with in a politically-charged thriller she seems to have something of a taste for.

The Help (2011)

Chastain's career bloomed ever more following her appearance in The Help, a role which landed her an Oscar nomination for Best Supporting Actress. She may have lost out to fellow star Octavia Spencer, but the sheer fact the two were nominated for the same film in which they share plenty of screen time highlights the success of her performance and how well she works with her industry peers. Her role as Celia Foote is a delight.

Take Shelter (2011)

Playing female support to Michael Shannon's show-stopping lead role in 2011's Take Shelter was a savvy career choice, a definite cog in the machine. Shannon required a dependable actress to complement his show-stopping performance. Jessica Chastain's performance as the wife of a man plagued with post-apocalyptic visions is convincingly nuanced.

Coriolanus (2011)

A smaller role, but no less effective, Chastain's role as the wife of Ralph Fienne's Roman General Coriolanus is one of the most memorable in a film full of bravado and standout sequences. Not a film that displays the extent of her acting ability as well as other roles have, but a performance that truly shows the actress flourishing as a welcome screen presence – and unafraid to dabble with the Shakespearean language!

The Tree of Life (2011)

Perhaps it's an over-statement to claim you've not proven your success until you've appeared in a Terrence Malick film, however the director – renowned for completely erasing certain actors' performances from his films – opted not only to leave Chastain's performance untouched, but cast her as female lead in The Tree of Life, alongside Brad Pitt.

Lawless (2012)

In John Hillcoat's Lawless, Jessica Chastain stars as 'the love interest' to Tom Hardy's bootlegging Bondurant brother in Prohibition-era America. Characters like her Maggie aren't usually memorable, but Chastain ensures her 'love interest' lingers in the mind once the credits roll.

Zero Dark Thirty (2013)

Here, the actress stars in Kathryn Bigelow's controversial film about the hunt for Osama Bin Laden, as CIA operative Maya, the woman behind the decade-long hunt. With no background or no apparent motive, Maya is an enigma presented to us by Chastain with vigour and conviction. Oscar-nominated for Best Actress, time will tell whether she will emerge victorious from Sunday night's ceremony.