Beyonce's back with a new song, and dividing her fans with her latest offering.
LISTEN ABOVE to her song 'Bow Down/I Been On' above, and let us know what you think.
Following her more traditional outings of late - Super Bowl, breaking into song at unscripted press conferences, etc - the star has stepped out of the studio with a meaner-sounding anthem: 'Bow Down / I Been On,' punctuated by some softer, more syrupy lyrics.
While many of the 'Beyhive' fanbase have greeted it rapturously, some fans have taken to Twitter to express either a) their distaste at "offensive lyrics" or b) that Beyonce hasn't gone far enough.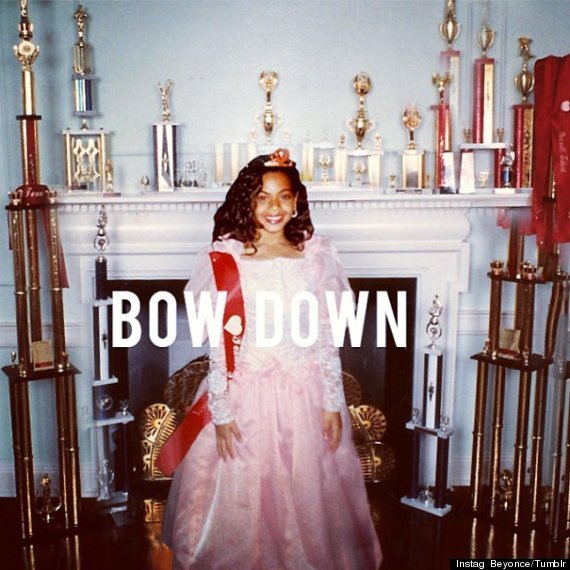 How Beyonce advertised the track on her iCloud account at the weekend
"I took some time to live my life, but don't think I'm just his little wife," Beyonce sings, just in case anyone were in doubt that she is more than Jay-Z's glamorous accessory. "Don't get it twisted, get it twisted, this my sh-t, bow down b-tches."
The track is produced by Hit-Boy, the man behind Jay-Z and Kanye's "N----s in Paris," and contains some of of Beyonce's trademark aspirational stuff for young fans in her thrall...
"I know when you were little girls, you dreamed of being in my world," Beyonce sings. "Don't forget it, don't forget it, respect that."
What do you think of Beyonce's latest song?
PICTURES: The changing times of Beyonce...
Loading Slideshow
1998

Kelly Rowland, Beyonce, LeToya Luckett and LaTavia Robertson at the Shine Auditorium in Los Angeles.

1998

Beyonce rocked a camouflage dress at a live performance at HMV.

2000

On stage at Party in the Park.

2000

Destiny's Child hit the Grammy Awards in all white.

2000

Destiny's Child wear matching yellow outfits.

2000

Beyonce performed at the VH1 Vogue Fashion Awards.

2001

Destiny's Child wear denim, crop tops and rhinestones.

2001

The singer opted for sheer and sparkly at the Grammy Awards.

2002

Doing her best Foxxy Cleopatra impression in a glittering gold dress.

2003

Looking lovely in a full length floral dress at the VH1 Divas Duets.

2003

She rocked the LBD for the Entertainment Industry Foundation Party.

2003

Perhaps not her finest fashion moment. Beyonce at the NBC Today Show Summer concert series.

2003

She dazzled the crowds at the 2003 MTV Video Music Awards.

2004

She dressed down in UGGs to announce the pre-game activities for the Super Bowl.

2004

Beyonce launching her Tommy Hilfiger fragrance.

2004

Reunited with Michelle Williams and Kelly Rowland at the 2004 Jingle Bell Ball.

2005

Beyonce got glammed up for the opening of Jay-Z's 40/40 Club in Atlantic City.

2006

Beyonce backstage at the MTV's Total Request Live.

2006

Who else could look this good in a nude mini dress? Another backstage pose after her appearance on MTV's TRL.

2006

Beyonce rocked canary yellow at a chaity event.

2007

Anothe glam look for the opening of Jay-Z's 40/40 Club, this time in Las Vegas.

2008

One of the singers finest red carpet moments. She stepped out in an Armani gown at the Metropolitan Museum of Art Costume Institute Gala.

2009

Beyonce topped the best dressed lists at the Golden Globe Awards in an Elie Daab gown teamed with a dazzling diamond necklace by Lorraine Schwartz.

2010

Beyonce looked white hot at the launch of the Lorraine Schwartz's 2BHAPPY jewellery collection.

2011

The singer announced her pregnancy at the 2011 MTV video Music Awards. She looked stunning in this asymmetrical Lanvin gown.

2011

Beyonce at the launch of her Pulse fragrance.

2011

Beyonce at the Pulse fragrance launch.

2011

Pregnant Beyonce wore a black maxi when hosting the screening of Live at Roseland.

2012

Beyonce attends the Costume Institute Benefit at The Metropolitan Museum of Art.