If you're off to see Pink on her current 'The Truth About Love' world tour then you'd better be on your best behaviour or you might have the no-nonsense singer to deal with.
The 33-year-old star stopped a concert mid-song in Philadelphia after she spotted a young fan crying in the audience because a fight had broken out around her.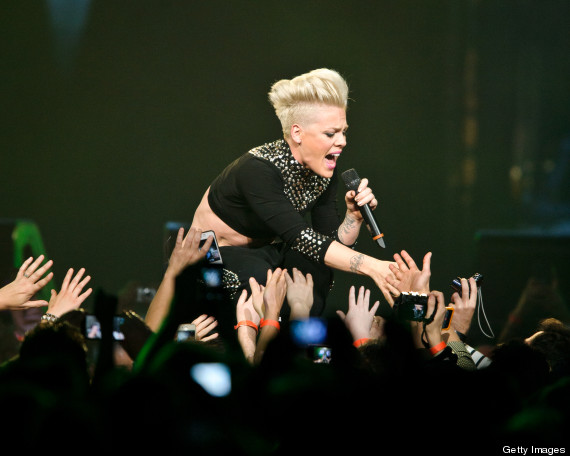 In a video that has surfaced online, Pink interrupts an acoustic version of her hit 'Who Knew' to ask why the girl is upset.
She asked the audience: "Is this little girl all right? What's going on? Why is she crying? Why is she upset?"
When the singer is told it's because of a fight, she asks: "Because there was a fight?! Y'all are fighting around a little girl?" which was followed by booing from the audience.
Pink said: "C'mon... all right, all right. I know, everyone's about to fight. I know, I'm from here," before offering the fan some gifts to cheer her up.
"Honey, do you want this frog? Will this frog and this Rice Krispies treat make you feel better?"
"You're beautiful. Don't cry. Cry when you're older. Thank you for coming."
Pink then told the crowd: "Is everything okay now? Cut it out, y'all. We're grown-a** women," before sitting back on her stool to finish her song.
That's them told.
We always wondered how Cheryl managed to sing so perfectly whilst throwing some serious shapes to her No.1 single 'Call My Name'. Now, thanks to her performance on 'Stand Up To Cancer', we know.

Jessica Simpson's little sis, Ashlee, didn't even pretend to mime along to her hit 'Pieces Of Me' on Saturday Night Live back in 2004. She just did it a little jig instead to try and distract us from the fact that she was going to mime along to her single. Yeah, that's do it, Ash.

Britney made hardly any attempt to hide the fact she was miming when she appeared on 'The X Factor' to perform 'Womanizer' in 2010. As if her out-of-time lip movements weren't enough, Dermot O'Learly gave the game away by handing Brit a mic to talk into after the performance. D'oh!

Mariah forgot to put her mic to her mouth in time for her big screechy note when she appearing on 'Ant & Dec's Saturday Night Takeaway'. Ooops!

We can't remember any of All About Eve's songs but we DO remember sitting down to watch Top of the Pops back in the day and seeing Julianne Regan and Tim Bricheno sitting there like lemons as their single 'Martha's Harbour' played but they failed to hear it. Despite the epic live telly fail, the single climbed the charts for the next two weeks!

If the acting work ever dries up for Li-Lo (which can't be that far off) you'd think she'd have her music *ahem* career to fall back on but she's going to need to brush up on her lip-synching skills first.

She may have prepared a backing track with live vocals recorded over the top, but Cheryl was fooling no one when she performed 'Fight For This Love' on 'The X Factor' in 2010.

Katy Perry: Singer, songwriter, dancer... recorder player? Errrm, no.

The 'X Factor' contestants have long made us cringe with their dreadful mimed group performances, but this particular rendition from 2011 had our toes extra curled.

Beyonce fooled us all with her rendition of 'The Star Spangled Banner' at President Obama's inauguration. And she would have got away with it if it wasn't for some pesky kids who outed her as having mimed.