Despite her back catalogue being a soundtrack for female empowerment, Beyonce caused controversy recently when her latest single 'Bow Down' was deemed offensive to women by some critics.
But the star has now come forward to reaffirm her feminist credentials in a new interview with Vogue magazine, in which she also posed for a stunning new photoshoot.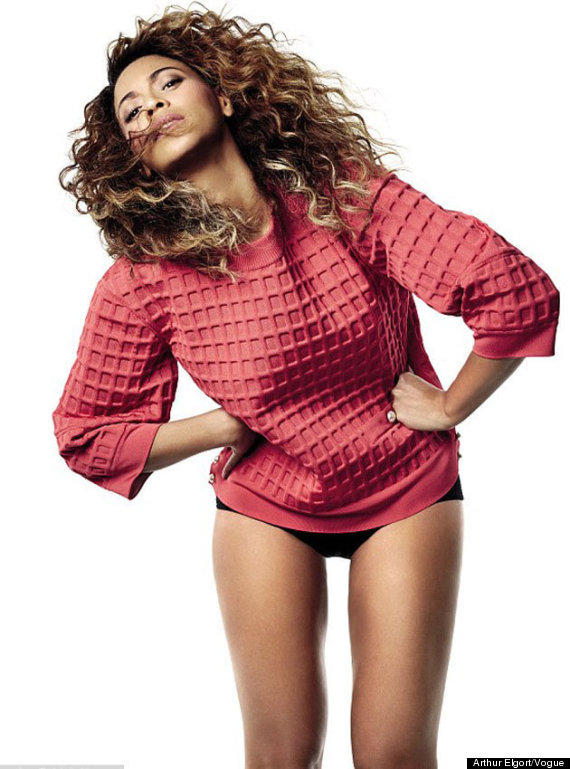 Beyonce claimed she is a "modern day feminist" and that she still believes there is a "way to go" before equality is achieved.
"But I guess I am a modern-day feminist. I do believe in equality. Why do you have to choose what type of woman you are? Why do you have to label yourself anything? I'm just a woman and I love being a woman," she said
"I do believe in equality and that we have a way to go and it's something that's pushed aside and something that we have been conditioned to accept."
Critics also hit out at Beyonce's decision to call her forthcoming world tour the 'Mrs Carter Tour' in tribute to her husband Jay-Z, whose real name is Shawn Carter.
However, she also defended the decision saying: "I feel like Mrs Carter is who I am, but more bold and more fearless than I've ever been.
"It comes from knowing my purpose and really meeting myself once I saw my child. I was like, 'OK, this is what you were born to do'. The purpose of my body became completely different."
The full interview appears in the May issue of British Vogue, out on Monday.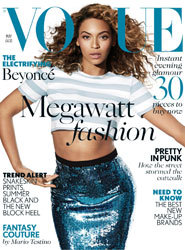 LIKE US ON FACEBOOK | FOLLOW US ON TWITTER
Loading Slideshow
1998

Kelly Rowland, Beyonce, LeToya Luckett and LaTavia Robertson at the Shine Auditorium in Los Angeles.

1998

Beyonce rocked a camouflage dress at a live performance at HMV.

2000

On stage at Party in the Park.

2000

Destiny's Child hit the Grammy Awards in all white.

2000

Destiny's Child wear matching yellow outfits.

2000

Beyonce performed at the VH1 Vogue Fashion Awards.

2001

Destiny's Child wear denim, crop tops and rhinestones.

2001

The singer opted for sheer and sparkly at the Grammy Awards.

2002

Doing her best Foxxy Cleopatra impression in a glittering gold dress.

2003

Looking lovely in a full length floral dress at the VH1 Divas Duets.

2003

She rocked the LBD for the Entertainment Industry Foundation Party.

2003

Perhaps not her finest fashion moment. Beyonce at the NBC Today Show Summer concert series.

2003

She dazzled the crowds at the 2003 MTV Video Music Awards.

2004

She dressed down in UGGs to announce the pre-game activities for the Super Bowl.

2004

Beyonce launching her Tommy Hilfiger fragrance.

2004

Reunited with Michelle Williams and Kelly Rowland at the 2004 Jingle Bell Ball.

2005

Beyonce got glammed up for the opening of Jay-Z's 40/40 Club in Atlantic City.

2006

Beyonce backstage at the MTV's Total Request Live.

2006

Who else could look this good in a nude mini dress? Another backstage pose after her appearance on MTV's TRL.

2006

Beyonce rocked canary yellow at a chaity event.

2007

Anothe glam look for the opening of Jay-Z's 40/40 Club, this time in Las Vegas.

2008

One of the singers finest red carpet moments. She stepped out in an Armani gown at the Metropolitan Museum of Art Costume Institute Gala.

2009

Beyonce topped the best dressed lists at the Golden Globe Awards in an Elie Daab gown teamed with a dazzling diamond necklace by Lorraine Schwartz.

2010

Beyonce looked white hot at the launch of the Lorraine Schwartz's 2BHAPPY jewellery collection.

2011

The singer announced her pregnancy at the 2011 MTV video Music Awards. She looked stunning in this asymmetrical Lanvin gown.

2011

Beyonce at the launch of her Pulse fragrance.

2011

Beyonce at the Pulse fragrance launch.

2011

Pregnant Beyonce wore a black maxi when hosting the screening of Live at Roseland.

2012

Beyonce attends the Costume Institute Benefit at The Metropolitan Museum of Art.