The machine in the chemist had spoken. I was officially, TECHNICALLY, obese, with a BMI hovering outside respectable boundaries. I had proved incapable of self-governance of control. It was time to behave like a dietary lemming.
Saints and Slimmers is an online service, which takes the decision-making away. Logging onto their website, you insert all your weights and measurements, as well as your targets, goals and deadlines. They work out what this all means in terms of calorie intake, and then you progress to the menu board.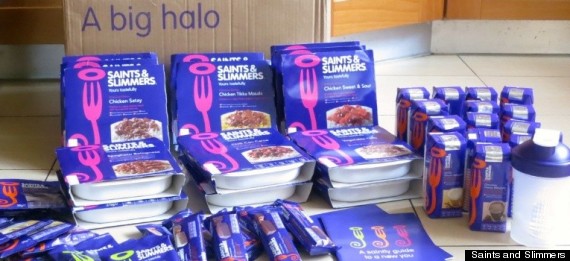 Once the box arrives, there's no going back - it stares at you from the corner of the room
Down for a 2-week stint, I opted to play safe and opted for the same thing over and over again - 14 bags of porridge, etc - so I wouldn't have to do any thinking! And then - hey presto - the dreaded Box arrived, full of a fortnight's nourishment, which meant I had no more excuses, and was up and running. And if you have queries, comments or just need to feel a member of a club, there are experts an email away, and a forum to share all the good and bad news.
It was interesting for the first couple of days, kind of fun, then it became immensely boring, I started eyeing other people's plates longingly, and only the horror of throwing away good food kept me going back to the Box. But it also made me realise just how often I snack without even realising, and how unnecessary it is - it's just a habit I hadn't had the self-awareness to break, and the Box taught me that.
At approx £8 a day (currently £5.30 a day if you sign up for a whole month), it's no more expensive than an average day spent on food, working in town and nipping out for snacks.
This regime is not fun, nor does it make you feel empowered in the way of, say, going to the gym and then tucking into a bowl of fine pasta because you've earned it. But it was an invaluable kick-start for me into turning into that person, and certainly kicking to the kerb all those nibbly habits that had crept up without me realising.
Saints and Slimmers offer a range of regimes at different prices, with their low-calorie one-week starter plan at £19.99, to a 28-day hamper at £149.99 (usually £224). Click here for more info.
Earlier on HuffPost US:
Loading Slideshow
1. DASH Diet

<a href="http://health.usnews.com/best-diet/dash-diet">DASH</a> was developed to fight high blood pressure, not as an all-purpose diet. But it certainly looked like an all-star to our panel of experts, who gave it high marks for its nutritional completeness, safety, ability to prevent or control diabetes, and role in supporting heart health. Though obscure, it beat out a field full of better-known diets.

2. TLC Diet

<a href="http://health.usnews.com/best-diet/tlc-diet">Therapeutic Lifestyle Changes, or TLC</a>, is a very solid diet plan created by the National Institutes of Health. It has no major weaknesses, and it's particularly good at promoting cardiovascular health. One expert described it as a "very healthful, complete, safe diet." But it requires a "do-it-yourself" approach, in contrast to the hand-holding provided by some commercial diets.

3. Mayo Clinic Diet

<a href="http://health.usnews.com/best-diet/mayo-clinic-diet">This is the Mayo Clinic's take</a> on how to make healthy eating a lifelong habit. It earned especially high ratings from our experts for its nutrition and safety and as a tool against diabetes. Experts found it moderately effective for weight loss.

3. Mediterranean Diet

With its emphasis on fruits and vegetables, olive oil, fish, and other healthy fare, the Mediterranean diet is eminently sensible. And experts' assessments of it were resoundingly positive, giving this diet an edge over many competitors.

3. Weight Watchers Diet

<a href="http://health.usnews.com/best-diet/weight-watchers-diet">Weight Watchers</a> is a smart, effective diet. It surpassed other commercial diet plans in multiple areas, including short- and long-term weight loss and how easy it is to follow. It's also nutritionally sound and safe, according to experts. Among its pluses: An emphasis on group support, lots of fruits and vegetables, and room for occasional indulgences.

6. Flexitarian Diet

<a href="http://health.usnews.com/best-diet/flexitarian-diet">The Flexitarian diet</a>, which emphasizes fruits, veggies, whole grains, and plant-based protein, is a smart and healthy choice. It outperformed many of its competitors, with particularly high scores in nutritional completeness, easiness to follow, and long-term weight loss. One panelist noted that this diet is "a nice approach that could work for the whole family," and another described it as a "very good" plan.

6. Volumetrics Diet

<a href="http://health.usnews.com/best-diet/volumetrics-diet">Volumetrics</a> outperformed its competitors in many categories. It earned particularly high marks for being safe and nutritious, and experts said it could have a positive effect on heart health and diabetes. "This is an eating plan that everyone can benefit from," one expert said.

8. Jenny Craig

<a href="http://health.usnews.com/best-diet/jenny-craig-diet">Jenny Craig</a> drew praise from experts for being easy to follow, nutritionally complete and safe, and for offering dieters emotional support. But these experts were lukewarm about its potential to bolster heart health or help diabetics. Experts also noted that Jenny Craig's cost could be a roadblock for some.

9. Biggest Loser Diet

<a href="http://health.usnews.com/best-diet/biggest-loser-diet">The Biggest Loser diet</a> received high marks for short-term weight loss, safety, and soundness as a regimen for diabetes, and it was rated moderately effective for heart health. But many panelists felt that in a sea of diets, it's not overly special, and one said it's merely "capitalizing on the name" of the popular TV show.

9. Ornish Diet

<a href="http://health.usnews.com/best-diet/ornish-diet">The Ornish diet</a> got a mixed reaction from experts. On one hand, it's nutritionally sound, safe, and tremendously heart-healthy. On the other, it's not easy for dieters to adhere to the severe fat restriction the diet demands.

11. Traditional Asian Diet

<a href="http://health.usnews.com/best-diet/traditional-asian-diet">The Asian diet</a> is a reasonable choice for an eating pattern, landing around the middle of the pack of ranked diets. Experts handed out high marks in nutrition and safety, but doubted the plan's ability to deliver short- or long-term weight loss.

11. Vegetarian Diet

As a health diet, <a href="http://health.usnews.com/best-diet/vegetarian-diet">vegetarianism</a> is solid. It's decent at producing rapid weight loss, according to experts, and is strong in other areas, such as heart health and nutritional completeness, that arguably are more important.

13. Anti-Inflammatory Diet

While <a href="http://health.usnews.com/best-diet/anti-inflammatory-diet">the Anti-Inflammatory diet</a> itself is nutritionally sound, experts expressed concern that it's needlessly complicated, lacks supervision or feedback, and boasts unsubstantiated claims like the benefits of supplement use. "Most Americans would benefit from adopting many of these principles, especially increasing fruits and vegetables," one expert said. "What is lacking is scientific evidence that this diet will reduce inflammation in the body and that weight loss results from following it."

13. Slim-Fast

<a href="http://health.usnews.com/best-diet/slim-fast-diet">Slim-Fast</a> is a reasonable approach to dieting, experts concluded. It outscored a number of competitors on weight loss and as a diabetes diet, and being highly structured, it's fairly easy to follow. But it scored lower than many other diets on heart health.

15. Flat Belly Diet

<a href="http://health.usnews.com/best-diet/flat-belly-diet">The Flat Belly diet</a> landed in the middle of the pack because most of its scores from the experts were right around average. It did get high marks in safety and nutrition.

15. Nutrisystem

<a href="http://health.usnews.com/best-diet/nutrisystem-diet">Nutrisystem</a> sits near the middle of the standings. It's quite safe, easier to follow than many other diets and has few nutritional deficiencies, according to experts. As a heart diet, it's off the mark.

17. Abs Diet

The experts found <a href="http://health.usnews.com/best-diet/abs-diet">the Abs diet</a> moderately effective for quick weight loss and middle of the road in most other respects. They took issue with the company's claim that dieters can drop up to 12 pounds of belly fat in two weeks and questioned the evidence behind some of its tactics.

17. Engine 2 Diet

Experts handed out a below-average 3 stars. Though they acknowledged its benefits for heart health and diabetes control and prevention, they faulted <a href="http://health.usnews.com/best-diet/engine-2-diet">the Engine 2 diet</a> for being unnecessarily restrictive and "gimmicky," and called for more research into some of its claims. "I fail to see anything unique, innovative, or useful with this diet," one expert said.

17. South Beach Diet

Although <a href="http://health.usnews.com/best-diet/south-beach-diet">the South Beach Diet</a> earned positive ratings for being able to produce rapid weight loss, its restrictions can make it difficult for dieters to keep the pounds off, experts said. Most were less enthusiastic about its ability to combat diabetes or heart disease.

17. Vegan Diet

Overall, the health experts were lukewarm on <a href="http://health.usnews.com/best-diet/vegan-diet">veganism</a> despite giving it fairly high marks as a diabetes or heart disease diet. It is extremely restrictive, doesn't offer built-in social support, and may not provide enough of some nutrients.

21. Eco-Atkins Diet

One expert summed up <a href="http://health.usnews.com/best-diet/eco-atkins-diet">Eco-Atkins</a> as a "healthier version of the Atkins diet, but compliance is likely to be more difficult." That's because it's restrictive and little guidance is available.

21. Glycemic-Index Diet

Experts were less than impressed with the <a href="http://health.usnews.com/best-diet/glycemic-index-diet">glycemic-index diet</a>, which distinguishes "good" carbs from "bad." They scored it particularly low on long-term weight loss, heart benefits, and ease of adherence. Although the diet's ratings in nutrition and safety were relatively strong, they couldn't push the diet out of the lower third of the pack.

21. Zone Diet

<a href="http://health.usnews.com/best-diet/zone-diet">The Zone Diet</a> lagged behind higher-ranked diets, if not always by much, in nearly all ratings categories, including weight loss, how easy it is to follow, and its effect on diabetes and heart health. It's "unnecessary and tedious to structure every meal around specific macronutrient thresholds," according to one expert; another stated there is "no magic with the diet."

24. Macrobiotic Diet

Experts gave little credence to <a href="http://health.usnews.com/best-diet/macrobiotic-diet">the Macrobiotic diet</a> on several counts: Following the plan is a challenge. It's an extreme change from the standard American diet. And it's awfully strict. The macrobiotic approach, one expert summed up, is "a mix of sound dietary guidance, mysticism, folklore and nonsense."

24. Medifast

Experts were likewise unenthused about <a href="http://health.usnews.com/best-diet/medifast-diet">Medifast</a>. It scored above average in short-term weight loss but was dragged down by lower marks in most other categories.

26. Atkins Diet

Many of our experts found the popular low-carb <a href="http://health.usnews.com/best-diet/atkins-diet">Atkins diet</a> leaves much to be desired, at least as an all-purpose diet. Although our expert panel concluded that it could outperform nearly all of its competitors in short-term weight loss, unfavorable marks in other measures -- including long-term weight loss, nutrition, safety and heart health -- yanked down Atkins in the standings.

26. Raw Food Diet

The experts conferred solid marks on <a href="http://health.usnews.com/best-diet/raw-food-diet">the raw food diet</a> for weight loss, both short- and long-term, but considered it all but impossible to follow and its nutritional completeness and safety were concerns. "Doing it well involves considerable commitment and effort, knowledge and sacrifice," one expert said. "And there are diets that require less of all these that are likely to be just as healthful."

28. Dukan Diet

Experts sent <a href="http://health.usnews.com/best-diet/dukan-diet">the Dukan diet</a> to the bottom, handing out dismal ratings in nearly every category. Its overall score was more than a full star below average. It's too restrictive, with lots of rules, and there's no evidence it works. One expert described the diet as "idiotic."

28. Paleo Diet

Experts took issue with the diet on every measure. Regardless of the goal -- weight loss, heart health or finding a diet that's easy to follow -- most experts concluded that it would be better for dieters to look elsewhere. "A true Paleo diet might be a great option: very lean, pure meats, lots of wild plants," said one expert -- quickly adding, however, that duplicating such a regimen in modern times would be difficult.