A kitten with two faces has been born in Amity, Oregon.
The tiny feline, who meows loudly from each mouth, was rejected by her mother and is now being hand-fed by owner Stephanie Durkee, who has named her "Duecy".
Two-faced felines are known as 'Janus' cats after the Roman god who also had two faces.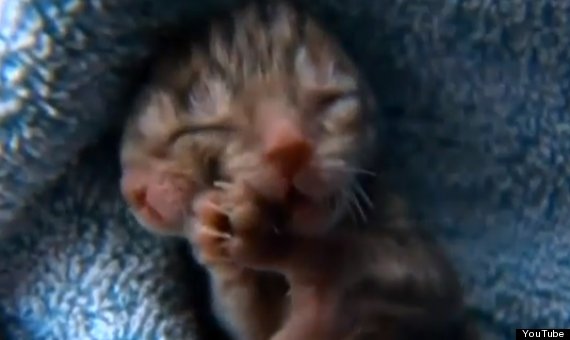 Two-faced Duecy is extremely vocal from both mouths
Although just a day old, little Duecy seems in good health, NWCN.com reports. The channel adds Duecy is being kept comfortable and warm in a dresser drawer with a heating pad and towels.
In February last year we reported on another two-faced kitten born in Port Charlotte, Florida.
Named Harvey Dent after the two-faced character in the Batman series, the kitten had four eyes, two mouths and two noses.
Sadly cats born with congenital abnormalities like this typically do not live long, and Harvey died two days after his birth.
However the Guinness Book of Records of 2012 records 12-year-old Janus cat Frankenlouie as the longest surviving cat of his kind.
Two-headed animals and other bizarre creatures
This five-legged cow's owner, Laxman Bhosale, said the cow "holds the essence of Hindu religion" and touching its fifth leg will help "fulfill all your wishes," BBC reports. Now, the holy cow is on tour in India. Newly released photos show it decorated in beads and fancy fabric, hanging out in the back of a fancy trailer, according to the Daily Mail. Her fifth leg protrudes from her shoulder and neck area. READ MORE

This Thursday, April 19, 2012 photo provided by the Santa Fe Animal Shelter veterinarian Dr. Jennifer Steketee holds Meow, a 2-year-old tabby at the shelter in Santa Fe, N.M. Meow, arrived at the shelter weighing in at over 39 pounds, after his elderly owner could no longer care for the feline. The shelter plans to put the cat on a special diet so he can lose weight gradually. Adult cats typically weigh between 7 and 12 pounds. (AP Photo/Santa Fe Animal Shelter, Ben Swan)

A two-headed turtle has hatched at the San Antonio Zoo and officials have named her Thelma and Louise.

Six-legged calf "Lilli" stands on the pasture of its owner Andreas Knutti, in Weissenburg, Switzerland, Thursday, March 29, 2012. The calf was born seven weeks ago with two additional legs on its back. (Peter Schneider, Keystone / AP)

A man displays a two-headed turtle 'Testudo horsfieldi' at National Museum of natural history in Kiev, Ukraine, Monday, March 5, 2012. Besides the two heads the reptile has six legs.

These photos were included in a report that advocated for increasing the amount of selenium in Southern Idaho's creeks.

Harvey Dent, the two-faced kitten born in Florida. Unfortunately Harvey Dent passed away from complications at just two days old.

The two heads of this razorback musk turtle have been named Teeny and Tiny by Todd Ray of the Venice Beach Freakshow. He believes it is the smallest two-headed turtle he's ever seen.

A Georgian farmer was shocked Jan. 25 when one of his sheep gave birth to a lamb with six legs. This peculiar critter has four legs at the front and two at the back.

Three-eyed Fish found near Argentina. Source: GIzmodo

Todd Ray, who has what is believed to be the world's largest collection of two-headed animals, is considering whether or not he should surgically separate this two-headed turtle.

This tiny porker has an excuse for making a pig of himself at mealtimes - he really does have two mouths to feed. The bizarre two-month-old youngster - part of a litter born on a farm in Deshengtang, Jilin province, northern China - can use both his mouths to eat and appears otherwise normal, say his owners. Farmer Li Zhenjun and his wife Yu Wanfen named the piglet Xiaobao - or 'Babe' in English - after the movie about an extraordinary talking pig. Li explained: "The mouths aren't much of an advantage because his head is very heavy and he gets pushed around by the others." "I'm feeding her with a bottle now and she's doing very well," he added.

"Us" is a 2 1/2-year-old, 4-foot long, two-headed carpet python residing at the World Aquarium in St. Louis. According to aquarium President Leonard Sonnenschein, it may be the only one in the world.

Sonnenschein likened this unique musk turtle to the Pushmi-pullyu from the "Dr. Dolittle" story.

A dairy farm in China has an unusual cow that has three horns -- two on either side of its head and one in the middle like a rhino horn. Farmer Jia Kebing, from Baoding in northern China's Hebei province, said the 2-year-old cow was born with a small bump on its forehead. "With time the bump grew bigger and longer and become a sharp horn," said Jia. The middle horn now measures nearly 8 inches long.

Egyptian farmers feed a two-headed calf, which can't stand on its own legs because it is top heavy, at a village near Alexandria, Egypt.

A vet feeds five month two-headed calf "Milagritos" (Little Miracle) in Cajamarca, Peru, on Aug. 19, 2009.

We, a two-headed hermaphroditic rat snake, lived at the World Aquarium in St. Louis for 8 1/2 years before dying in June of 2007. In 2006, the aquarium unsuccessfully attempted to mate it with another two-headed snake.

A newly born piglet with one head, two mouths, two noses and three eyes is reflected by mirrors on March 6, 2007, in China.

Store manager Jay Jacoby displays a two-headed red slider turtle at Big Al's Aquarium Supercenter in East Norriton, Pa.

Two baby conjoined barn swallows rest after a fall from their nest in Searcy, Ark. The rare bird discovery was made by a White County resident in her front yard.

Janus, the Geneva Museum of Natural History's two-headed Greek tortoise, is presented to the press and the public during the official celebration of its 10th birthday on Sept. 5, 2007. Janus, named after the two-headed Roman god was born Sept. 3, 1997.

Kirk Heldreth pets his two-faced Holstein calf in 2007, in Rural Retreat, Va. Despite her malformed mouth, the calf named Star fed from a bottle and is won over Heldreth, who didn't expect her to live long after her birth. He had considered donating the calf to Virginia Tech for scientific purposes, or even selling her for show. Star has been drawing the curious to Heldreth's southwest Virginia farm, which sees about 40 to 50 visitors daily.

Belgian grower Maurice Peeters holds a six-legged lamb a day after its birth March 18, 2006, in Meeuwen-Gruitrode.

Gemini, a kitten from Rhode Island, had an unfortunately short life.