Cycling has never been more a la mode. With British cyclists seizing more medals than you can shake a stick at and calls to let women partake in the Tour de France, there's never been a better time to get your cycle on.
But you don't need to don spandex all-in-ones to get your cycling fix. Travelling to and from work (and to other places) is the perfect opportunity to get some physical exercise into your day, save money and help the environment.
With this in mind, HuffPost UK Lifestyle spoke to Sustrans, the UK's leading cycling charity, to find out their top tips for getting back in the saddle.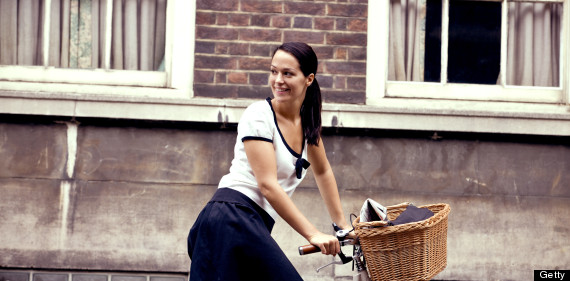 "Cycling instead of driving saves well over £1000 per year, often much more," says Scott Davidson, Sustrans National Project Coordinator for Workplaces.
"Commuters who've made the switch through our workplace projects have seen dramatic improvements in health as well as dropped waistlines -- one lady dropped four dress sizes, one man four stone.
"Nowadays, it really is a no brainer for anyone within five miles of their work."
TOP TIPS FOR CYCLING TO WORK

You don't have to wear lycra...
You can if you want, but loose fitting and comfortable clothing is perfect for cycling.
You don't need to cycle fast..
It generally takes the same amount of time to cycle into work whatever the daily traffic is like so leave in plenty of time and enjoy a leisurely cycle to work.
You don't (necessarily) need a shower...
This may come as a shock to some but we're advocating a leisurely cycle to work, expending a similar amount of effort as walking to work. You wouldn't need a shower after walking. So take it easy and enjoy the ride.
It doesn't always rain...
You won't always get wet cycling to work, because believe it or not it doesn't always rain. Keep a light weight rain coat with you for when it does but enjoy the fresh air and freedom when it doesn't.
Don't be put off by busy roads...
We're fortunate enough in the UK to have loads of alternatives and you'll almost always be able to find quieter roads and even traffic free routes for your commute. Check out www.sustrans.org.uk to search for low traffic and cycle routes in your area.
Alternatively following a collaboration between charity Sustrans and Google in a ground-breaking move for cyclists and would-be cyclists, National Cycle Network routes across the UK can now be navigated online using a new bicycle symbol on Google Maps, alongside the options of driving, public transport and walking
LIKE HUFFPOST UK LIFESTYLE ON FACEBOOK | FOLLOW US ON TWITTER
SAFETY TIPS
Be safe...
Always lock your bike to something solid using a good lock (preferably two locks) and make sure you don't lock it to something like a post that it can be lifted off of.
Be visible...
Make sure you can be seen, especially at this time of year, so invest in good lights and reflectors. Reflective slap bands are great so slap them on your legs where they'll move and be more visible (they also make great bike clips).
Look after your bike...
Take your bike in for a regular and thorough check up, a well maintained bike will be more pleasant to ride.
Start slowly...
The thought of cycling the whole way to work may be daunting at first so build up to it by breaking the journey up to start off with. You may be surprised how quickly you can build up the distance.
Pair up...
Get your work colleagues involved and 'buddy up'. Cycling in together is a great way to help you discover that cycling is a fantastic, enjoyable, safe and even sociable way to commute. You'll be amazed how many cyclists you see and you might even dare to suggest its 'normal'. If you can't persuade a work colleague check out BikeBUDi the free system matches you up with others going the same route, so you can ride together.
If you don't feel confident about jumping on a bike straight away, especially if you haven't ridden for a long time, then a cycle training session could work wonders for you. Helpline on 0844 736 8460/8461.
Cycling Accessories 'Just For Girls'
Antonia Maybury, the founder of Water Off A Duck's Back, decided that instead of putting on a bright yellow, unattractive jacket over her lovely clothes, she would come up with an alternative. Her Cassandra coat is not only fashionable but has all the elements that you would expect from a cycle coat. The cut suits cycling, allowing arm and shoulder movement, while retaining a tailored look. While reflective panels on the cuffs collar and belt can be hidden away and the hood is detachable. It's also waterproof (not just showerproof), breathable, machine Washable. doesn't catch in the wheel of a bike, has big pockets and a discrete clip on the hem to clip the two front panels together. All this for just £130 (available in stone and navy blue), and the website also features capes and jackets.

Completely waterproof, with all-round reflectivity and made of lightweight fabris, the Defender does what it says on the tin. £170 from Odlo. Visit www.odlo.com or call 0845 603 7289

This quilted, country-style gilet will keep you warm and cosy - and bring out the Made In Chelsea 'sloane ranger' in you. Dreamer Body Warmer is £35 from Regatta.

So much cuter than panniers, these wicker baskets mount to a rear rack (not included), and incorporate a handle for easy carrying 138.95 from Ridelow

You'll want to ring this Electra Night Owl Ding Dong Bell from Ridelow - £15.95

Stocked at the tokyobike Store in Shoreditch, London, these 'Gropes' (leather-wrap grips) can also be bought online. £25.00 for short version and £39.00 for longer version.

This Bern Helmet from Surfdome is just £59.99 - and is super cool and light.

The ION Air Pro Wifi allows you to film while riding and instantly upload the content via wifi (£299).

This merino button jersey from Vulpine is cut long and slim for cycling - while wicking sweat away to keep the wearer odour-free (£80).

This Helly Hansen short-sleeved women's bike shirt has HH® CoolGrid and Lifa® Stay Dry Technology to keep you cool and dry during even high-intensity bike rides (£55).

After getting caught in 'another' downpour, Sally from Cambridge had an idea for a chic and versatile raincoat that would look good off and on the bike. £250 each - the coats come in a range of colours from Cambridge Raincoats.

This adorable Basil Blossom Farm blue double pannier bag is just £39.99.

When it gets chilly, try these hand-knitted cycling mittons from Twisted Twee (£25).

Polaroid's Pilot P7011B are very cool but they are super dark, so perhaps don't wear these £65 shades on your first ride...