Is Valentine's Day that exciting if you're legally bound to each other? MyDaily Editor Sara McCorquodale, 29, is determined to make her first February 14 as a Mrs a success
This is my first Valentine's day as a Mrs and my third with my husband in total. We've only been together for about two and a half years (he proposed within one, we married the next) so it's still new enough to be novel.
Probably because I know we're sticking with each other, it doesn't feel silly to go to town on our Vally Day plans (I never have before) and on top of a romantic dinner, cards and usual schmaltz, I've bought some damn sexy underwear for this evening. Cliched, yes, but do I feel good today? You wouldn't believe it. It's not the first time I've bought saucy lingerie with Him Indoors in mind. Prior to our honeymoon, I shopped like a demon at Victoria's Secret. But tonight I want to feel more Gypsy Wood siren than Pussycat Doll in her heyday, so I took myself to Rigby & Peller's ever-so-discreet Bow Lane boutique. Wow, it's nice. And the pants and bras are insanely beautiful - if all your underwear looked like this, you'd abandon proper clothes and just cut about in your knickers.
Anyway, in a fitting room I explain my situation to my instore stylist Rowan and she chats me through what would work while determining my bra size. She does this by looking at my own bra (it's the wrong size, quelle surprise), my boobs and then trialling a couple of different shapes.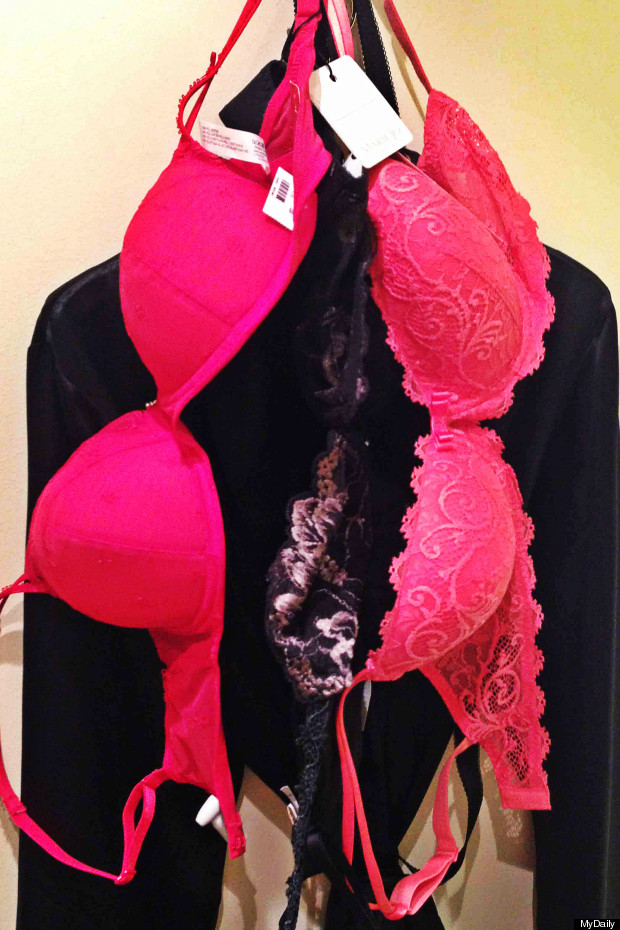 After discussing colour and style, Rowan leaves me with a cup of tea and goes off to find my dream lingerie. When she returns, there's coral, scarlet, black, lace, ribbon and silk. With each one I slip on, I internally compliment my own boobs on their greatness. They've gone from looking a bit sleepy (the fading spray tan doesn't help) to Eva Herzigova "hello boys" bouncy. "Wowee!" I think. "I'm a total sauce pot."
I go for the coral lace bra with matching French knickers in the end - the colour makes my skin look peachy and the set is vampy in a fresh way.
Walking down Bow Lane with my new lingerie boxed up in a classy black bag, I feel triumphant. He'll be surprised, i'll look sexy and I now know my actual bra size! Exciting. My first V day as a Mrs may just be better than the 28 I spent as a Miss.
For more information on Rigby & Peller and all of its latest collections go to www.rigbyandpeller.com
MORE VALENTINE'S DAY FUN...
Valentine's When You're A Single Girl
Loving Living Together: A Co-Habitor's Guide Valentine's
Long Term And Long Distance: V Day Away From The One You Love
SUBSCRIBE TO & FOLLOW UK STYLE