The Duchess of Cambridge has really reigned high on the maternity style front she's been glowing from the start.
When it wasn't blush pinks, pastel tweeds or canary yellow it was Dalmatian print - think covetable coats, delicate day dresses, matchy clutch bags (poised perfectly in front of her baby bump) and fascinators of plenty. And let's not forget Kate has brought a whole new lease of life and love to the fascinator since announcing she's with (royal) child.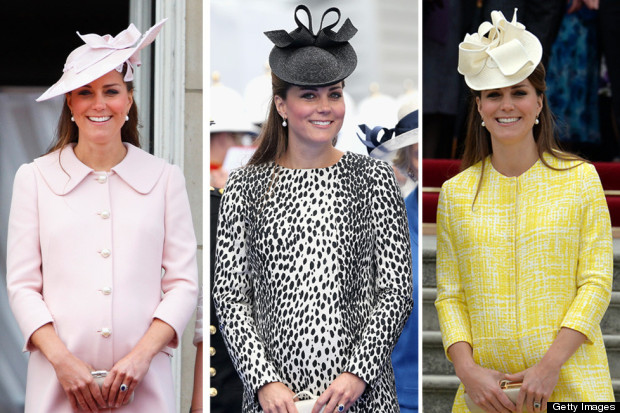 Seriously, cast your mind back to each and every royal appointment, did you ever see anyone look so elegant, so demure, SO gloriously happy?
But what we want to know is will Kate's flawless style continue after having the royal baby? What kind of looks will we be seeing and how will fashion brands follow suit? Is there a chance that, when it comes to style, we might see a new side to the Duchess?
Jackie Bodikian, senior womenswear stylist at My Wardrobe says: "I think Kate will stick to her signature classic, chic style which works so well for her. She's managed to carry it through during her pregnancy so I'm sure she won't move too far away from this look. We might see her wearing a slightly more comfortable version though."
On whether Kate's style will mature or not, Jackie says: "Most women's style evolves slightly after they have a baby as the new demands of their life influences their wardrobe choices. I'm sure we'll see a few more flat shoes appear in Kate's wardrobe."
But will fashion brands that have been so favoured by the Duchess (Hobbs, Joeseph, Whistles, MaxMara, Malene Birger, Mulberry to name a few) continue to work in line with that signature Kate Middleton style? Oh for sure. Think of the countless collections for every Kate-aspiring woman coming our way next season.
As for My Wardrobe, "Our next season buy focuses on modern shapes and a fantastic new brand offering with over 75 new designers. Our customer is a modern woman who is successful and has a busy schedule so although the clothes are beautiful they also need to be practical. "
We suspect Kate's set to be an all-hands-on mama so practical wears will be a sure thing, roll on the arrival of the royal baby, and the next era of immaculate Duchess style...
Take a look at all of the Duchess' pregnancy outfits in pictures below. * Curtsies at her fabulousness *
SUBSCRIBE TO & FOLLOW UK STYLE