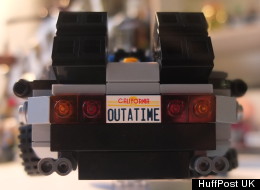 LEGO has just released its limited-edition Back To The Future DeLorean Time Machine kit, and we are happy to confirm it's exactly the sort of nostalgia overload for which you were hoping.
The kit, which is £34.99 and available from UK Lego stores before a wider online release later this summer, is beautifully made and presented, with a wealth of unique parts, details, fixtures and innovative construction techniques.
Taking about an hour or so to build, like the best Lego kits it reveals itself slowly over time, not fully coming into view until the final brick is in place. It's also presented alongside a lovely heavy-paper book, with words from the kit's CuuSoo creators, the Lego engineers who took it to production and the Michael J Fox Foundation.
We took a very, very close look at the kit after we finished building it (and flying it around the house at 88MPH) to find the 14 details you might have missed - but for which you'll want to get your hands on a set.
Take a look, below. And, yes, Great Scott and so on.
We'd have preferred a hoverboard. But otherwise, this too is pretty great.

Yes, the Lego DeLorean has the doors that slide up from the sides and slot back neatly into place.

The DeLorean's dashboard clock is set to 'present time' (IE 1985) and its destination is set to 1958 - the exact date that the first Lego brick was made.

In the first Back To The Future the DeLorean had this exact Californian numberplate...

... but in Back To The Future Part II, the numberplate was a barcode. The set has that one too (they're replaceable).

The wheels on the Lego DeLorean can 'lift up' into flight position, but are still strong enough to hold up the car in drive mode. It's a lovely action, Lego nerds.

... Just.

The drawn-on Flux Capacitor is great - even having a two-tone colour scheme for the red label.

Just look at it.

The construction of the car's engines is pretty immense - like two sets of Lego legs.

The kit comes with specially made 'hovering' technology. (Transparent bricks).

Removable, but wonderful.

The new Lone Ranger sets are great - and with a simple adjustment fit perfectly into a Back To The Future Part III wild west megaset.

The kit comes with a nicely printed, genuinely touching book with words from the Michael J Fox Foundation (which is receiving funds from the sale of the kit) and the two Lego fans who came up with the idea.