Terri Hooley, whose life story has been brought to life on screen in the heartwarming film 'Good Vibrations', has told HuffPostUK how the actor playing him was meant to be Michael Fassbender.
"We thought it was going to be Mr Fassbender," explains Hooley, "so we had Richard Dormer ('Game of Thrones') in to do the pilot.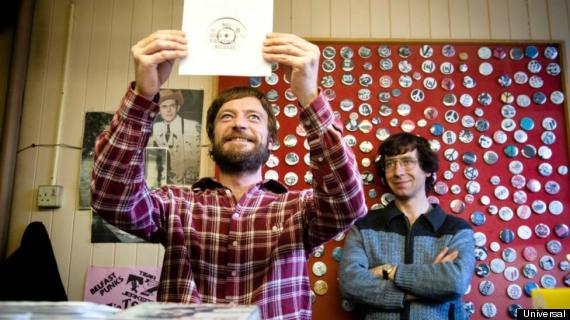 Richard Dormer convincing in the role of Terri Hooley in 'Good Vibrations'
"But it turned out, Richard does me better than me. I've seen the film 15 times now, and sometimes I forget it's not me. I look in the mirror afterwards, and think, 'Didn't I have a beard a minute ago?'"
'Good Vibrations' tells of Hooley's surprising success in kickstarting the musical scene from a record shop in his native Belfast.
At the height of the city's troubles and sectarianism, Hooley set up the record shop Good Vibrations and discovered, among others, The Undertones, releasing their classic hit 'Teenage Kicks', which DJ John Peel described as his favourite song.


Terri Hooley changed the music scene in his native Belfast from one record shop
Despite being heralded as Belfast's 'punk godfather' - what he calls "hippies' revenge on the world" - it wasn't all good looking back for Hooley…
"It was an amazing time, there was a lot of joy and happiness, but those scenes with my ex-wife were ones of sadness, they upset me."
40 years on, and it's clear that Hooley's success, as well as seeing his life story on the big screen, including his own cameo appearance as an accordion player, has not changed him any.
"I'm still a hippy anarchist at heart," he says cheerfully. "Every Thursday, I'm playing golden oldies to anyone who will listen. And I've still got the same cowl-necked jumper and overcoat. In Belfast, you're not allowed to get above your station."
'Good Vibrations' is out on DVD/Blu-Ray from Monday 5 August. Watch the trailer below…
SUBSCRIBE AND FOLLOW
Get top stories and blog posts emailed to me each day. Newsletters may offer personalized content or advertisements.
Learn more