Celebrity Big Brother's Lauren Harries has received a warning after trying to give fellow housemate Courtney Stodden some of her medication.
The 19-year-old was complaining of feeling sick after overindulging at her birthday slumber party, when Lauren attempted to help by administering some of her tablets.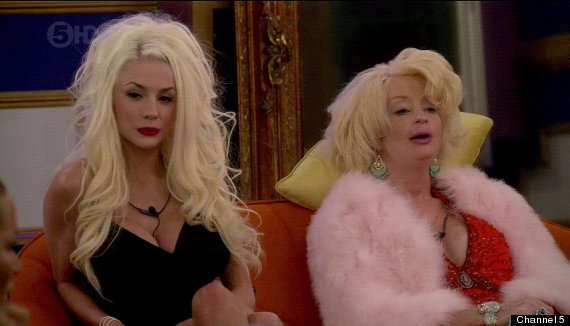 Courtney Stodden and Lauren Harries
After she placed them in Courtney's mouth and told her to swallow them with some water, Big Brother announced: "This is Big Brother. Housemates are reminded they must not share medication. Would Lauren please come to the diary room."
After sitting the former child prodigy down, Big Brother explained they were "worried" about the medication she had given Courtney.
"I just gave her stomach pills, that is all," Lauren explained.
"It is very important that housemates do not give their medication to anybody else. Do you understand that?" Big Brother went on.
"I will never do it again," she said. "I do understand that."
Unbeknown to Lauren, Courtney did not swallow the pills and asked for her housemates to help her get rid of them.
Many of the housemates reacted angrily to Lauren's actions, with Sophie Anderton coming to blows with her, after Carol McGiffin goaded Lauren into confronting the model over what she had said about the incident.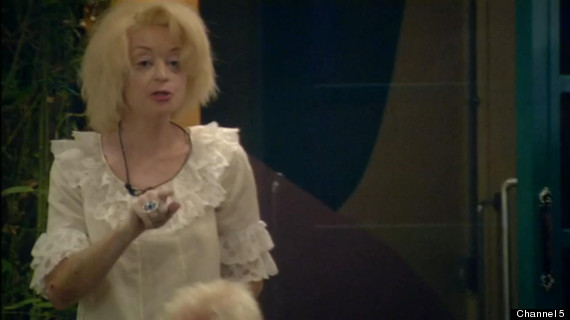 Lauren rants at Sophie Anderton for 'interfering'
Lauren and Courtney both managed to escape eviction of Friday night, along with Louie Spence and Charlotte Crosby, while Ron Atkinson was given the boot from the series.
Celebrity Big Brother contestants
Carol McGiffin is best known as a regular panellist on daytime talk show 'Loose Women'. She married Chris Evans in 1991 and the couple separated in 1994 and divorced in 1998. She is now engaged to Mark Cassidy who is 22 years younger than her. She's not shy of tabloid attention and has admitted to loving a few drinks and a good party.

Mario Falcone is a television personality and also a bespoke tailor on Saville Row. He is best known for starring as himself in the ITV2's 'The Only Way Is Essex'. Debuting during the third series in 2011, Mario became known for his on/off relationship with Lucy Mecklenburgh, which finally ended in February 2013. He used to be a self-confessed player - involved in threesomes, foursomes and fivesomes

Bruce Jones is an actor, best known for his role as cab driver Les Battersby in 'Coronation Street'. He left the role in 2007

Vicky Entwistle is most famous for playing the role of "loudmouth" factory worker Janice Battersby in ITV's 'Coronation Street'.

Louie Spence is a choreographer, television personality and artistic director of Pineapple Dance Studios. He was a professional dancer and in his youth, performed in West End musicals such as Cats and Closer to Heaven.

Abz Love was a member of the famous 90's boy band 5ive. They sold almost 20 million records around the world.

Charlotte Crosby is a British reality television personality who shot to fame on 'Geordie Shore'. Her on-off relationship with fellow cast mate Gaz had viewers gripped. Famously labelled as Cheryl Cole's favourite, Charlotte loves to be the centre of attention and describes herself as fun, loveable, ditzy and laid back.

Courtney Alexis Stodden is an American television personality and model. At 16 Courtney, an aspiring country music and pop music singer and actress became in touch online with critically acclaimed 'Green Mile' actor Doug Hutchison, on the recommendation of a friend who worked in Hollywood and knew Hutchison. They began a courtship over the Internet. On 20th May 2011, the couple married in Las Vegas.

Danielle Marr is celebrity Botox Doctor and clinical Director of DermaFace Clinic. She rose to fame through the reality show 'Dublin Wives'.

Dustin Diamond is an American actor best known for his role as Samuel "Screech" Powers in the television show 'Saved by the Bell'. He's also appeared on the reality TV show 'Celebrity Fit Club' and published a memoir, Behind the Bell. Dustin has also directed and released his own sex tape called 'Screeched – Saved by the Smell'.

Lauren Charlotte Harries (born James Charles Harries) is a British TV personality. Beginning her career as a young boy at the tender age of 10 on the Wogan show, Harries was labelled a 'child prodigy' in the field of antiques. Harries, who is now a woman after a full sex change operation was born was born in Surrey in 1978.

Ronald 'Ron' Atkinson is a football player turned team manager who went on to become a football pundit with his own trademark phrases known as "Big-Ronisms" or "Ronglish". He was famously forced to resign from ITV in 2004 after making a shocking racist comment about black Chelsea star Marcel Desailly.

Sophie Anderton is a model and reality television personality. She was born in Bristol and rose to fame after appearing in underwear brand Gossard's 'girl in the grass' advertising campaign. She has been on shows such as Celebrity Love Island, 'I'm a Celebrity Get Me Out Of Here', 'Hole in the Wall' and 'Winter Wipeout'.
Celebrity Big Brother's Best Bits
Celebrity Big Brother 13 - 2014 Jasmine is baa-ack.

Celebrity Big Brother 4 - 2006 George Galloway proves he's just a big old pussy cat.

Celebrity Big Brother 15 - 2015 After months - nay, years! - of speculation, Katie Price made her shocking late arrival into the 'CBB' house, shocking everyone (but especially Michelle Visage).

Celebrity Big Brother 10 - 2012 Julie Goodyear throws water over Cheryl Ferguson as part of a secret task.

Celebrity Big Brother 4 - 2006 Chantelle and Preston fall in love.

Celebrity Big Brother 9 - 2012 A drunk Denise Welch pulls down Karissa Shannon's pants and causes a row.

Celebrity Big Brother 1 - 2001 Vanessa Feltz has a meltdown and starts drawing in chalk on the dining room table.

Celebrity Big Brother 13 - 2014 Lionel Blair calmly asks Luisa Zissman if he is her boss.

Celebrity Big Brother 5 - 2007 A row between Jade Goody and Shilpa Shetty sparks a worldwide controversy.

Celebrity Big Brother 11 - 2013 A massive row kicks off between Rylan Clark, Neil 'Razor Ruddock, Ryan Maloney and Speidi.

Celebrity Big Brother 3 - 2005 Jackie 'yeah, Jwackie' Stallone enters the house, much to the surprise of ex-daughter-in-law Brigitte Nielsen.

Celebrity Big Brother 10 - 2012 Julie Goodyear being VERY inappropriate with a banana.

Celebrity Big Brother 9 - 2012 Frankie Cocozza falls over naked.

Celebrity Big Brother 3 - 2005 John McCricick throws a tantrum in the diary room.

Celebrity Big Brother 15 - 2015 The Perez Show comes to an end... or so the housemates thought, at least.

Celebrity Big Brother 13 - 2014 Ollie Locke and Sam Faiers put their 'scripted reality' skills to the test.

Celebrity Big Brother 7 - 2010 Ivana Trump's camp dancing.

Celebrity Big Brother 9 - 2011 Kerry 'Kerrah' Katona confuses Tara Reid with the pronunciation of her name.

Celebrity Big Brother 12 - 2012 Carol McGiffin's drunken antics

Celebrity Big Brother 7 - 2010 Davina McCall enters the Celebrity Big Brother house for the first time ever.