Danish favourite Mads Mikkelsen is, undoubtedly, a star huge and rising of the big screen, following the recent triple whammy of Bond villain (Le Chiffre in 'Casino Royale'), Award-winning Cannes Festival-goer (Best Actor, 'The Hunt') and romantic lead ('A Royal Affair').
WATCH OUR EXCLUSIVE CLIP ABOVE: Mads Mikkelsen and Hugh Dancy in a key scene from 'Hannibal' - what is it like to kill?
Now, he's gobbling up the small screen, too, bringing his celebrated chiselled stillness to the title role of hit NBC drama series 'Hannibal', where he plays the urbane psychiatrist hiding an appetite for human flesh.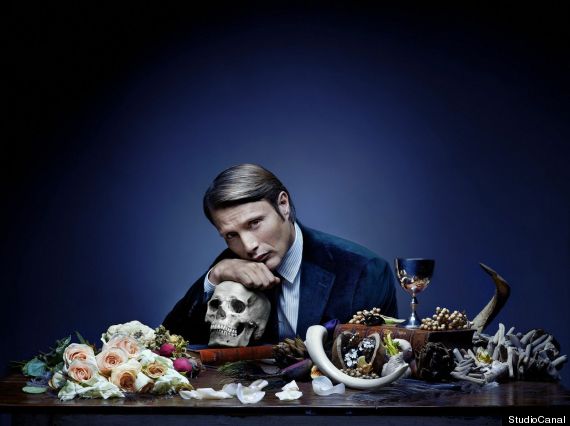 Mads Mikkelsen plays the title role of 'Hannibal' in the NBC series
Last time HuffPostUK spoke to Mikkelsen, he admitted to a snottiness for the crop of TV projects, often crime drama series, in his native country on which he cut his teeth. Television was formulaic, unradical, catering to the masses, according to Mads. So what's changed, and will he have to eat his words? The answer is, sort of…
"We're getting away with stuff on TV now that we never used to, while the film world's not getting away with half this stuff," he acknowledges. "Of course, looking back (to series like 'Unit One' in Denmark, hit TV crime drama), you have only a few channels and you're trying to please everyone in this small country, so there will have been limitations."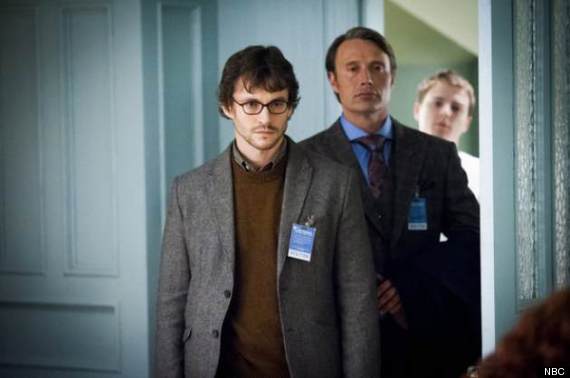 Mikkelsen stars with Hugh Dancy in 'Hannibal'
Basically, it seems TV has caught up with the mind of Mads, most recently in this 'Hannibal', a grisly, cerebral take on the serial killer we already thought we knew so well – in a very different reading from the character of 'Silence of the Lambs' and 'Red Dragon' which, it turns out, was a condition of Mikkelsen signing up.
"When Bryan (Fuller, show creator) told me we weren't simply reproducing what had been done before, I relaxed," he explains. "There would have been no reason to do just a copy version, but this Hannibal needs people, so he has to be friendly, seductive, he's a lot of fun."
Another draw was his co-star Hugh Dancy, who plays a crime profiler Will Graham, disturbed by his peerless ability to empathise with the killers he pursues. The FBI's concern for their prize specialist leads them to put him in the care of top psychiatrist, one Doctor Lecter.
"Hugh and I had worked together before (in Antoine Fuqua's King Arthur)," says Mikkelsen.
"We'd got on very well, sitting together on a horse… not the same horse! Two horses… for hours at a time, so I knew that would be fun again. These are two very intense parts."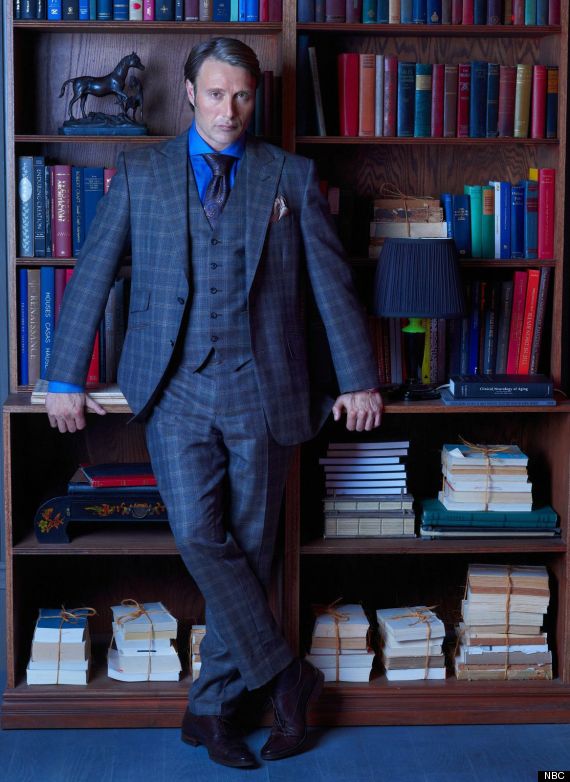 Mikkelsen claims film isn't getting away with half as much as television these days
In the time since, Mikkelsen has bagged a Best Actor award at Cannes for his chilling turn as a man falsely accused of child abuse in 'The Hunt' – how important are gongs?
"It's not why we do it, of course," he muses. "But on a rainy day in Cannes after a long week, it can be a little bit of icing on the cake."
MORE: Mads Mikkelsen Takes Best Actor At Cannes For 'The Hunt' - Is There Nothing He Can't Do?
Mikkelsen's brother Lars (The Killing) is soon to appear on our screens in 'Sherlock', where he will be a foil to Benedict Cumberbatch. Mads claims to have gathered some inside information through this sibling connection, but is saying nothing.
He does reveal, however, that he'd be happy to follow his brother onto these shores for a suitable project, and mentions 'The Office' as being one of his favourites… which could be opportune, as there's now talk of a big-screen version…
The man who's brought us Le Chiffre and now Hannibal with such convincing creepiness may have a point though, when he adds, "I'm not completely sure how I would fit in."
'Hannibal: The Complete First Season' is released on DVD/Blu-Ray box set today. Watch the series trailer below...