This little butter-wouldn't-melt cherub is, in fact, music and technology powerhouse Will.i.am, long before he struck gold with the Black Eyed Peas and started making his millions.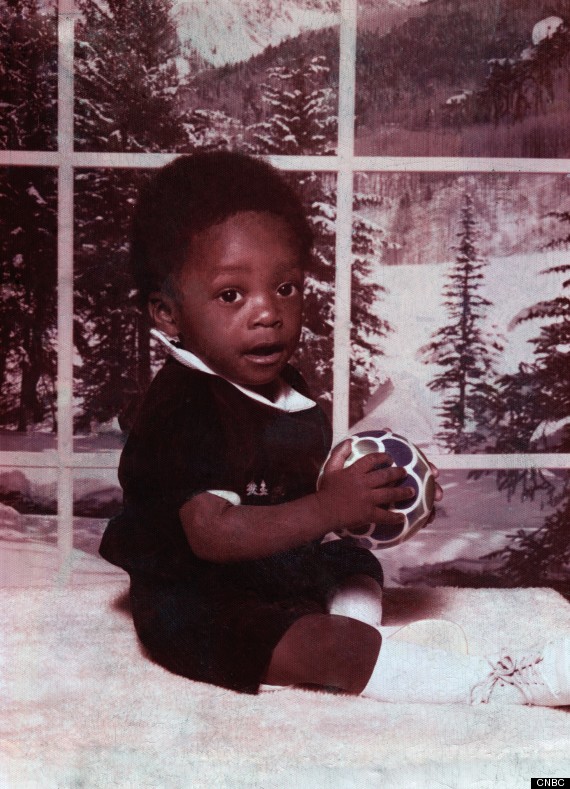 Will.i.am as a toddler in California, long before he struck it big with his music
The Voice UK coach, who today we hear will be joined by Kylie Minogue for the next series, is the subject of a programme to be shown tonight on CNBC, with host Tania Bryer asking him about his childhood on a housing project in East Los Angeles.
As well as talking to Will.i.am, the programme features the first in-depth interview with will.i.am's mother Debra Cain, who describes her musician son's and the struggle and sacrifices she had to make in order for him to start his journey to success.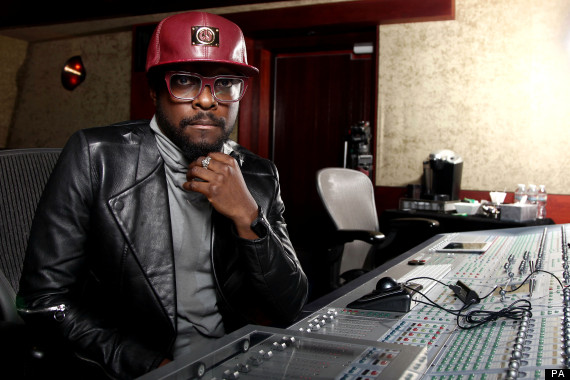 Will.i.am is best known as one of the founding musicians of Black Eyed Peas, but has more recently concentrated on his philanthrophic projects

will.i.am also tells Tania about why inner city philanthropy and education is so important to him and why he started the i.am.angel Foundation which works with underprivileged young people.

"I want to be able to bring all of the world's greatest thinkers to be a part a conversation that will help transform inner cities and people's lives," he says.
"By improving inner cities through education and opportunity, people will stay and create new jobs, versus focusing on leaving.

"With a group of great minds, we can think about what tomorrow looks like, raise money to improve education and encourage kids in the inner city to become scientists, technicians, engineers and mathematicians. I want to couple them with mentors to get them on the right track so they can be a part of the conversation and realise that they're not outside. They're on the inside."
'Tania Bryer Meets... Will.i.am' airs tonight, 11 September, 10pm on CNBC
Helen Flanagan

Emeli Sande

Jason Statham

Rihanna

Nicki Minaj

Alexa Chung

Jack Whitehall

Nathan Sykes (The Wanted)

Sophie Anderton

Catherine Zeta Jones

Hugh Grant

Kate Garraway

David Beckham

Simon Cowell

Dannii Minogue

Cameron Diaz

Jay Kay (Jamiroquai)

Elizabeth Hurley

Julianne Moore

Cindy Crawford

Billie Piper

Ellen DeGeneres

Denise Van Outen

Avril Lavigne

Amy Winehouse

George Clooney

Ashton Kutcher

Gwen Stefani

Gail Porter

Gwyneth Paltrow

Heidi Klum

Matthew McConaughey

Jamie Foxx

Richard Gere

Jennifer Lopez

Robert Downey Jnr

Jennifer Biel

Sigourney Weaver

Joanna Lumley

Tina Turner

Katie Holmes

LeAnn Rimes

Kylie Minogue

Michelle Pfeiffer

Mariah Carey

Nicole Kidman

Paula Abdul

Enrique Iglesias

Shakira

Sinead O'Connor

Tobey Maguire

Tyra Banks

Victoria Beckham

Eminem

Kelly Brook

Sarah Jessica Parker

Kate Hudson

Britney Spears

Duncan James (Blue)

Usher

Dermot O'Leary

Jude Law

Christina Aguilera

Demi Moore

Wayne Rooney

Matt Lucas

Angelina Jolie

Brad Pitt

Reese Witherspoon

George Michael

Nadine Coyle (Girls Aloud)

Robbie Williams

Charlize Theron

Jake Gyllenhaal

Marcia Cross (Desperate Housewives)

Daniel Radcliffe

Holly Willoughby

Tess Daly

Kym Marsh

Jon Bon Jovi

Cheryl Cole

Hilary Swank

Kimberley Walsh (Girls Aloud)

Jerry Hall

Peter Andre

Gethin Jones

Ashlee and Jessica Simpson

Katy Perry

Lady Gaga

Renee Zellweger

Janet Jackson

Matt le Blanc

Pamela Anderson

Beyonce

Christian Bale
.