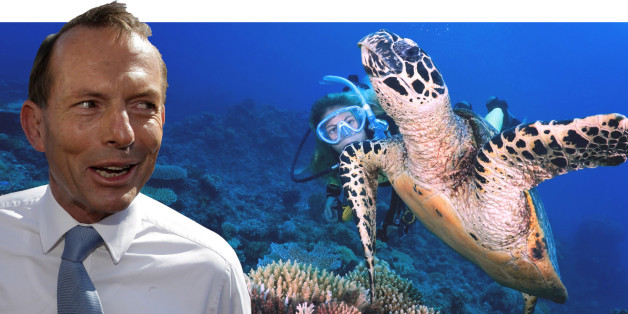 It is known as one of the Seven Wonders of the Natural World and regarded as a global treasure, but experts have warned Australia's already fragile Great Barrier Reef in under threat in what could be an environmental disaster with global implications.
The expansion of destructive coal facilities in the World Heritage Area are being driven by the potential development of nine mega-mines in Queensland's vast Galilee Basin.
The Basin represents the world's second largest reserve of unexploited fossil fuel and if green-lighted, would result in thousands more coal ships passing through the Great Barrier Reef every year - a move branded "environmental madness."
Now, UNESCO is considering whether the Great Barrier Reef should be put on the list of World Heritage sites in danger – often dubbed the "shame list" by conservationists – while Greenpeace has said they face a fierce fight against the Australian Government and those funding the mining projects.
"We're in for a major battle," said Greenpeace's Louise Matthiesson.
"Australia is facing a hard choice right now whether to make a quick buck from coal exports or whether to preserve an economically, long-standing national treasure.
"We fear Tony Abbott could overturn all the steps that have been taken domestically to protect the environment, to instead fast track coal export developments and drastically weaken environmental laws that were created to protect the country," she said.
In June, a UN report expressed "extreme concern" over the level of development along the Great Barrier Reef coast, calling for all building to cease until an assessment of the ecosystem's health was carried out.
UNESCO issued a stark warning against the construction of new ports or increased shipping in the region, having already expressed concern about the "limited progress" Australia has made in a plan to protect the reef from development in May this year.
If the proposals were to go ahead the reef could lose its World Heritage status, while the dredging and dumping of 3m cubic metres of material inside the Great Barrier Reef marine park would threaten coral, dugongs, turtles, dolphins and much of the rest of the reef's profusion of life, Greenpeace warned.
"All the numbers are heading in the wrong direction," said David Ritter, the CEO of Greenpeace Australia Pacific.
"As the Arctic ice melt plunges new depths, Australia's coal exports are preparing to soar to new heights – the two are not unrelated," he said.
The scale of the planned mining operations in the Galilee Basin has global implications, he warned.
However, Queensland's premier, Campbell Newman, has already urged Abbott to approve the massive new coal projects in the state "as soon as possible."
Newman told ABC Radio he had been called by the prime minister elect to discuss the "blockers" faced by the Queensland government.
He said he told Abbott "to get out of the way and let this government get on with taking the state forward economically".
"That's just environmental madness. And it's inconceivable that UNESCO would allow that to happen."
The Amazing World Underwater
SUBSCRIBE TO & FOLLOW UK DAILY BRIEF