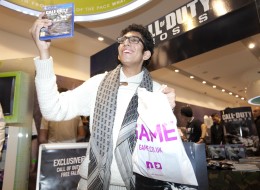 Call of Duty fans have proven their commitment to broadly familiar evolutions of their favourite game by queueing until midnight to be among the first to buy the new entry in the series.
Hundreds of stores across the UK reopened specially for the release of Call of Duty: Ghosts, the 10th version of the Call Of Duty franchise, which is played by 40 million people each month.
Kevin Kite, 32, a funfair worker from Kilburn, was first in the queue at the GAME store in Camden High Street. Kite, who had been queuing since 9.30pm, said: "I have been playing Call of Duty for the last 10 years. When I am off work, I play it all the time, about 20 - 30 hours a week. I booked the day off work tomorrow so I can go home and play the new game all night long."
Meanwhile the game was available to buy digitally at midnight, meaning many of those who bought the game in person were playing hours after those who stayed at home.
Others bought copies of the game for next-gen consoles which won't even be released until the end of November.
Regardless, weight of numbers meant the store manager at Camden decided to open the shop doors at 11pm to allow the queue of Call of Duty enthusiasts to wait inside the store, rather than out in the cold. However, no one was allowed to leave the store with the game before midnight.
Awkward Video Game Launch Photos
Brendyn Nishimura of Nevada displays his copy of 'Call of Duty: Black Ops' on November 9, 2010 in North Las Vegas, Nevada.

Erik Cota walks out of the video store with his copy of Call of Duty Modern Warfare 2 video game, early Tuesday, Nov. 10, 2009

Kevin Sage from south London with his new Xbox 360 on Friday December 2 2005.

Angel Baredes is the first to purchase the new Sony PlayStation 3 at the Sony Style Plaza in New York at midnight

Buying 'World of Warcraft: Cataclysm' on December 7, 2010 in Berlin

Zohaib Ali from London is first in the queue to pick up a copy of Call of Duty Ghosts on 5 November 2013.

Yes, it's him again. This time in February 2012 for the launch of the PS Vita.

And again! This time for Assassins Creed III.

A man carries Nintendo's new Wii console, 8 December 2006, during a special midnight sale in a Parisian store.

Taylor Pelling of Sutton poses with his copy of the console game Grand Theft Auto 5 on September 17, 2013.

Wayne Adams, from Dagenham,buys a copy of Assassins Creed III.

PlayStation fans wait in line to purchase the new Sony PlayStation 2 October 25, 2000.

At the "Halo 3" video game launch in Universal City, Calif. on Monday, Sept. 24, 2007.
Some people in the queue at the GAME store in Camden explained that such was their dedication to Call of Duty, queuing for the newly released games was a yearly ritual.
Justin Tillock, 31, a stage hand at Shafestbury Theatre, said: "This is my sixth year queuing up for the new Call of Duty. I absolutely would not waste my time queuing for any other games. I will go home and unashamedly play the game until sunlight."
Jon Sheridan, 21, from Camden, added: "Queuing up for the new Call of Duty game is a yearly routine for me. I play it about three hours a day, but sometimes all day if I get too addicted."
Danny Renge, a 24-year-old PE teacher from Mornington Crescent, said: "I've got work in the morning so I am going to regret coming here tonight. I am really looking forward to playing the new game. When I am not at work I play Call of Duty as much
as I can."
Activision Publishing hosted a red-carpet event tonight at the IndigO2 in London to mark the launch, where celebrities took part in a multiplayer tournament of the console game.
In the new version of the game, players can customise their soldier with up to 9,000 combinations. Players can also use seven new multiplayer modes such as Cranked, Search & Rescue and Blitz.
Video games retailer GAME opened more than 300 stores at midnight. At the Stratford branch, fans were given raffle tickets to win entry into the Activision launch party.