'Sherlock' will return to BBC One on New Year's Day with series three opener 'The Empty Hearse', the BBC have revealed.
Show bosses have been teasing fans with the hashtag #SherlockLives for a while now, so it was only appropriate that on Friday they announced the show's return by driving a funeral hearse through the streets of London bearing the date of Sherlock's return written in flowers alongside the hashtag...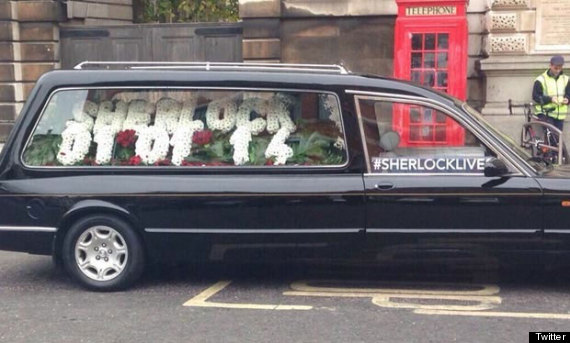 Benedict Cumberbatch will slip back into the long coat of enigmatic detective Sherlock Holmes, alongside Martin Freeman as Doctor Watson on the evening of Wednesday 1 January.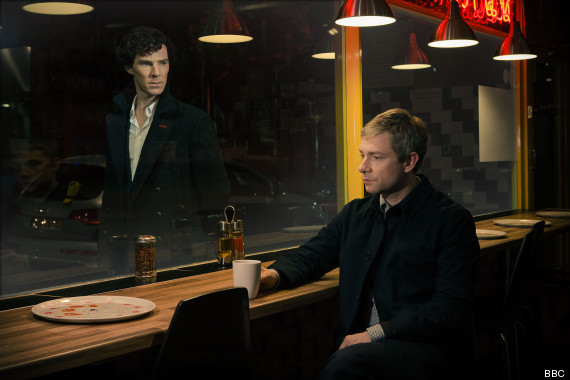 'Sherlock' writer Mark Gatiss posted on Twitter:
Sherlock Holmes, consulting detective. Much missed by friends & family. In *living* memory. Jan 1st 2014! #SherlockLives

— Mark Gatiss (@Markgatiss) November 29, 2013
The show will pick up where it left off, revealing how Sherlock survived his dramatic tumble from the roof of St Bart's Hospital in 'The Reichenbach Fall'.
Episode 2 will then air on 5 January and episode 3 on 12 January.
"It's been a long time since Sherlock Holmes jumped off that roof," fellow 'Sherlock' writer Steven Moffat recently said.
Too long, if you ask us. Happy New Year, indeed!
REVIEW: Series 2 Episode 3 - The Reichenbach Fall - Benedict Cumberbatch Saves The Best For Last

Loading Slideshow
10. Lady Sybil death in Downton Abbey (2012)

It was goodbye to one of the hit drama's favourite characters when Lady Sybil died in childbirth. And a massive shock, too. The programme makers had successfully kept it under wraps.

9. Zammo from Grange Hill (1987)

Strange but true... Zammo, played by Lee McDonald, taking heroin in Grange Hill, shocking at the time and prompting a massive 'Just say no!' campaign, is in at number 9.

8. Morse reveals his first name (1997)

Morse (John Thaw) is forced to reveal his first name, after years of keeping it under wraps, to keep his lady friend happy.

7. Brookside lesbian kiss (1994)

It caused ripples and news headlines when it happened, between Beth and Margaret (Anna Friel and Nicola Stephenson) - the first pre-watershed lesbian kiss on British television.

6. Doctor Who in regeneration (2010)

David Tennant became Matt Smith in the most recent change - much less confusing than what's occurring for the 50th anniversary by the looks of things.

5. Who killed Danny Latimer? (2013)

A recent addition - one of the most successfully concealed whodunnit solutions in telly history. All adding to the myth of 'Broadchurch'.

4. Coronation Street tram crash (2010)

The moment when a devesating explosion rips through the Joinery bar and a tram derails right into Coronation Street causing massive damage and deaths.

3. Sherlock's jump to his death (2012)

And we're still trying to work out how he did it... and lived to tell the tale.

2. Dirty Den gives Angie her divorce papers (1986)

Who would have thought a couple splitting up could be so audience-grabbing? But it was a truly gripping moment when Den (Leslie Grantham) realised his wife (Anita Dobson) wasn't dying after all, and wanted out.

1. Mr Darcy and THAT white shirt (1995)

With a whopping 23% of the vote, it seems Colin Firth simply donning a white shirt as Jane Austen's taciturn heart-throb and going for a dip is still enough to set the audience all of a quiver.