UPDATE: Ah, alas - as we originally mentioned was probably, the bid has turned out to be too huge to be true. The £2,500 bid on the mentioned auction has been retracted, and the bidding now stands at £530 - still high, but not as absurdly high as before.

Sony has sold a lot of Playstation 4 consoles. There are none left in the UK.
So naturally, the buyers and sellers of eBay have lost all sense of proportion and common sense.
And as of Tuesday, at least one PS4 bundle has received a bid of £2,500 - just under six times its original asking price.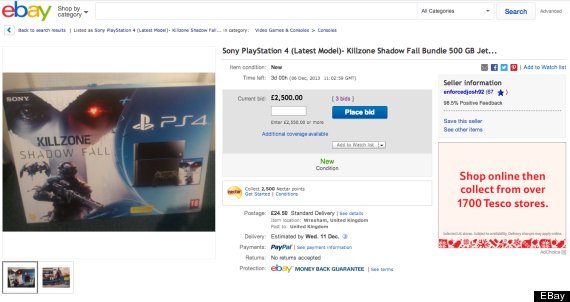 The bid was received on Tuesday from a buyer who beat the previous bids of £2495 and £1000. It is always possible that the bids were not serious, and until it sells we can't know for sure. But from what we can tell it appears genuine.
Several other PS4 lots on the site are being offered at similar sums, though many of those do at least include more games or an extra controller as part of the - still totally absurd - deal.
Needless to say, if you're desperate to get a PS4 before Christmas, we recommend biding your time.
Sony UK has promised that a "substantial number" of the consoles are heading to our shores to meet demand.
"We are delighted by the initial sales of PS4 and are proud to have set new records for a UK console launch," said UK MD Fergal Gara to MCV.

"In particular, I want to thank all the gamers who have waited patiently for PS4 and who have come out to support PlayStation. I also want to thank all of our retail and publishing partners who have helped make this possible by delivering huge sales in a very short period of time and great games for PS4.

"Since the initial announcement back in February, pre-orders for PS4 have surpassed all expectations and we continue to work hard to fulfil the remainder of these pre-orders and to deliver additional consoles to the market for the many more gamers who want a PS4. Substantial further volumes of PS4 will arrive in the UK before Christmas."
LIKE US ON FACEBOOK | FOLLOW US ON TWITTER
Loading Slideshow
Pokemon X & Y (Nintendo 3DS)

The latest Pokemon is the best yet, adding totally revamped and (partially) 3D graphics, great new pocket-monsters to collect, handy experience-sharing features and - as ever - hugely addictive quests to build you team and defeat whoever, for whatever reason. <a href="http://www.huffingtonpost.co.uk/2013/10/04/pokemon-x-y-review-3ds_n_4037123.html" target="_blank">We loved it in our review</a>, and for Pokemon fans it's a must.

Forza 5 (Xbox One)

Forza 5 is the Xbox One's flagship release racer, and it looks utterly amazing in person. The graphics and handling really are a step above anything you could have seen on the previous generation, and it gives us hope that there's a lot more graphical and mechanical power to wring from the next-gen in the year's to come.

Killzone: Mercenary (PS Vita)

Sony's handheld games machine hasn't had a lot of stand-out AAA games this year (indies is a different story). But the latest Killzone was different. <a href="http://www.huffingtonpost.co.uk/2013/09/11/killzone-mercenary-review_n_3906328.html" target="_blank">It's a rock-solid, feature complete FPS</a> with a dramatic (if silly) storyline, clever level design and touch-enabled features that make the best of the PS Vita's unique hardware.

Dead Rising 3 (Xbox One)

There are a few key things that the next-gen consoles enable you to do. One of them is mow down literally hundreds - <em>literally</em> hundreds - of zombies at once in a tank attached to a deadly fireworks rocket. It's amazing fun - shallow? Yes. Hilarious? Also yes.

Bioshock Infinite (Multi-Platform)

Bioshock Infinite came out much earlier this year - but Christmas is a perfect time to finally pick it up and give it the time it deserves. With an amazingly engaging storyline and rock-solid combat mechanics, it's hard to find fault with a landmark game of the generation. And with the new DLC - which takes you back to the underwater world of the previous two Bioshock games - there's never been a better reason to play it through again.

The Last Of Us (PS3)

Critically lauded at the time of its release, and rightly so, The Last Of Us is another gold-plated classic of the generation - and Christmas is exactly the right time to go back and see why it made such an impact for yourself.

Super Mario 3D World (Nintendo Wii U)

The new 3D Super Mario game is the best in the long-running plumber's series of Princess (or in this case, fairy) rescuing adventures in years. The 3D worlds themselves are charming, fun, fast and creative. It's a riot in multiplayer, and the new "Cat" power-up is adorable.

Knack (PS4)

Make no mistake - the PS4 has its share of big-budget AAA games at launch. But this family-oriented 3D platform adventure is up there with the best of them thanks to its beautiful next-gen graphics, attractive and welcoming design and innovative use of the PS4's raw power to tell a story - as well as render amazing chainsaws.

Zoo Tycoon (Xbox One)

The idea of Zoo Tycoon might not set your heart racing. But trust us - there's something about building an ethical animal park with nothing but 12 kinds of bear, which you can feed with your own hands thanks to the new Kinect - which is oddly, totally thrilling.

Assassin's Creed IV: Black Flag (Multi-Platform)

The new Assassin's Creed <a href="http://www.huffingtonpost.co.uk/2013/10/30/assassins-creed-4-uk-review_n_4177896.html" target="_blank">is a snappy, fast and engaging open-world title</a> which rejects the last instalment's lumbering story for a truly free, fun and exciting adventure.