The HTC One Gold is the new special edition of the flagship HTC One smartphone except it's… Gold.
Key Features:
4.7-inch 1080p screen
Qualcomm Snapdragon 600
1.7Ghz quad-core processor
HTC 'Boomsound' speakers
'Ultrapixel' camera
2GB Ram
The Pitch
Phil Blair, HTC European President: "The best artists have always been given gold discs to celebrate their success, but today most people listen to music on their phone. We wanted to celebrate that fact."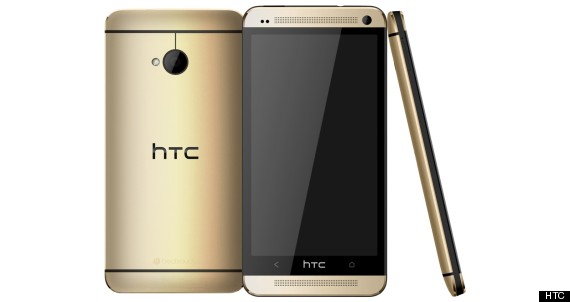 Verdict:
First, the basics: the HTC One is a fine smartphone, one of last year's best, with a great screen, extremely handsome design and some neat software touches that distinguish it from its rivals.
Unfortunately it also has some flaws - some of which were a problem at the time, and some which are more significant as we move into another year of new smartphone releases.
For one, the HTC One's experiment with a lower-megapixel, 'Ultrapixel' camera was designed to sacrifice image size for improved quality and low-light accuracy. And… it didn't quite work. The fact is the HTC One doesn't have anywhere near the best camera in the smartphone space, outdone by everything from the regular iPhone 5S to Nokia's array of absurdly high-resolution snappers.
It's also fair to say that elements of the HTC One's software - its 'Blinkfeed' magazine-style frontpage, the HTC Zoe image editor and sorting app - haven't set the world alight. Meanwhile its battery life is still an issue.
But the HTC One's biggest problem is that it's just a bit... old. HTC has already said a new flagship phone is coming soon. So what's the point in spending top dollar for an ageing phone?
Well, HTC wants to give you a reason. And so - in a move totally unrelated, honest, to Apple - it has brought the HTC One Gold to the UK.
The HTC One Gold is a restyled, recoloured One, with black accents but otherwise no differences to the original One.
The only real question, then, is how does it look? And the answer is… pretty decent, actually. Like the gold iPhone 5S, the gold One isn't too shiny or sparkly (unlike the version made for the MOBO awards). But it's not the exact same shade either - it's stronger, darker and richer than the iPhone equivalent.
Like Apple's handset, the Gold One is not outrageously flashy, but has a muted, 'bronze' tone that is classy while still being a bit self-consciously 'elite'.
Which model you prefer - the phone also comes in silver, black, blue and red - is a matter of personal preference then. And all are obviously good phones. But we might still suggest waiting around a couple of months to see what HTC has up its sleeves for 2014 before you make a big investment on what is really just a recoloured previous-generation smartphone.

Loading Slideshow
HTC One M8

The 2014 update to the HTC One builds on the same hardware features that won the original such a fanatical response, but keeps the essential DNA intact. The massive front-facing speakers are 25% louder, the UltraPixel camera adds a second lens for depth perception (so you can refocus an image after shooting it), and there's a 5-megapixel 'Selfie' front facing lens too. [<a href="www.huffingtonpost.co.uk/2014/03/26/htc-one-m8-review_n_5035163.html?1395847758" target="_blank">REVIEW</a>]

Sony Xperia Z2

Sony's latest flagship Xperia smartphone is a beautiful, thin and waterproof delight. It packs in a 20-megapixels still camera capable of 4K video, a sleeker form factor, a far better screen and built-in noise cancellation technology.

Samsung Galaxy S5

This year's Galaxy S adds water resistance, a slightly larger screen, a 16-megapixel camera and a heart-rate sensor into what was already a market-leading, powerful and sleekly designed device. It doesn't rock the boat too much, but it didn't need to. This is still up there with the very best Android phones.

Google LG Nexus 5

The new Nexus 5 is based on the internals of the LG G2 - which means you get the same Snapdragon 800 processor, as well as the full version of Google's new Android 4.4 KitKat OS, which integrates SMS messages into Hangouts, freshens up the design and adds new features under the hood. The camera is still a little lacking, while the design is functional rather than beautiful, but at £299 off contract it's still a steal.

iPhone 5C

The 5C was rumoured to be Apple's 'budget' iPhone. It isn't - and not only because it isn't that cheap. The "proudly plastic" 5C comes in five colours (see what they did there) <a href="http://www.huffingtonpost.co.uk/2013/09/10/iphone-5c-uk-pictures-release-date_n_3899557.html?utm_hp_ref=uk-tech" target="_blank">but has the same internals, screen and camera as the iPhone 5.</a> It's essentially the same beautiful, high-end phone you already know and love, in a more colourful (and potentially divisive) design. As such it's hard to see how Apple won't sell a billion of them.

Nokia Lumia 925

<a href="http://gdgt.com/nokia/lumia/920/" target="_blank">The Nokia Lumia 925</a> has the same great design and attention to detail we've come to expect from Nokia, but with some crucial upgrades from the 920 including a thinner, all-metal design and an improved camera.

iPhone 5S

With the same ultra-clear Retina display as the iPhone 5, but now with an <a href="http://www.huffingtonpost.co.uk/2013/09/10/iphone-5s-uk-pictures-release-date_n_3898775.html?1378818683&utm_hp_ref=uk-tech" target="_blank">added fingerprint sensor</a>, a seriously impressive 64-bit A7 chip, an improved camera and a new gold design option, this is the best iPhone ever made. And with its consistent market-leading app selection, easy-to-use OS and delightful design, it's hard to argue against it being one of the very best gadgets ever made too.

LG G2

The LG G2 is an extremely high-end 5-inch, 1080p Android 4.2.2 smartphone whose major distinguishing feature is that it has three buttons on the back of the device, which are normally found on the sides. The G2 has its camera button and volume rocker on the rear, which for many people is enough to justify the purchase alone. It also has excellent battery life for this class of device.

Samsung Galaxy Note III

The Note III is huge. It's got a 5.7-inch screen, though with the same 1080P resolution as the Note II. It adds a new leather back panel, which gives it an 'office' feel in line with the productivity-plus-stylus theme of the device. It also adds a Snapdragon 8000 quad-core processor, some new software enhancements and a few new S-Pen functions into the mix. If you're looking for a giant note-taking phone, this is still your best bet.