Christian took to the stage to perform a less-than-tuneful rendition of Tom Jones's hit 'Sex Bomb' for the judges, which Simon Cowell, Amanda Holden and Alesha Dixon were unimpressed by, hitting their buzzers early in the song.
David, on the other hand, clearly wanted to see the audition through to the end and at one point went as far as climbing onto the judges' table to protect his buzzer.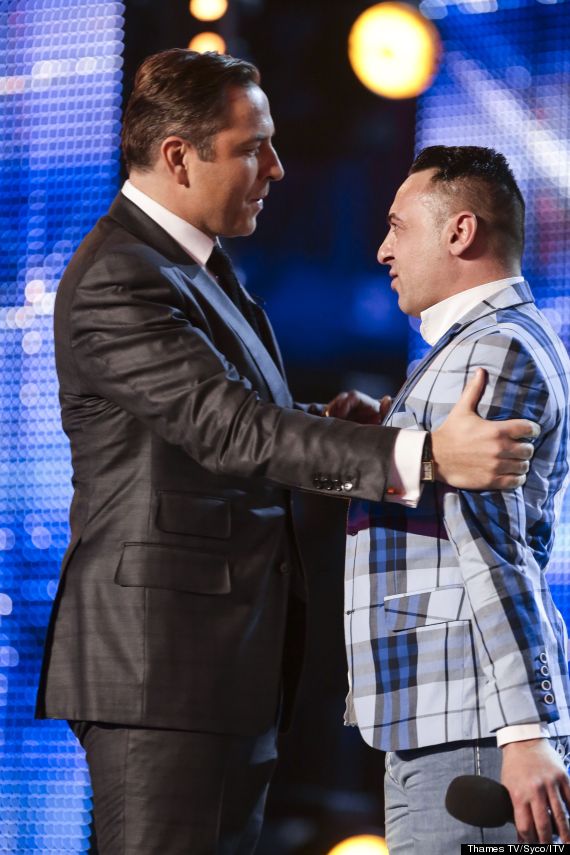 David Walliams and 'BGT' act Christian Spridon
When Simon Cowell did manage to hit David's buzzer - cutting Christian off in the middle of his song and provoking mass booing from the audience - he then made the unusual decision to hit the golden buzzer, automatically putting the singer through to the live semi-finals.
Simon was clearly frustrated with David, asking: "What the bloody hell did you do that for?"
Fans and viewers of the show have shared the music mogul's outrage, and have taken to Twitter to echo his feelings, criticising David for hitting the golden buzzer while claiming other acts were more deserving of it:
Just caught up on tonight's #BGT what an earth was David thinking those guys on the bikes deserved a golden buzzer more they were incredible
Britains got talent was great but when david pressed to golden buzzer i was unhappy the act was crap :(
Darcy should've got the golden buzzer smh
Still can't believe Christian Sprido got the golden buzzer... David why! That's not talent! #BritainsGotTalent
However admittedly not everybody was disappointed with David, with some Twitter users praising the comedian for his golden buzzer choice:
Just watched BGT. David pushing his golden buzzer was the funniest moment in the shows history.
David commented on the controversy on his own Twitter page on Saturday night, writing:
So I think my Golden Buzzer may have been a little controversial... #BGT
Watch Christian's audition for yourself here:
Britain's Got Talent 2014: London Auditions
href="http://www.facebook.com/HuffPostUKEnt"target="_hplink">LIKE US ON FACEBOOK | FOLLOW US ON TWITTER
SUBSCRIBE TO & FOLLOW UK ENTERTAINMENT