Viewers of Monday night's 'EastEnders' may have been surprised to see a familiar face in the background in several scenes, as 'Big Brother' contestant Winston Showan appeared alongside some of the soap's more recognisable characters as an extra.
Winston cropped up in a scene in Sharon Rickman's new wine bar The Albert, serving drinks to some of Walford's residents.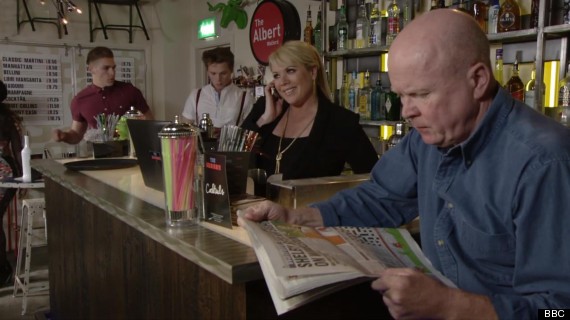 'BB' housemate Winston in 'EastEnders'
At one point he was even at the forefront of the action, carrying a tray of drinks like a pro while Sharon strode around in the background. Someone give that boy an Oscar.
Winston's 'extra' work in the BBC soap probably explains why he seems so at ease in front of the cameras in the 'Big Brother' house, though this isn't his first time on telly.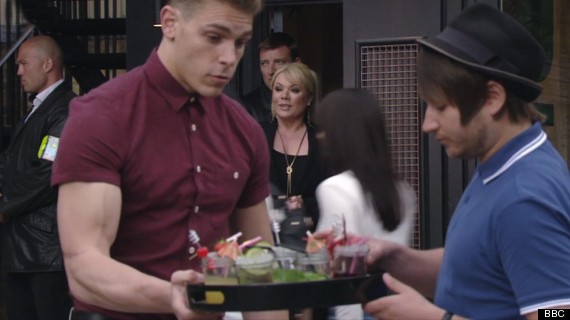 Carrying that tray like a pro - who knew he was so multi-talented, eh?
In fact, prior to his debut on the Channel 5 reality series, the cheeky Essex boy had previously made an appearance on 'TOWIE', as noted by cast member Bobby Norris who claimed on Twitter to have recognised him as soon as he appeared on screen.
During the live launch earlier this month, Bobby tweeted:
Winston!! I'm sure did a scene with me and @Daniarmstrong88 in TOWIE?! #BBUK

— Bobby Cole Norris (@BobbyCNorris) June 5, 2014
Meanwhile, Winston seems to be enjoying his time so far in the 'Big Brother' house, having escaped being nominated for eviction for the second week in a row.
However, it wasn't all hunky dory for him, as on Friday he had to say goodbye to Tamara when she became the first person to be evicted from the show.
The pair had become the first housemates to share a cheeky snog in the house, after enjoying a romantic spaghetti meal together, with Tamara revealing to Emma Willis in her eviction interview that she intended to go on a date with him on the outside world.
Big Brother 2014: Meet The Housemates
Age: 49 From: Wolverhampton Pauline, who will celebrate her 50th birthday in the house, once worked in music and helped Kylie Minogue make it into the Top 10 in the '90s.

Age: 27 From: Essex Winston's hoping to find a girlfriend in the 'Big Brother' house and is certain he'll be "the best housemate ever".

Age: 24 From: Liverpool Mark prides himself on his appearance and gets his hair professionally styled four times a week - how on earth will he cope in the BB house?

Age: 23 From: Hertfordshire Media graduate Matthew has said he's looking forward to tasks where he can "prove I am more intelligent than everyone else".

Age: 23 From: Hertfordshire Steven claims his worst trait is that he can be controlling, so it will be interesting to see how he reacts to the 'Power Trip' theme.

Age: 27 From: Bolton Helen hit headlines three years ago when she it was revealed she'd had a threesome with Wayne Rooney - who was married at the time - while working as a prostitute.

Age: 24 From: London Tamara reckons she's never been kind to anyone, stating: "I'm known as Cruella... or a heartless b**ch".

Age: 23 From: Calfornia Kimberly is a Playboy model with a law degree, who doesn't think she'll get on with people from Essex.

Age: 25 From: Glasgow Danielle is a Catholic lingerie model who states that her idols are God and her mum. She believes in 'traditional' gender roles and thinks '50s housewives are "good role models".

Age: 18 From: Derry Ashleigh is the youngest of this year's housemates. She has a dog called Gucci and reckons she'd donate some the winnings to charity if she triumphs in the competition.

Age: 26 From: Manchester Ash's 'ultimate idol' is David Beckham and he claims he is a "younger better looking version of him".

Age: 33 From: Surrey Jale loves to rant and has said she won't be able to keep her mouth shut on the show.

Age: 29 From: London Housemates won't want to get on the wrong side of Toya, who once sold a boyfriend's belongings online when he treated her badly.

Age: 33 From: Hampshire Actor Chris has said he isn't going on the show to further his career and insists he isn't looking for love on the show.

Age: 22 From: Croydon Self-confessed "wild boy" Marlon is hoping to meet (at least one) special lady in the house and is confident he could rub belly buttons with someone without all the other housemates finding out.
href="http://www.facebook.com/HuffPostUKEnt"target="_hplink">LIKE US ON FACEBOOK | FOLLOW US ON TWITTER