Updated: 14:20, 6 July 2014: Grand Prix restarted
The British Grand Prix was stopped for an hour after a huge crash involving Kimi Raikkonen on the opening lap at Silverstone.
Starting from 18th on the grid, the Ferrari driver was fighting his way up the field through the opening corners when he ran wide at Aintree corner. When he tried to rejoin the track he caught the kerb along the Wellington Straight.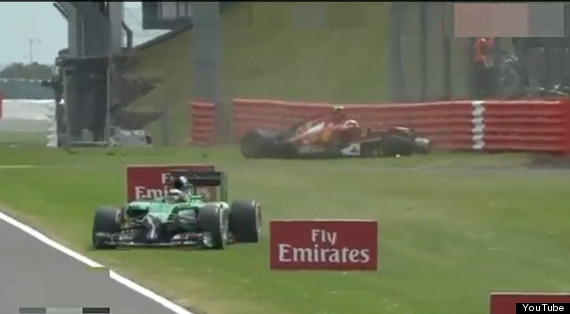 Kimi Raikkonen suffered an injured ankle in the crash that halted the British Grand Prix
Travelling at around 150mph, Raikkonen hit the barriers at the bridge across the Straight before spearing across the track and into the barriers on the other side. Marshals helped the Finn out of his wrecked Ferrari but he looked to be in some pain.
Kamui Kobayashi also clipped the front of the Ferrari before swerving on to the grass.
The race was red flagged after it was discovered that Raikkkonen's impact had punched a hole in the armco barrier which needed to be rebuilt. It's not clear when the race will restart.
Massa was understandably disappointed to have made such an early exit, commenting: "I made a bad start and was last, but I passed two cars before corner four.
Story continues after slideshow
British Grand Prix 2014 - Race Day
"I then saw Kimi spinning and crashing on the right. I turned to the right, but I hit his car with my left rear and the car is badly damaged. It is really a shame to finish the week like that.
"I'm fine, but I hope Kimi is fine because he had a big crash."
It is understood that Raikkonen's first words over the in-car radio to his team was to ask whether Massa was okay.
Ferrari later reported that Raikkonen had a bruised ankle but would also have an X-ray to ensure there isn't more extensive injury.
When the red flag came out, Nico Rosberg had held onto first place but Sebastian Vettel had dropped to fifth with Jenson Button replacing the world champion in second. However, the biggest beneficiary of the delay was Lewis Hamilton who had moved up from sixth to fourth and would now restart much closer to his Mercedes team-mate.
The race was restarted at 1407, an hour after the crash.
The third British driver in the race, Max Chilton, also suffered because of the incident when his Marussia was struck by a loose wheel from Raikkonn's Ferrari, damaging its nose.
He then pitted the car after the race was red flagged which earned him an automatic drive-through penalty.
SUBSCRIBE TO & FOLLOW UK SPORT