For years, the question mark over Ian Thorpe's sexuality has threatened to overshadow his unquestioned sporting achievements in the swimming pool.
But it takes a brave man to ask him straight out. On television.
Turns out British chatshow veteran Sir Michael Parkinson is that man.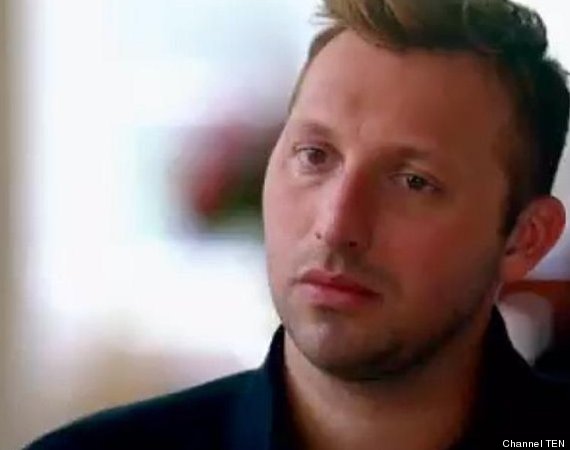 Ian Thorpe has previously spoken about his struggles with addiction and depression
In a no-holds-barred interview to be screened in Australia on Channel Ten next weekend, Parky asks Thorpey the simple question:
"You've always said that you're not gay... is all of that true?"
The trailer, which can be seen above, shows Ian Thorpe seemingly struggling to find the right words to answer.
For Parky, sitting down with Ian Thorpe - who has 22 world records and nine Olympic medals, including five gold to his name - was a long-held ambition.
"Ian Thorpe has always been near the top of my list to interview," he says. "The reasons are obvious. Not many athletes can claim to be the best of all time. Ian can.
"His fight against depression offers a unique insight into the darker side of celebrity and success.
"What fascinates me most about Ian is that apart from the very beginning of his career, he never seemed to enjoy and celebrate his success. It will be interesting to find out the reasons why."
Ian Thorpe has previously spoken out about his addiction struggles, as well as his battle with depression. He attempted a swimming comeback for the 2012 London Olympics, but did not qualify for the Australian team.
How important is the subject of Ian Thorpe's sexuality? Share your thoughts below...
20 Sports Documentaries To Enjoy
Spanning the decade from his arrival in Formula One in the mid-80's, 'Senna' follows the monumental career and tragic death of Brazilian motor-racing champion, Ayrton Senna, taking in his myriad successes and intense rivalry with French driver, Alain Prost.

This Man-United mega-doc takes a look at the sporting achievements and global superstardom of six superbly talented young Manchester United footballers (David Beckham, Nicky Butt, Ryan Giggs, Paul Scholes, Phil and Gary Neville). Spanning 1992 to 1999, 'The Class Of '92' covers the players' highs and lows in this golden age of football.

'Bigger, Stronger, Faster' is an astute look at the world of performance-enhancing drugs, and the athletes that rely on them. The film follows three brothers, all either current or recovered users of steroids. Director Christopher Bell explores America's win-at-all-costs culture and the hypocrisies that pave the way to success

Director Barry Blaustein explores his passion for professional wrestling, leading him on a three-year homage to the United States, on a quest to unravel the mind-set of participants of this extreme sport. With the focus fixed on wrestling stars, Mick Foley, Terry Funk and Jake Roberts, 'Beyond The Mat' is a heartfelt look at a sport at odds with its contemporaries.

'Bobby Fischer Against The World' offers a fascinating insight into the world of competitive chess. At the centre of this gaming documentary is the captivating life of Bobby Fischer, the first rock star of chess and later a tragic figure.

In 1968, the Sunday Times ran an ambitious competition, challenging amateurs and professionals to complete the Golden Globe Race, a singled handed, round-the-world yacht race, for a cash prize of £5,000. Only one man made it to the end. 'Deep Water' takes us on a journey through the catalogue of disasters that made this one of the most catastrophic boat races in history.

A complex story of endurance and will-power amongst a team of diverse non-professionals, 'Desert Runners' witnesses a group of amateur athletes as they complete an ultra-marathon across some of the World's most brutal landscapes.

Narrated by Sean Penn, award-winning 'Dogtown and Z-Boys' tells the story of 8 Santa Monica teenagers, who, shunned by their contemporaries, go on to define a generation of skating during the 1970s.

One of the most political moments in sporting history.'Fists of Freedom' is a documentary that examines the events leading up to and during the 1968 Summer Olympic Games in Mexico City that led to that moment on the podium. With interviews from athletes including John Carlos, Tommie Smith and activist Dr. Harry Edwards, explaining their motivations and the consequences.

This engaging and, at times, heart-breaking documentary follows two inner-city Chicago natives, Arthur Agee and William Gates, as they follow their dreams to become basketball superstars. As one climbs the ladder of success, the other's dreams are quashed. This is a suspense story with top notes of joy and an underlying stream of tension.

Warriors in wheelchairs, 'Murderball' documents the rough and tumble world of Para Rugby. Through the eyes of the US Olympic team, Murderball combines the high adrenaline of this hardcore sport, with a candid look at disability.

1971's 'On Any Sunday' is a classic for fans of motorcycling. With interviews with some of the sport's most recognisable practitioners, including the legendary Steve McQueen, the documentary takes an adrenaline-fuelled look at the riders who devote their lives to the racing tracks and off-road courses across the globe.

The 1977 doc follows a musclebound young Austrian, Arnold Schwarzenegger, on his quest for glory in the 1976 Mr Olympia competition. The villain of the piece, Schwarzenegger, is filmed psyching out junior rival, Lou Ferrigno, to secure victory.

Cult classic 'The Endless Summer' sees Bruce Brown follow two young surfers on their quest for the perfect wave. The journey trails the intrepid surfers as they scale the unchartered waters of West Africa, shark-infested seas of Australia and the tropical tides of Tahiti.

'The Other Dream Team' covers the incredible triumph of a Lithuanian basketball team who, despite numerous hurdles at the hands of Soviet rule, go on to triumph at Barcelona's 1992 Olympics, and in the process provide a symbol of hope for the Lithuanian independence movement.

Mike Tyson takes on his detractors by painting himself as a misunderstood outsider in this self-narrated documentary made up of original interviews and archival footage.

Another Academy Award winner, 'Undefeated' is the ultimate underdog story about a school football team who, against all the odds, and with a record number of losses stacking against them, go on to become champions under the guidance of coach Bill Courtney.

'Venus and Serena' offers an intimate look into the lives of two of tennis's most controversial players during one of the most difficult years of their lives.

This Academy Award-winning look at the infamous 'Rumble In The Jungle' between Muhammad Ali and George Foreman (he of the grills) with 1974 feature celebrity interviews from James Brown, Jim Brown, B.B. King, Norman Mailer, George Plimpton, Spike Lee and Thomas Hauser.