Former Radio 1 presenter Mike Smith has died at the age of 59.
Smith, who was married to fellow television personality Sarah Greene, died in hospital on Friday from complications connected to his recent major heart surgery.
The couple, who married in 1989, lived in London.
In a statement released through Smith's aerial filming company Flying TV, Ms Greene said she would "like to offer enormous thanks to the staff at the hospital for their care and compassion".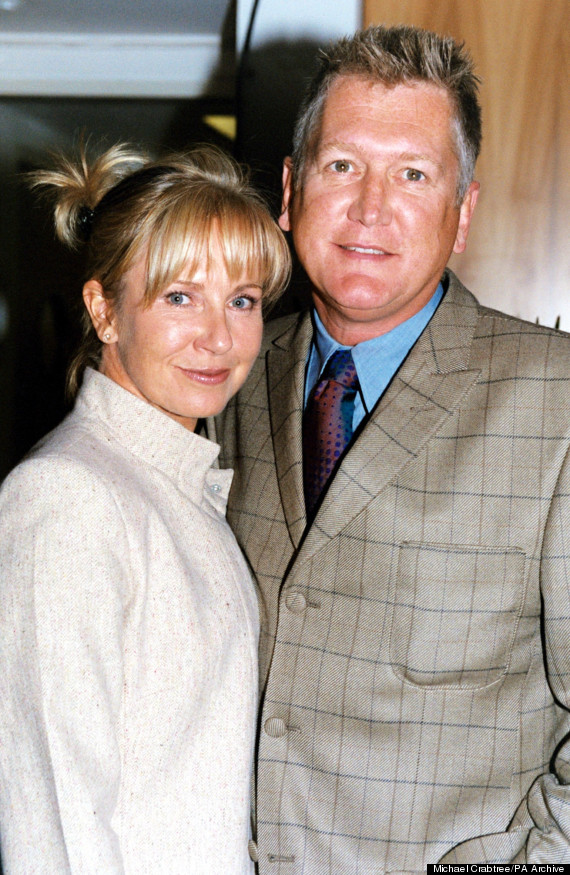 Mike Smith and Sarah Greene during the Sony Radio Awards launch party at the Commonwealth Club in London
The statement said that Ms Greene has asked that she, her family and friends be allowed to mourn in peace.
A Flying TV spokesman said: "Mike founded Flying TV ten years ago and the company says his legacy will be FTV continuing to go from strength to strength."
Smith's career began at hospital radio before joining BBC Radio 1 in 1975.
In 1983, Smith took over the weekday lunchtime show and took on the Breakfast Show in 1986, succeeding Mike Read.
Smith was a key figure in the early years of Comic Relief but largely stayed away from the limelight after a helicopter crash which injured both himself and Ms Greene in 1988.
The qualified pilot and his then-girlfriend Ms Greene were injured when the helicopter he was piloting crashed in Gloucestershire.
Both passengers survived, although Ms Greene broke both legs and an arm, and Smith suffered a broken back and ankle.
The Air Accidents Investigation Branch concluded that "... examination of the helicopter (including flight control, fuel, engine control, dynamic systems and the engine itself) revealed no failure or unserviceability that could have resulted in a loss of rotor speed".
Smith proposed to Ms Greene just weeks later and they were married the following year.
A few fleeting appearances on BBC television shows aside, Smith spent much of his time working as managing director and aerial cameraman for Flying TV.
However last year he criticised Radio 1's music strategy, telling the Radio Times: ''They say they're going for a younger audience - that's just wrong. Relentlessly chasing youth is going to piss off more people than it will attract.
''I don't know why the BBC is slavishly following demographics invented by advertisers when they don't take advertising. They should target attitude, not age. Whatever age you are, chasing demographics is terrible news for listeners.''
RIP: Celebrities We've Lost In 2014
After a lengthy battle with cancer, the actress and 'Loose Women' panelist died at the age of 66 in October.

Comedy legend Robin Williams took his own life in August 2014.

Controversial comic Joan Rivers died in hospital at the age of 81 in September.

The actor and comedian Rik Mayall died at the age of 56 in June.

Actor Roger Lloyd Pack died on 15 January 2014 at the age 69 following a battle with pancreatic cancer.

'Dynasty' star Kate O'Mara died at the age of 74 on 30 March 2014.

Peaches Geldof was found dead at her Kent home on 7 April 2014.

L'Wren Scott, fashion designer and Rolling Stones frontman Mick Jagger's longtime girlfriend, was found dead in NYC on 17 March 2014 of an apparent suicide.

HR Giger, the artist who created the 'Alien' movie monster, died at the age of 74 on 12 May 2014.

Bob Hoskins died on 29 April 2014. After his death, his daughter penned a touching blog detailing lessons she learnt from her father.

'EastEnders' actress Edna Doré died age 92 on 11 April 2014.

Mickey Rooneyv died in his sleep from natural causes on 6 April 2013. He was 93.

House music DJ Frankie Knuckles died at the of 59 on 31 March 2014.

Clarissa Dickson Wright died on 15 March 2014 at the age of 66.

Comedy legend Harold Ramis died on 24 February 2014. He was 69.

Iconic child star Shirley Temple died on 10 February 2014 in California. Her cause of death was not released. She was 85.

Actor Philip Seymour Hoffman was found dead of an apparent heroin overdose on 2 February 2014 in New York City. He was 46 years old.

Musician Phil Everly, of the Everly Brothers, died aged 74 in California on 3 January 2014.

Richard Attenborough died just five days before his 91st birthday in August 2014.

Legend of both stage and screen, Elaine Stritch died in her sleep at her home in Michigan in July 2014. She was 89 years old.

The 70s rocker died not long after being diagnosed with prostate cancer in October.

Star of 'The Notebook' and 'The Rockford Files', James died in July 2014.

Simone Battle, of US girl group GRL, died as a result of suicide in September. She was 25 years old.

Actress Clare Cathcart, known for her role in 'Doctors' as well as appearances in 'Call The Midwife' and 'New Tricks', died at her home in Brighton at the age of 48 in September.

Fashion icon Oscar de la Renta, whose designs were worn by Jennifer Lopez, Sarah Jessica Parker and Naomi Campbell, died at the age of 82 in October.

The legendary actress died at the age of 82, in December 2014.

Joe died in December 2014, following a battle with lung cancer.