Tonight sees the return of that culinary salute to middle, comforting, semi-rural England with the fifth series of 'The Great British Bake Off'.
All four regulars - presenters Sue Perkins, Mel Giedroyc, and judges Mary Berry and Paul Hollywood - return to the tent, now pitched on BBC1, to encourage thirteen of the country's top amateur bakers.
PICTURES: Below are this series' new faces - who looks like a winner?

Cue culinary metaphors - what a feast, a delicious concoction of elements comprising to create a perfectly-baked whole. Here are just five of the ingredients I tasted separately, acknowledging readily that they don't do justice to the melt-in-the-mouth final offering....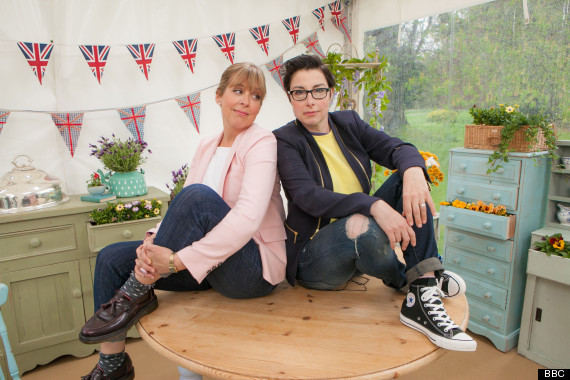 Sue Perkins and Mel Giedgroyc are the perfect choice to front the show
The presenters... Mel Giedroyc and Sue Perkins are an imaginative but perfect choice to front this televised village fete. Both could have stepped straight from the pages of a Joanna Trollope novel with their wholesome good sense, good humour, they're both middle England, but with a naughty twist. "Just a shame you can't get any double entendres out of that", said Sue of this week's challenge. "Tarts...nope, nothing," agreed Mel. Underplayed perfection.
The experts... Forget your Jose Mourinhos, George Clooneys, in Paul Hollywood, The Great British Bake Off has its own silver fox, secure enough in his male-ness to spend a happy hour discussing egg consistencies with home bakers in a tent.
The good news this series is that Hollywood is safely back with his British wife, after what he calls "the biggest mistake of his life", ie. taking his apron to the States for the American version of the show and promptly becoming involved with his Stateside co-host and splitting temporarily from his family. This series sees Hollywood happily restored in his own kitchen - will the fruits of his restored happiness show themselves on screen?
Meanwhile, there remains no arguing with Mary Berry, whose recently revealed distaste of hostile TV chefs is just another reason why she's one of my shortlist of people who SHOULD be running the country.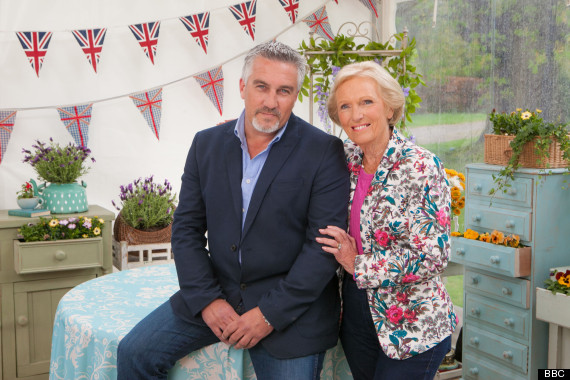 Paul Hollywood and Mary Berry provide the expertise on the show
The setting... While the Masterchef contestants battle it out in a hermetically-sealed laboratory, some sort of culinary bunker with no natural daylight in sight, these chaps sieve their flour and torch their tarts in a tent, with the walls flapping. There's a lake in the background, green grass, trees blowing. We're reminded that cooking is at its most appealing when it's seen in context of nature and the elements.
The descriptions... It's impossible to resist the descriptions - "pastry perfection"... "a little bit of a soggy bottom"... "apple and lavender tarte tartin"... "vanilla and pear"... "walnut praline"… building up to the ultimate promise of "lattice". It's like walking into a more innocent age, playing in the vicar's garden, while she cooks us all up a tea. Impossible to resist.
VOTE: Is The Great British Bake Off The Best Cookery Show On Television?
Finally, the hobbies... While one contestant likes to knit when's she not baking, another plays in a brass band, another lets his young daughter helps him prepare his plate of delights. The message is clear - these are people with full, satisfying lives, capable of knocking up an apple pie with half an hour to spare, and delivering it to the town hall in time for the choir to finish rehearsing. It conjures up many happy hours in and out of the kitchen. I can't get enough of it. I want to move to a village, or at least learn how to turn on the oven.
PHOTOS: Series 5 starts tonight - more contestants obsessed with cakes...
The Great British Bake Off 2014
Kate, 41, From Sussex Kate lives in Brighton with her five-year-old daughter. Last year, she baked 15 Christmas cakes and prides herself on rarely using recipes or weighing ingredients.

Iain, 31, From London Iain, originally from Belfast, is inspired by his passion for travel.

Enwezor, 39 From Hampshire Enwezor taught himself to bake in the last 3 years. Born in North London, he now lives in Portsmouth with his wife and four children.

Martha, 17, From Berkshire Martha is the Bake Off's youngest ever contestant. She's currently studying for A-Levels and hopes to become a Food Scientist.

Norman, 66, From Scotland Norman joined the Merchant Navy at the age of 19, bit his father and brother were bakers. He's hoping to bring back traditional Scottish recipes.

Richard, 38 From London Richard made his own wedding cake - in the shape of the Millenium Falcon from 'Star Wars'.

Luis, 42, From Cheshire Luis describes himself as an "inventive baker" and uses honey from his own bees in his creations.

Nancy, 60, From North Lancashire She grow vegetables, rears guinea fowl and "grows her own turkeys for Christmas" in her garden.

Jordan, 32, From Nottingham IT manager Jordan calls himself a "nerdy baker". He has been baking for the last three years.

Chetna, 35, From Kent Chetna was born in India and moved to the UK with her husband in 2003. She combines her mother's traditional recipes and flavours with British baking styles.

Diana, 69, From Shropshire Diana joined the WI at the age of 12 and became a WI judge when she was 20 years old. Watch Out, Mary!

Claire, 31, From Cheshire Claire has been baking she was 11 and her mother and grandmother are both wedding cake decorators.