Nowt so strange as folk indeed.
If you were in any doubt of the vagaries of human nature, you can be reassured by the contents of this slide show. The camera does not lie, but perhaps the participants of talk shows do, particularly when there's an emotional fix to be wheedled out of.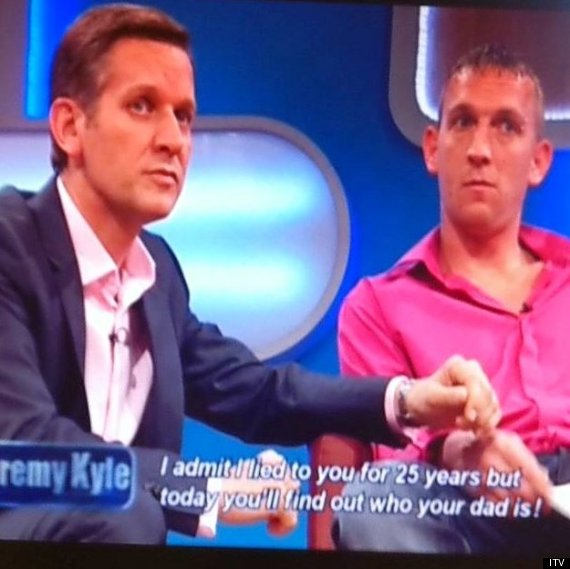 Jeremy Kyle has had his share of strange confessions on live TV
Noddy once painted the floor of his room very carefully and thoroughly. It was only when he looked up that he realised he was in one corner of the room, and the door was in another. See if this lot of talk show confessors have any better luck digging themselves out of a hole of their own making...
With thanks to Two Little Fleas for their sterling research work, and with videos taken from the shows of Jeremy Kyle, Maury Povich and Jerry Springer...
Shocking Talk Show Headlines
This poor girl is in a right pickle. Even pictures of the offending vinegar-drenched vegetables can freak her royally out.

With so much raw talent, can you blame this gentleman for having his eyes on the glittering prize rather than his girlfriend?

Drama, intrigue, tension, mystery, bingo – this Jeremy Kyle segment has all of the hallmarks of a spell-binding 15 minutes of daytime television., but whodunnit?

Usually we'd be tempted to suggest that the sister was the one to trust, but in this situation, a plastic crystal ball could be just as reliable.

Not so much Prison Break as post-prison break up. This chap would probably have been happier back in the clink.

We all love a silver fox, but if you're going to ditch your husband and marry his father, you'd better be bloomin' sure it's the right decision.

This medium can perform hexes and has had a vision that her boyfriend is unfaithful - but does he deserve a kick in the crystal balls?

Maury tries to cure a women's fear of Chickens, also known as Alektorophobia, using what you could call an extreme method.

A poignant question for this habitual user of public transportation. We don't know which bus route these folk take, but we'd like to avoid it if possible.

£1.50 might mean a pretty good haul of pick'n'mix but it's not much of a contribution to the upkeep of your child.

A very good question from a very shrewd woman...

A serial chat show guest (still) in search of the man who fathered her baby. It's like Russian roulette, with paternity tests.