Emma Willis has defended American actor Gary Busey, after his 'Celebrity Big Brother' journey got off to a pretty shaky start on Monday night.
Before heading into the 'CBB' house, Gary was greeted by Emma, who asked him what he'd be like as a housemate, though it took a few attempts for him to actually understand what she was saying.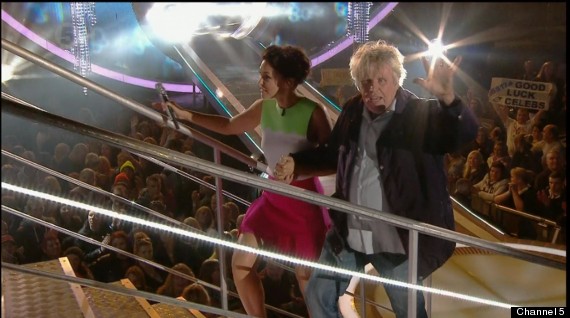 Gary Busey enters the 'CBB' house
The actor was then told it was time for him to enter the house, but as his entrance music played he looked confused, and told Emma repeatedly: "I thought you were going to ask me three questions."
Eventually, the presenter took Gary by the arm and walked him up the stairs to the door of the 'CBB' house, clearly a little thrown by his behaviour. Upon entering, Gary was seen struggling to get to grips with some of his fellow housemates' names.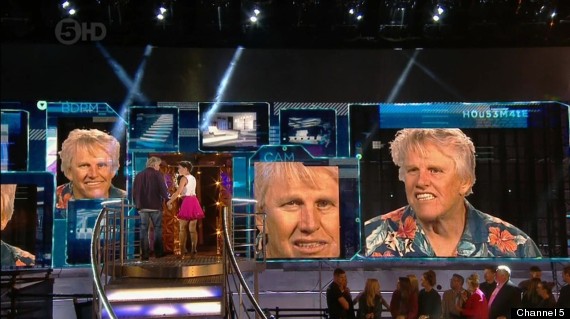 Emma leaves Gary at the door
Appearing on 'Celebrity Big Brother's Bit On The Side' later in the evening, Emma made reference to the awkward encounter, joking: "That was an experience and a half - don't you just love live telly?"
Speaking to presenter Rylan Clark, she began to come to Gary's defence, saying: "I grew up watching Gary Busey films so obviously I was super super excited..."
At this point the crowd broke into a few giggles, but Emma continued with her speech, adding: "No - I still am super excited. What we have to remember is that he's 70 and he's really hard of hearing so things can obviously get a little tricky.
"And then there was the stairs scenario. I thought I was going in as well! But it's live telly, you've got to improvise."
SEE MORE:
Among Gary's brand new housemates include ex-'TOWIE' star Lauren Goodger, Kelly Brook's muscleman fiancé David McIntosh and former boxing coach Kellie Maloney, who made headlines earlier this month when she publicly came out as a trans woman.
'Celebrity Big Brother': Meet The Housemates
The former 'The Only Is Essex' star whose rocky relationship with Mark Wright had viewers gripped, it's pretty much a given that she's going to cause some serious 'TOWIE'-style drama. A six-second sex tape of her performing a sex act on her then-boyfriend recently leaked, which she has described as a "humiliating" experience. She was later forced to deny claims that the sex tape was fake, as no one appeared to be able to find it online.

George is probably better known to 'Gogglebox' viewers as 'Squeaky', thanks to his unique speaking voice when he passes judgement on the week's TV with his parents on the hit Channel 4 series. We're used to seeing him sitting in front of the telly, let's see how he fares when he's on it...

There's one every year, isn't there? The one contestant who heads into the house to cries of "who?" from around the nation. This French former exotic dancer was discovered during her time living in Las Vegas, going on to appear on Playboy TV. She's also appeared in Oscar-nominated titles such as 'Milf School' and 'Gina's Filthy Hos', which we're sure are totally wholesome, feel-good films with an important social message.

One of two stars with a boxing history in this year's series, Audley Harrison is no stranger to reality telly, having appeared on 'Strictly Come Dancing' in 2011. Despite encouragement to retire, he won his second Heavyweight title at the age of 41 last year, determination that will come in handy in the house, we're sure. He's also the first ever 'CBB' housemate to have an Olympic gold medal, which rather puts Jasmine Waltz and Casey Batchelor's achievements in the shade.

Best known for her roles in 'Bad Girls' and 'Bad Girls', Claire describes herself as "down to earth" and a "country girl at heart". We're sure with that attitude she'll be stealing the spotlight in the 'CBB' house.

Since he began romancing Kelly Brook earlier this year, David has never been far away from the headlines, including one unfortunate incident when he drove a van full of dead badgers into a bus stop. Considering his press shot sees him showcasing his impressive physique, we're thinking this former 'Gladiator' has already worked out what he's bringing to the 'CBB' table...

Fans of 90s music (we know you're out there...) will remember Edele from her days in with B*Witched. While the group were known for their double denim and perma-smiles, it seems things behind the scenes were a little more rocky, as was revealed during their stint on 'The Big Reunion'.

'Point Break' actor Gary Busey has a reputation for slightly erratic behaviour, which we think is going to make him one to watch in this year's 'Celebrity Big Brother'. Interestingly, he also has a black belt in four separate martial arts.

James is a former 'Strictly' professional dancer, who was allegedly axed from the show this year after it's claimed bosses grew tired of his outbursts. He's since spoken negatively about the dancing show, which his wife is still a dancer on. A 'CBB' housemate unafraid to speak his mind at the drop of a hat? This should be interesting...

Former boxing promoter Kellie made headlines earlier this month when she gave an interview revealing that she was actually a trans woman, which is the reason she left the world of boxing late last year. Having been known as Frank Maloney at the height of her fame, she was previously the manager of Lennox Lewis, helping him secure his title as Heavyweight Champion of the World in 1993.

'Will and Grace' fans will recognise Leslie Jordan as the actor behind the sassy and fabulous Beverley Leslie, Karen Walker's nemesis in the hit series. A former journalist, he has also starred in 'The Help' and the most recent series of 'American Horror Story'. We don't mind admitting we have incredibly high hopes for Leslie.

The former 'Geordie Shore' cast member known for two things: his relationship with Vicky Pattinson and his toned body. We're guessing it won't take him long before both of them are mentioned.

Reality telly fans will almost certainly have seen Stephanie - if not from her original run on 'The Hills', then her recent appearances on 'Made In Chelsea', where she tore into her ex-boyfriend, Spencer Matthews. We're guessing she may have taken some tips from her brother Spencer Pratt, who was joint runner-up on 'Celebrity Big Brother' in 2012.

One of the first rumoured 'CBB' contestants, White Dee has finally left 'Benefits Street' behind for a new abode in Borehamwood. Unfortunately for her it's a house share with 13 others... Since 'Benefits Street' became a smash hit with viewers, Deirdre (for that is her real name) has been inundated with offers from all over the world to do modelling shoots, and other reality shows. We can't wait to see how she gets on in 'Celebrity Big Brother'...