Christina Aguilera New Baby Girl: Singer And Fiancé Matt Rutler Name Daughter Summer Rain
Christina Aguilera has revealed the name of her newborn baby girl, who she gave birth to over the weekend.
The 'Burlesque' actress took to Twitter on Monday, telling her fans that she and fiancé Matt Rutler have decided to give their daughter a name to fit her August birth.
So proud to welcome our beautiful daughter Summer Rain Rutler into the world.

— Christina Aguilera (@xtina) August 18, 2014
Summer Rain is the first child for Matt, and the second for Christina, who already has a six-year-old son, Max, from her previous marriage to music marketing executive Jordan Bratman.
The happy couple confirmed they had a little one on the way back in February, just a week after announcing their plans to tie the knot.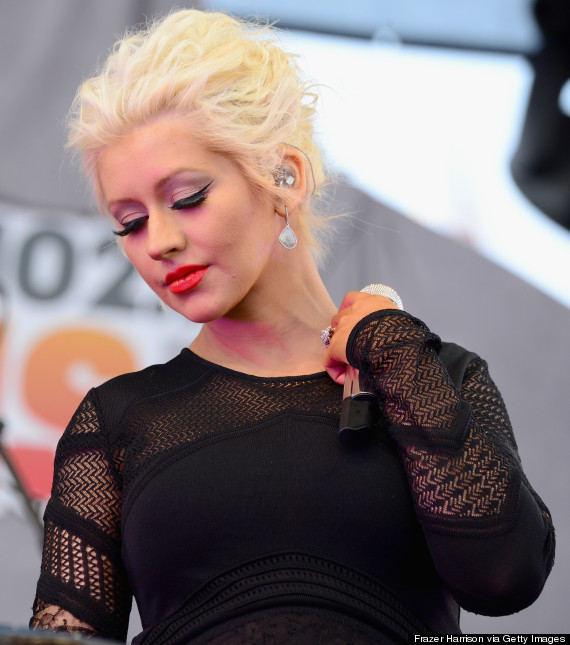 Christina Aguilera
Christina previously spoke about motherhood in an interview with Parade, revealing it was often difficult for her to juggle being a mum with being a world-famous star.
She explained: "Kids are really wonderful but they take effort, they take time.
"Sometimes that balancing act isn't easy, I am not going to lie. But it is worth it and I know any mom would say the same. I am no different from any parent out there."
However, it doesn't look like she's struggling to strike a balance to us, after she tweeted this picture from a recording studio less than a week before giving birth to her baby girl.
Baby girl getting first listen to what mama's been creating in the studio. pic.twitter.com/A2bsrN8Fmv

— Christina Aguilera (@xtina) August 11, 2014
Congrats, Christina!
66 Silly Celebrity Baby Names
Katie Price's daughter.

Mariah Carey and Nick Cannon's twins.

Slash's sons.

Gwyneth Paltrow and Chris Martin's daughter.

Rachel Griffiths' son.

Jason Lee's son.

Beyonce and Jay-Z's daughter.

Gwen Stefani and Gavin Rossdale's son.

Bob Geldof and Paula Yates's daughters.

Paula Yates and Michael Hutchence's daughter.

Peaches Geldof's sons (yes, it runs in the family).

Forest Whitaker and Keisha Nash's children.

Bono and Ali Hewson's daughter.

Not to be outdone: The Edge's daughter.

Kevin Smith's daughter.

Robert Rodriguez's sons (we'll allow the daughter's name, Rhiannon).

Matt Bellamy and Kate Hudson's son.

Courtney Cox and David Arquette's clown daughter.

Steven Spielberg's daughter.

Nick Lachey's son.

Actress Shannyn Sossamon's son.

David Duchovny and Tea Leoni's son. We see what they did there.

Footballer Tommy Williams and Nicola McLean's son.

Brue Willis and Demi Moore's daughters.

Kourtney Kardashian and Scott Disick's daughter.

Song of Korn lead singer Jonathan Davis.

Geri Halliwell's daughter.

Erykah Badu's son and daughters.

Barbara Hershey's son (who then changed his name to Tom when he was nine).

Jamie and Jools Oliver's son and daughters.

Ashlee Simpson and Pete Wentz's son.

Toni Braxton's sons.

Frank Zappa's son and daughters.

Jermaine Jackson's son.

Penn Jilette's daughter.

David and Victoria Beckham's sons and daughter.

Sean Penn and Robin Wright's son.

Alec Baldwin and Kim Basinger's daughter.

Ryan Giggs and Stacey Cooke's daughter.

John Cougar Mellencamp's son.

Brad Pitt and Angelina Jolie's daughter.

Michael Jackson's third child (also known as 'Blanket', because Prince Michael II just isn't silly enough).