Week 4 brought a surprise in the bakers' tent, with one of the contestants having a right royal flounce when his ice-cream was perfectly whipped… out of the freezer by another contestant.
It all started so normally, as the nine remaining contestants got to grips with a self-saucing pudding, whatever that is. Nancy used her gadgetry, Kate pretended she was rubbish, Norman answered back, and Mary Berry's pink lipstick stayed intact, even while chomping on a scarily perfect tiramisu. So far, so Bake Off.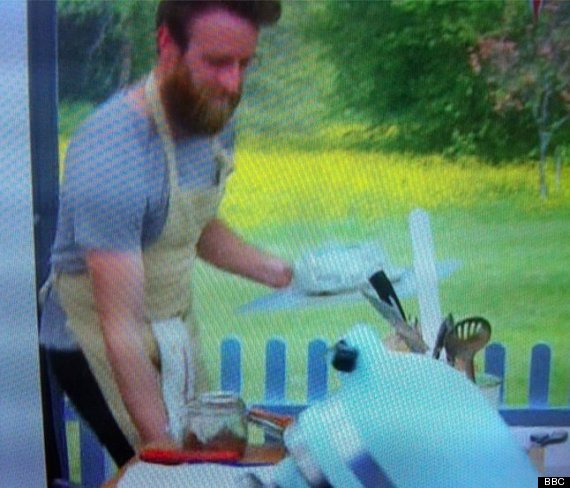 Iain! Oh, what have you done?
But then… disaster. Everyone was struggling equally with the show stopper - trying to cool down a Baked Alaska on what the judges admitted was the hottest day of the year.
Iain had put his ice-cream into a freezer to set, but it wasn't his freezer, so it was removed by a rival we shouldn't name (Diana). When he saw his Alaska become the Amazon, flowing straight onto the table, he presented it… straight into the bin!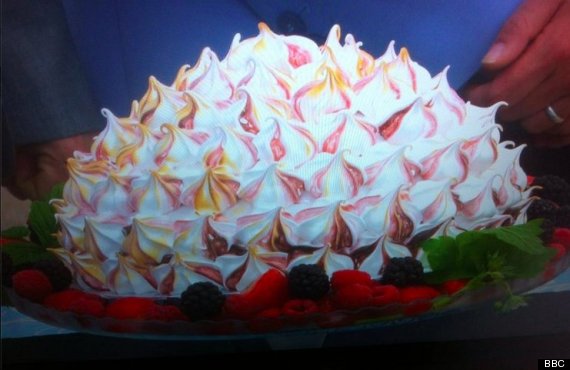 Here's what Iain could have won... courtesy of Nancy's stunner
Despite the judges' kind faces, the proof of the pudding was in the exit of Iain. It was a lesson in containing their kitchen frustrations for the other contestants, oh, and for the rest of us, naturally. In never trusting a woman called Diana despite her kindly face and her mugs to camera. She's in it to win it.
Do you think Iain should have been allowed to stay? Or do you think Diana should have owned up? Share your thoughts below...
Who do you think is destined to be this year's Greatest British Baker? Choose from those below...
The Great British Bake Off 2014
Kate, 41, From Sussex Kate lives in Brighton with her five-year-old daughter. Last year, she baked 15 Christmas cakes and prides herself on rarely using recipes or weighing ingredients.

Iain, 31, From London Iain, originally from Belfast, is inspired by his passion for travel.

Enwezor, 39 From Hampshire Enwezor taught himself to bake in the last 3 years. Born in North London, he now lives in Portsmouth with his wife and four children.

Martha, 17, From Berkshire Martha is the Bake Off's youngest ever contestant. She's currently studying for A-Levels and hopes to become a Food Scientist.

Norman, 66, From Scotland Norman joined the Merchant Navy at the age of 19, bit his father and brother were bakers. He's hoping to bring back traditional Scottish recipes.

Richard, 38 From London Richard made his own wedding cake - in the shape of the Millenium Falcon from 'Star Wars'.

Luis, 42, From Cheshire Luis describes himself as an "inventive baker" and uses honey from his own bees in his creations.

Nancy, 60, From North Lancashire She grow vegetables, rears guinea fowl and "grows her own turkeys for Christmas" in her garden.

Jordan, 32, From Nottingham IT manager Jordan calls himself a "nerdy baker". He has been baking for the last three years.

Chetna, 35, From Kent Chetna was born in India and moved to the UK with her husband in 2003. She combines her mother's traditional recipes and flavours with British baking styles.

Diana, 69, From Shropshire Diana joined the WI at the age of 12 and became a WI judge when she was 20 years old. Watch Out, Mary!

Claire, 31, From Cheshire Claire has been baking she was 11 and her mother and grandmother are both wedding cake decorators.