Taylor Swift has unveiled the music video for her latest single, 'Out Of The Woods'.
READ MORE:
The track is the sixth single to be taken from her smash hit album, '1989', with Joseph Kahn once again acting as director, having previously helmed the videos for her tracks, 'Bad Blood', 'Wildest Dreams' and 'Blank Space'.
Her dreamy 'Out Of The Woods' video is definitely among her most elaborate ever, and sees Taylor going on a four-minute adventure.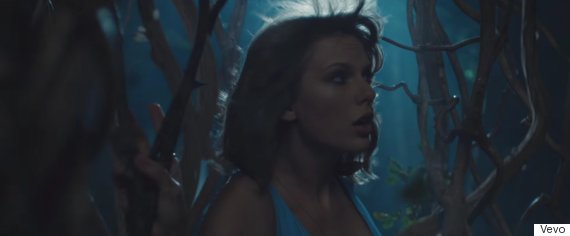 Taylor Swift in the 'Out Of The Woods' video
After opening on a beach, she's then seen running through some enchanted woods while being pursued by wolves, in scenes that could have been lifted straight from a fairytale.
Later in the video, the wolves follow Taylor to a mountain setting, where she is caught in a snowstorm, while during the (frankly, amazing) bridge, she's seen crawling through mud.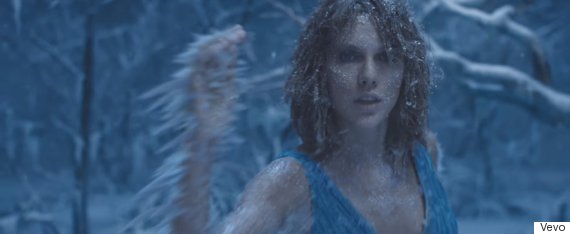 All together now: 'Let it go, let it gooooooo'
The song's lyrics are thought to reference Taylor's brief relationship with One Direction singer Harry Styles.
During the second verse Taylor sings the line, "your necklace hanging from my neck", a potential reference to the fact that both pop stars were seen wearing the same triangle necklace during their time together.
More tellingly, the song mentions "twenty stitches in a hospital room" after "slamming the brakes too soon", which seems to coincide with a story Taylor told Rolling Stone about how she and Harry ended up in ER after a snowmobile accident.
Taylor previously said of 'Out Of The Woods': "This was a relationship where I was kind of living day to day wondering where it was going, if it was gonna go anywhere, if it was going to end the next day.
"It was a relationship where you kind of never feel like you're standing on solid ground. That kind of feeling brings on excitement but also extreme anxiety and kind of a frantic feeling of wondering."
It was recently reported that Harry had been given the chance to tell - or, rather, sing - his side of the story, with the suggestion that One Direction's single 'Perfect' contains allusions to his short-lived relationship with Taylor.
Who's Who In Taylor Swift's 'Bad Blood' Video?
Pretty famous pop singer. Kind of a big deal. Perhaps you've already heard of her.

Singer of the criminally-underrated 'Love You Like A Love Song', 'Come & Get It' and 'Slow Down'. Used to go out with Justin Bieber, now going out with Zedd. Does anyone else reckon that wig is looking a bit Katy Perry-esque? Just a co-incidence, we're sure...

Of course, he's not actually in the video, but it's worth noting that Joseph Kahn has some pretty impressive music videos under his belt already, including Eminem's 'Love The Way You Lie', Britney Spears' 'Toxic', Gwen Stefani's 'The Sweet Escape' and... erm... Samantha Mumba's 'Baby, Come On Over'.

One of the biggest rappers in the world right now, Kendrick contributes a guest verse to the 'Bad Blood' remix. He hit the top of the UK album chart earlier this year with his latest release, 'To Pimp A Butterfly'.

The brilliant, Golden Globe-winning creator of the sitcom 'Girls', which she also writes, directs and stars in.

Hailee previously starred as the female lead in the 2013 film adaptation of 'Romeo and Juliet'. We're sure her Shakespeare background really helped her prep for her role as The Trinity, which largely involves staring at the camera and wearing a helmet.

When she's not putting a dent in a metal wall with her bare fist, Serayah is known for her role as Tiana in the critically-acclaimed musical sitcom, 'Empire'.

Gigi Hadid is best known for her modelling shoots in the likes of Vogue, Elle and Cleo magazines. Bizarrely, she's also put in several appearances on 'The Real Housewives Of Beverly Hills'.

Ellie's one of the stars we're guessing you have heard of, thanks to her UK hits 'Burn', 'Anything Could Happen' and her most recent chart-topper, 'Love Me Like You Do'. She also loves a good run.

Best known for her modelling work as a Victoria's Secret Angel, Martha plays Homeslice in the 'Bad Blood' video, taking on Taylor Swift for a sword-fight.

If you have eyes and have left the house in the past 18 months, the chances are you've seen Cara Delevingne somewhere on an advert for something. You name a brand and she's done a campaign for them - Burberry, Topshop, D&G, DKNY... the list is truly endless. She's also a tabloid staple thanks to her high-profile relationships with the likes of Michelle Rodriguez, Harry Styles and the singer/songwriter, St Vincent.

Zendaya is most popular with teenage audiences, who know he from starring in the Disney Channel shows 'K.C. Undercover' and 'Shake It Up', later appearing as the youngest ever contestant on 'Dancing With The Stars'. Away from the screen, she was recently involved in a high-profile media frenzy, when Giuliana Rancic was accused of racism over comments she made about Zendaya's appearance at the Oscars.

Practically as famous for her bright hair as she is her music career, Hayley is the frontwoman of Paramore, responsible for hit singles like 'Still Into You' and 'Ignorance'. She's also enjoyed success as a solo star, featuring on B.O.B.'s 'Airplanes', as well as Zedd's 'Stay The Night'.

Another of Taylor's Victoria's Secret friends, Lily has also appeared as a swimsuit model in Sports Illustrated.

Recently stepping down from her work as a Victoria's Secret Angel, Karlie recently covered Vogue in a joint feature with Taylor.

Star of the 'Sin City' series the video was inspired by, Jessica has also appeared in 'Fantastic Four', 'Machete' and, of course, the cinematic opus that was 'Spy Kids 4: A Dame To Kill For'.

You probably know Mariska from her 17 seasons as Olivia Benson on 'Law And Order: SVU', recently playing the character in a crossover with 'Chicago Fire'. Ellen's most famous role is in 'Grey's Anatomy', where she plays the leading role of Meredith Grey.

Last but definitely not least, Cindy is one of the most iconic supermodels of all time, appearing in countless advertising campaigns and magazine covers across her decades-spanning career.