Zayn Malik has announced his debut solo single will be released this week.
READ MORE:
The former One Direction singer took to Twitter on Sunday morning to reveal that his first ever single, 'Pillow Talk', will be coming out on Friday.
He broke the news with a shirtless black-and-white photo, which also contained the title of the track and its release date.
— zayn (@zaynmalik) January 24, 2016
This will mark the first material fans will hear from his upcoming debut solo album, which follows his much-publicised departure from One Direction last year.
He has previously teased a snippet of one of this tracks, 'Be Four', which appeared in a special video for Fader magazine..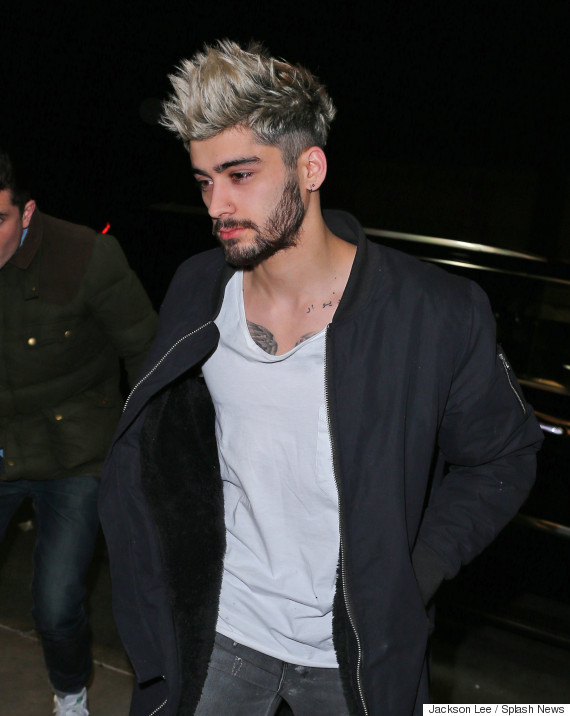 We are SO ready for this
Speaking about what fans can expect from his solo material, Zayn explained back in November last year, telling the magazine: "I don't feel like people really know what I'm going to give them, musically. And once they hear it, I feel like they will understand me a little bit more, and they'll understand why I did what I did, and why I left the band, and why I had to write this shit down.
"Because for five - not even for five years, for ten years, this album has been in my brain, and it's just been there, sat with me, needing to be out."
However, Zayn isn't the only 1D singer working on solo material, following media reports that Harry Styles had already officially registered several solo tracks, after collaborating with Gary Go and Snow Patrol.
The release of 'Pillow Talk' will be followed by an appearance on 'The Graham Norton Show', his first TV interview as a solo star.
10 Things To Look Forward To In Showbiz In 2016
With One Direction going on their hiatus (which is definitely a hiatus and not a full on break-up AND DON'T YOU DARE SUGGEST OTHERWISE), the stage is open for Zayn to swoop in and own 2016. So far, we've only heard a very, very brief snippet of his more mature sound, but we can't wait to hear what Zayn has to offer with his own material.

The past two 'Ab Fab' specials have received - how shall we put this? - mixed reviews, so we're looking forward to seeing if Jennifer Saunders can pull it out of the bag when it hits the silver screen. Plus, it sounds like there'll be plenty of celebrity cameos, including Kim Kardashian, Cara Delevingne and... err... Lulu, to keep us amused.

As if saying goodbye to a role as memorable as Clara Oswald wasn't enough of a risk, her first post-'Who' role is as one of Britain's most iconic monarchs. She'll be playing Queen Victoria in a new ITV series for 2016, and given that we've had to say goodbye to 'Downton Abbey', we're hoping 'Victoria' can offer some of the period drama glamour we're so sorely missing.

Simon Cowell spent most of the first half of 2015 telling us how many big changes were afoot at 'X Factor', and it regrettably ended up being the most underwhelming series in the show's 11-year history. Given that a 2016 series has already been confirmed, we're curious to see what Simon pulls out of the bag to try and turn around those fledgling ratings...

After cleaning up during 2015's awards season, it sounds as though 2016 is going to be just as eventful for Eddie Redmayne. In addition to what looks to be an emotional turn in 'The Danish Girl', he's been cast in the leading role of 'Fantastic Beasts', JK Rowling's new 'Harry Potter' spin-off.

Let's be honest, since the UK's right to vote for which act would represent us in Eurovision was taken away from us, we've sent some rather dismal acts in the past few years. Two words: Englebert. Humperdink. Our most recent effort, Electro Velvet, were clearly the last straw, and in 2016, the British public will once again get the chance to choose who'll be performing on our behalf in next year's live final in Stockholm.

When Adele hits the road in 2016, it will have been a full five years since her last tour, 'Adele Live', so if you were lucky enough to snag tickets, you're definitely in for a treat.

When the all-female 'Ghostbusters' reboot was finally confirmed, it raised quite a few eyebrows, and we're now excited to see if Melissa McCarthy and co. can silence their critics with another hilarious effort, following in the footsteps of her previous hits, 'Bridesmaids' and 'Spy'.

With public interest in 'Coronation Street' in a bit of a lull, new executive producer Kate Oates truly does have her work cut out. She'll be stepping in 'in early 2016', and we can't wait to see what she's got planned to shake things up over in Weatherfield.

Surely... SURELY this is the year?