A girl with autism who didn't speak for three years, surprised her parents by asking for 'more toast, please'.
Coco Bradford, from St Ives, Cornwall, said her first word when she was 26 months old, but her speech quickly faded away and she stopped responding to her name or making eye contact.
But after having Applied Behavioural Analysis (ABA) therapy Coco's speech began to return and two days before her fifth birthday she piped up with the unexpected request.
Her mum Rachel Bradford shared the news on Facebook on Tuesday 26 January, writing: "'I want more toast please.' This is Coco history being made, first five word sentence ever, pretty relevant as its her 5th birthday in two days. Totally unprompted by the way."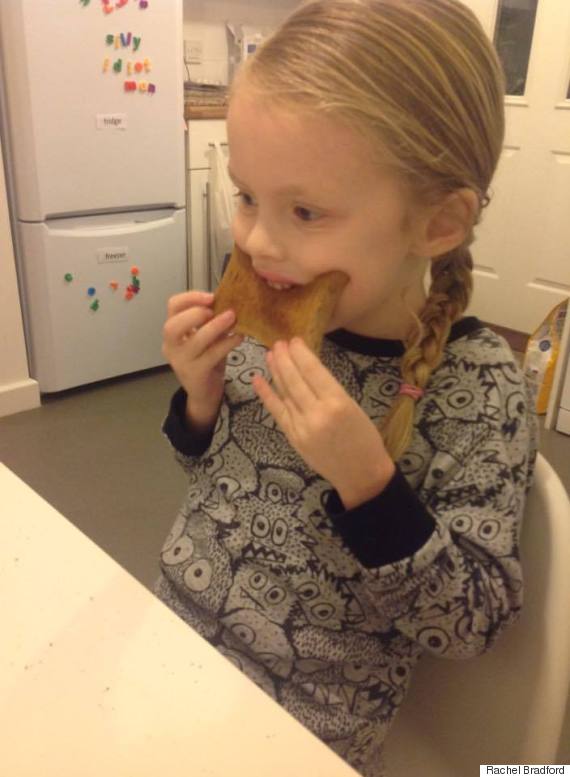 Ms Bradford told The Daily Mail: 'It was a really magical moment. She looked so pleased with herself and was jumping up and down and just kept saying ''I want more toast''.
"I am not surprised her first words were about toast. She loves it and has always eaten it."
"Toast" was just the beginning as the next day Coco greeted her dad Luke with a big hello when he came home from work
"It has really opened things up and in just two days she has started using a lot more words, said Ms Bradford.
"The speed of how quickly she has learnt has shocked everyone. She is now shocking us every day with something new."
Ms Bradford told HuffPost UK Parents: "When we first were told Coco had autism we were heartbroken, I had already read so much about it and was praying it wouldn't be that.
"How could she possibly have autism when she developed normally, spoke, made eye contact, passed her two year check easily.
"Coco spoke up until the age of around 26 months and then gradually stopped, she could previously point to any animal and make the sound, point to all her body parts and say them plus so many other words and it all disappeared, no eye contact, not responding to her name, not playing with her toys just lining them up over and over again.
"She immediately started getting frustrated and life changed for us forever.
"We started seeing a speech therapist and were given PECS (picture exchange communication system) and we used a communication aid app on an iPad, but progress was slow."
Coco's inability to speak had become a major concern for her family, as her sister Chelsea Elcocks explained on a fundraising page set up to fund Coco's ABA therapy.
"This is very frustrating for Coco, as she is not capable of telling us when she is in pain, when she is hungry, if she had a good day at nursery, she doesn't say I love you mummy and doesn't say can I have the new Elsa doll mum," wrote Elcocks.
"This may sound like heaven to some parents, but my mum has had to give up her own business to become Coco's full time carer."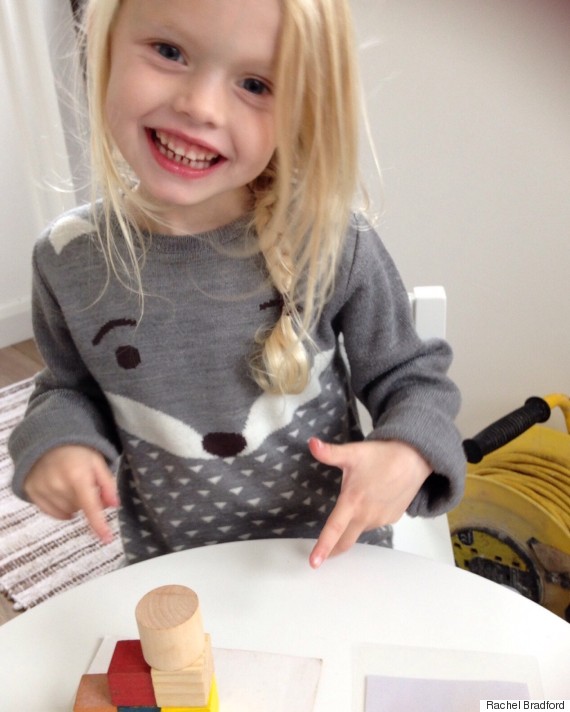 Coco began ABA therapy - which involves teaching new behaviour patterns using a system of positive reinforcement - in September 2015, and Ms Bradford said this was a "life changing" development.
"Coco has been having ABA for only four months and the improvement has been phenomenal in every single part of her life," she said.
"We've had two long years of frustration and misery and this therapy has opened up her whole world. She loves her lessons so very much.
"Coco has steadily been expanding her vocabulary and stringing more and more words together, we've all been encouraging her to use more words in a sentence.
"For instance instead of accepting 'juice' as a request she has been asked to say 'I want juice please' and she is so pleased with herself when she does it.
"So when on Tuesday she was stood in the kitchen and said 'toast' I asked her 'what do you want?' and she answered 'I want more toast please'. Normally we would have to start the sentence with 'I' or 'I want' to encourage her to say the sentence.
"This was an amazing moment for us. My eldest daughter Bianca was with me in the kitchen and we were so happy, we clapped and cheered her and she was jumping up and down so pleased with herself. It was definitely an amazing moment."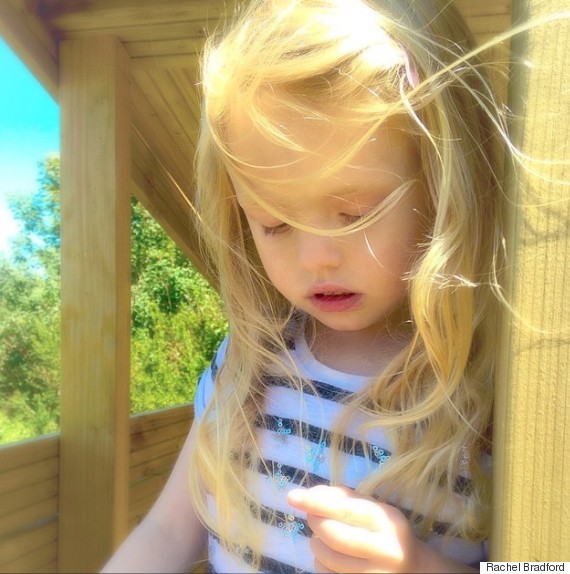 The family is now hoping to raise enough money to build a school offering ABA to children. For more information about the fundraising campaign visit the Coco's Autism Journey GoGetFunding page.
"We could never have afforded ABA therapy without the generosity of family, friends and total strangers," said Ms Bradford.
"We have raised over £20,000 so far and we are hoping to raise awareness of autism, ABA and hopefully open an ABA facility or school as there are so many children in our area alone.
"This has changed our path in life again and I can't thank my daughter Chelsea enough for starting the fundraising page.
"Everyone has been so generous and there aren't enough words to express our gratitude, I am thankful every single day and try to put videos up of her progress to share with everyone that donated.
"To other families: Never ever give up hope."
gio613:Bianca is a music fan (will even dance to commercials) who absolutely loves Elmo and Mickey Mouse. She cannot live without her iPad and touchscreen PC (she wonders why everything is not touch, as evidenced by her constantly touching all screens). She is a devout fan of chips and chicken nuggets loves to laugh and hug. You will probably find her relaxing at home and asking for tickles!

LisaLightnerLL:This is Kevin at the White House Egg Roll. He likes to do what all American kids do, he just needs some extra help!

ktrayn78:Our son Remy is almost three years old. He loves joking around with his Poppo, playing in the tub, and racing his cars. He smiles almost all day long and is the light of our lives.

Kimwstafford:This is Jude. He is 7 years old and has autism. He also has a big and sensitive heart, an insatiable curiosity, a love of adventure and a hard working spirit. And we love him just the way he is.

Laura McNemee:This is Jacob He loves nature, long walks (more like runs), jumping on his trampoline, Toy Story, and cuddling with Mommy When he looks at me I feel like he has jumped into my soul He has opened up my eyes to what life really is. He is Autism

Erica Lee 01129:This is Brodie J. He loves anything car related. Has a collection of over 100 Hot Wheels (and counting). This is what Autism looks like...Handsome!!!

yrlbaker:Luke means "light giving" in Latin. His smile lights up a room. He loves to laugh and loves hugs and tickles. He is improving every day. Luke is my ray of sunshine.

This is Sebastian aka "SB" If he's not melting your heart with kisses, he'll probably be serenading you to his favorite songs. He's an explorer, musician and comedian. This is Autism.

Our wonderful Kristoper diagnosed at 2 years with Autism (now 9 years old); is such a joy and inspiration. His smile says it all.

Seth, 16 loves Christmas, fire fighters and country music.

This is Abe and Mati. Brother and Sister. Both have a high functioning form of Autism known as Aspergers. Both are incredibly smart and creative. These are just two more beautiful faces of Autism.

Sam" width="52" height="52"/>

This is Aiden. He loves dinosaurs, Skylanders, "The Polar Express," Halloween and playing outside. He is an awesome big brother to his little sister, Emily. He is caring, imaginative and just a little mischievous! This is Aiden. This is autism.

James love Transformers, Iron Man, dinosaurs, SpongeBob and building things. He loves to draw and invent new things and making videos with his sister Melissa. He also loves spending time with his other sister Ellie and playing with our dogs Sammi and Mia. He's full of love, laughter and is the first one to offer you a hug when he knows you are sad. He is awesome!

Kovas has autism but that doesn't stop him from being a dedicated scout or amazing friend! Kovas and Mason have been buddies for over three years.

debeecole:This is Micah. He loves books, playing tag, exploring, and The Angry Birds. He has a laugh that is contagious & an Amazing imagination. He is one of the faces of Autism.

Melissa Morgenlander:My son Quentin can hack an ipad app to get to his favorite youtube videos. He loves cuddling in bed, hugging his friends and teachers, and spinning around with his twin sister. He is almost 6 years old, and he has PDD-NOS. This is what autism looks like.

mbtechfac:

mbtechfac:

Steph Steinmetz:This is DJ. He is an 8 year old bundle of energy. He loves video games, computers and his brother and sister. He is one of the sweetest, funniest kids ever. DJ enriches the lives of everyone he meets. This is autism.

Suzanne Romero:This is my son who also happens to be autistic. He started school when he was a beautiful wide eyed, non verbal two and a half year old. Now he's a beautiful young man. Wednesday May 15th he graduated from high school. It was a long hard road for both of us, but I would do it all over again. It isn't over. Now a new wonderful chapter begins.