Forget roses or chocolates, Tesco staff have a rather more risqué suggestion for your Valentine's Day.
Cheeky employees at a London branch of the supermarket have placed a sign reading "Ideal for Valentine's" next to a shelf of whipped cream.
The X-rated display was spotted by Spencer William le Grys, who posted a photo of it onto the Facebook group 'Shit London'.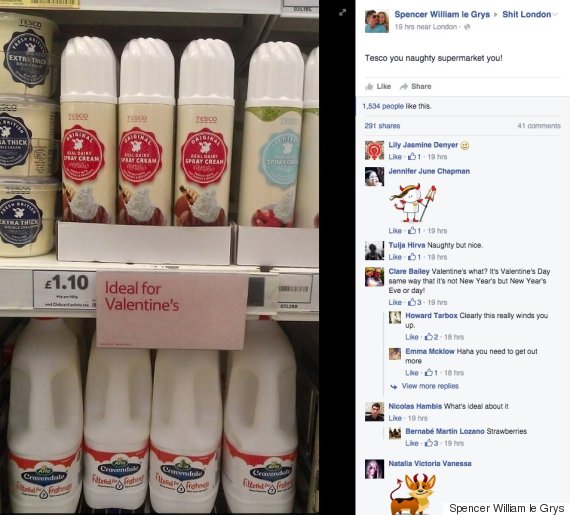 More than 1,500 people have liked the image since le Grys posted it on Thursday.
While Facebook user Jonny Hallam called the display "gross", many people have applauded the staff for their sense of humour.
Facebook user Julie Lachtay commented: "I have new found respect for Tesco. Of course they could have just been suggesting dessert."
SEE ALSO:

You Can Now Spend Valentine's Day At Hogwarts

Tesco To Remove 'Offensive' Birthday Card Telling Women 'Inner Beauty Won't Get You Free Drinks'
Romantic Valentine's Day Ideas
If you're able to actually visit the place you went for your first date — and wouldn't find it completely horrifying to spend time in now — that's a great way to celebrate Valentine's Day together. But even if you can't, you can still find a way to show her you remember even the earliest times in your relationship. Find a restaurant that serves similar food, for example, or bring her the same flowers you did then.

Do you have a song that's always meant a lot to you as a couple — maybe one that played the first time you met, or that you danced to at your wedding? Find a special way to commemorate that. If it's available on vinyl, you may be able to get a special edition record. If it's an artist you both love, look for a stylish vintage show poster and frame it to hang in your home.

This is easy if you know your partner has a favourite perfume. Treat her to a portable roll-on so she always has it handy, or the lotion or body wash in the same scent. Other options are a luxurious candle that smells like her favourite flowers, or incense that reminds you of a vacation spot you've visited together.

Every couple has at least one in joke — find a gift that will instantly make her think of yours. (In a nice way!) Or is there a funny sitcom you've meant to watch (or re-watch) together? Pick up a box set of the DVDs, along with fancy popcorn and a bottle of wine, and plan an evening to binge watch and indulge. Time spent laughing together can cure a lot of ails.

Chocolate is only cliche if you don't put any effort into it, or if your partner hates sweets. The holiday is a great excuse to really indulge her with a gift of her favourite edible treat. If it's chocolates go gourmet — maybe something from Toronto's world-renowned Soma. If she's an oenophile, give her a bottle of wine from her favourite vineyard, maybe one you've visited together. Just make sure it's indulgent.

Did you never get around to putting up a wedding portrait? Surprise her by framing the shot that you know is her favourite. If she loved her bouquet, have an arrangement made up with the same flowers. Or get a tiny version of your wedding cake made to share after a romantic dinner.

If you're married, finding a way to evoke your honeymoon is a perfect way to bring back some memories of what was probably a great trip. Have a meal at a restaurant that serves the cuisine of the area you visited. Get the flowers that were growing on your hotel balcony. Or even plan a return visit, if it's in the budget.

Is your partner the planner in the relationship? It can be a real treat to give a gift that won't require any work on her part. Don't just give her a spa gift certificate: plan for an activity for you and the kids on the same day, so she can go without having to wrangle a sitter.

Is there a piece of jewelry she's always eyeing? A dress you know she loves but insists she can't buy because she has nowhere to wear it? Surprise her with something you know she'd never buy for herself, but would be thrilled to receive.

The gift of time spent together is sometimes the best one you can give. If you've already got a shared interest, find a way to really celebrate it — for example, a trip to a bucket-list ocean destination if you both love snorkelling, or dinner at a hot new restaurant if you're both foodies. Or use the holiday to rediscover a shared passion that you've put aside because of changing life circumstances.

On the other hand, maybe your partner has a passion that you absolutely do not share. That's great! Show her you support it by giving a gift that ties into it, like tickets to an event you know she'd love to attend with a friend, for example.

We're not talking about cheap lingerie you'd get at the local sex shop. That has its place, but this isn't it. Hit up an smaller lingerie line like Blush or Agent Provocateur for something that feels as good as she'll look in it.

You know what we mean. Head to your local woman-friendly adult store (or visit one like Good For Her or Come As You Are online), ask the staff for some advice (that's what they're there for!), and come home with a new toy to try out.

Life isn't always perfect, even when you're in a happy relationship. Maybe work keeps you from spending as much time together as you'd like. Maybe the kids make your days so hectic that you forget to take time to connect. Even with this list of all-out ideas before you, maybe what you truly need on February 14 is an evening together to Netflix and chill — and there's nothing wrong with doing just that.