Against all the odds, Phil Collins has reunited with his third wife Orianne Cevey, just eight years after paying her a reported £25 million in their divorce settlement.
The hitmaker split with Orianne in 2006 saying they had "grown apart" and the mega payout two years later was the second Collins had been forced to stump up to an ex-wife.
But the pair are an item again against all odds, as Collins revealed he had bought a house in Miami where Cevey and their two children live.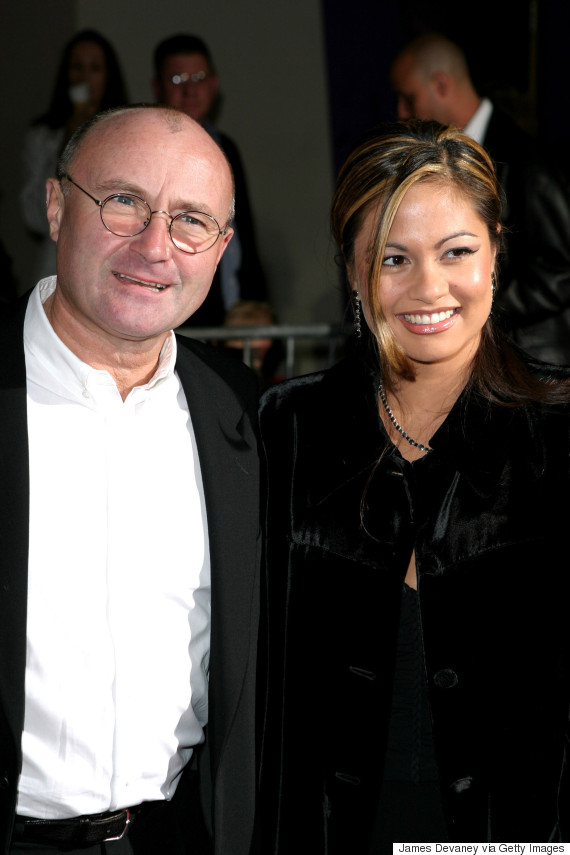 Phil Collins and Orianne Cevey
He told Billboard magazine: "I'm actually back with my third wife - I haven't really talked about it.
"We've been together for a while, and nobody's noticed."
The £25 million payout was the most expensive divorce settlement in the UK entertainment world at the time, topping the £24.3 million Sir Paul McCartney paid to Heather Mills after their split.
Just two years later Collins said that he still loved her but that Cevey had found love again despite them enjoying a "shared life".
He also said he was attempting to recover from a dislocated vertebra, nerve damage and foot fractures which meant he is worried he would never be fit enough to play the drums on tour again.
He said: "But my kids want me to do shows so they can brag to their friends. I intend on doing some things.
"I stopped going into the studio because I was sad, but now I'm getting a taste of it again."
The Genesis star has reissued his 1982 solo debut, Face Value and 1992's Both Sides and revealed that he "almost died" during his battle with alcoholism.
The 'Britain's Got Talent' judge and model went their separate ways back in March, divorcing just a matter of weeks later.

Following eight years of on-off dating, Lewis and Nicole called it a day in 2015. She's since been linked with pro footballer Patjim Kasami, who she was seen kissing on holiday, while he's rumoured to have dated both Kylie Jenner and Rihanna since the split.

In a joint statement, the couple confirmed: "While the two of us have come to the mutual decision that we will no longer be partners in marriage, we remain partners in parenthood and are committed to jointly raising our three sons in a happy and healthy environment."

The split that rocked the celebrity world hardest this year, first Zayn split from One Direction, and later it emerged that he'd called things off with his fiancée, Perrie Edwards. Though it's still not clear exactly what went on between the pair, he recently hit out at rumours that he'd broken up with her over text message, while she has branded him a "bell-end" in an interview.

The end of Kerry's third marriage came just days after news reports claiming that George had been arrested, after physically assaulting her, while illegally armed with a Taser. It had been a rocky year of marriage, with Kerry at one point even fearing their home was being haunted by ghosts, who were responsible for the pair's string of bad luck.

Our hearts did break a little when these two reality stars split up over the summer, less than a year after the birth of their youngest son, Raign.

They always seemed like an unlikely match, but Miley confirmed she was no longer with Patrick back in May. She later appeared to hit out at him in 'BB Talk', a song on her mixtape, 'Miley Cyrus And Her Dead Petz', where she describes her discomfort with an over-affectionate male suitor.

After being together for all of Louis' 1D journey, it was confirmed back in March that he was no longer with his model girlfriend...

...but that wasn't the only 1D love story that came to a sad end in 2015, with Liam also parting ways with his girlfriend of two years, after she reportedly feared things were getting too serious between them. He later admitted he'd been left "devastated" by the split, though rumours towards the tail-end of 2015 suggested they were back on.

After a decade of marriage, the split between Ben Affleck and Jennifer Garner sparked plenty of speculation about exactly what had gone on between them, including one famous rumour about their nanny...

Rita and her green-haired beau called things off in 2015, shortly before taking her place on the 'X Factor' judging panel. She's since been linked with Blink 182 rocker Travis Barker and and rapper Casyo 'Krept' Johnson.

A source told Page Six back in April that they'd had to call off their acting career because 'she wasn't supportive of his acting career'.

Gigi went through two very public splits in 2015, first with Australian singer/songwriter Cody Simpson, who she was with on and off for around two years, so they could focus on their respective careers.

She later dated Joe Jonas for a few months, which appeared to end quite badly, after he even went as far as unfollowing her on Twitter and Instagram. Yeah. That'll show her, Joe...

It sounds like there was no love lost between this musical pair, who split up in 2015, with reports later claiming they would "never speak again" after calling off their relationship. Not exactly 'conscious uncoupling', is it?

After posting a string of loved-up snaps with his new boyfriend, Sam ended up sharing this unhappy selfie, claiming he was in the mood for "red wine" and "Joni Mitchell". Oh dear...

In October, it was confirmed that it was all over between one of our favourite Transatlantic couples, who recently starred together in 'The Amazing Spider-Man'. An insider said: 'They still have a lot of love for one another and they are on good terms with each another and remain close... it just wasn't working'.

Following two years of marriage, these Canadian stars called it a day back in September, though it's been revealed they'll continuing collaborating together professionally. Perhaps they could teach Ariana Grande and Big Sean a thing or two...

They were one of our favourite 'grown-up' celebrity couples, but it turns out Charlize's tactic for breaking up with Sean wasn't as mature as you might think... as she reportedly ghosted him! Yes, it was alleged that the Oscar-winning star simply stopped replying to Sean's texts and phone calls... and he soon got the message. Ouch!

They'd been together for over a decade, but Megan and Brian went their separate ways in August, with reports in the press that they'd been 'fighting over her career'.

The split that undoubtedly hit us the hardest, though, was when one of Hollywood's biggest couples announced that they were no longer together. Over the course of the mockumentary TV series, 'The Muppets', we've got to see how Kermit and Miss Piggy have been coping without one another to lean on, but a new Adele parody clip strongly hinted that a reconciliation could be on the cards in 2016. Flippers and hooves crossed, eh?