'American Crime Story: The People Versus OJ Simpson' debuted last night on BBC Two, and it was a television feast from beginning to end.
READ MORE:
Some Of These 'American Crime Story' Actors Are A Bit More Accurate Than Others
The powers behind 'American Horror Story', including uber-talented director Ryan Murphy, have applied their efforts to telling, in all its grim detail, the riches to ruin tale of sporting hero turned screen icon OJ Simpson, the murder of his beautiful ex-wife Nicole and her friend Ron Goldman, OJ's fugitive sprint (not that speedy) along the highway in his friend's white Ford bronco, his trial that became must-see television for millions of Americans, and the suspense of a verdict, battled over by tireless lawyers on both sides that became household names on both sides of the Atlantic. All this, and a Kardashian connection... the story had everything, and the series makers have given it everything in return.
Just for starters, these are our five favourite things just from the debut episode alone, and the good news is, there are nine more to go.
The setting:
Beautiful, leafy Brentwood, complete with leafy avenues where rich people walk their dogs, have their gardeners sprinkle their hedgerows and generally go about their money-making business. As the district attorney Marcia Clark reacts in astonishment when news of the double murder comes through, "Nobody gets murdered in Brentwood." And, at the centre of it all, OJ's stunning, classy mansion, where the police officers climb the gates, ring at the oversized door and can't stop themselves gazing in ill-disguised awe at a god-like statue of the heroic former footballer that he just happens to keep in his garden.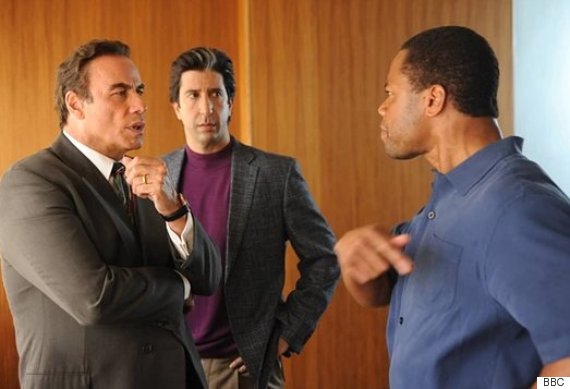 John Travolta, David Schwimmer and Cuba Gooding Jr disappear into their roles with varying success
The casting:
Even those these are familiar faces - David Schwimmer, John Travolta and Cuba Gooding Jr - somehow this doesn't detract from the storytelling. In fact, with the whole OJ story so much larger than life, it somehow feels fitting that equally famous people should be involved in telling the tale. While David Schwimmer pretty successfully disappears into the role of brow-furrowed Robert Kardashian, John Travolta clearly does not manage the same with lawyer Robert Shapiro, but nevertheless steals the show, with his arm-folding, room-pacing busy-ness. And was that putty?
One in particular...
This actress, though, must get a separate mention. Sarah Paulson as Marcia Clark is completely compelling, and a vital reminder that, amidst all the attention on OJ, this is a horror story with a despicable villain. She is the prism through which we remember that this all began when two young adults, one a beautiful mother of two children, and her helpful friend, where brutally slain as they went about their daily lives. Top marks, too, for starting the show with the horrible police beating of Rodney King, and the riots that followed, so we swiftly remember the socio-racial context in which OJ's trial was conducted.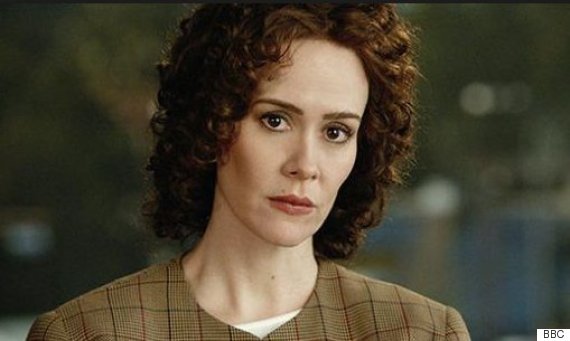 Sarah Paulson is impressively convincing as the trial's chief prosecutor Marcia Clark
Reality bites
And, just when it was all getting a bit dark, with OJ cowering in the corner, gun to his head, at the house of his too-loyal friend Robert Kardashian, the latter begs him not to pull the trigger… "Don't kill yourself, this is Kimmy's bedroom!" Thus were we propelled back into the real world, where everything must be considered through a prism of proximity to the Kardashians. And to think, only 20 years ago we lived in a time when Kimmy was but a child, and nobody knew who she was.
Truth stranger than fiction?
The sheer macabre-ness of it all, courtesy of Cuba Gooding Jr's all-but-toppling performance, culminating in his controversial attendance at his ex-wife's funeral, defying the astonished glances, the whispers, to walk up the aisle and kiss his dead wife in full view of the congregation. Did real life really offer such a gift for future film-makers, or were all these real-life participants subconsciously signing up for their own part in one of the very first reality shows? It matters not. From the serious to the surreal, it's an extraordinary tale, beautifully told.
'The People Versus OJ Simpson' episode 1 is available on iPlayer, and continues next week on BBC Two.
OJ Simpson Trial: Real Life Vs Screen
The man who will always be celebrated for telling the OJ Simpson jury, 'If the gloves don't fit, you must acquit', Cochran was a famous defence attorney, who also represented Sean Combs (during his trial on gun and bribery charges), Michael Jackson, rapper Tupac Shakur, actor Todd Bridges, football player Jim Brown, rapper Snoop Dogg. He died in 2005.

Kris Jenner, then the best friend of Nicole Simpson, whose murder OJ stood accused, later the world's most famous mom-ager and matriarch of the tireless Kardashian clan.

Shortly after this trial that made him famous, Shapiro steered his legal practice towards more civil litigation. In his notable career, he has represented famous athletes, including shamed baseball player Darryl Strawberry, José Canseco, and Vince Coleman, as well as other celebrities such as Johnny Carson, Christian Brando, Ol' Dirty Bastard, Linda Lovelace, and the Kardashians.

Journalist Dominick Dunne was commissioned by Vanity Fair to report on the trial for the magazine. His sympathy for the victim's family, inspired by the murder of his own daughter, was well-known and did much to keep a balanced view of trial by his readers, despite OJ's fame and popularity.

Clark became one of American's most famous litigators during the Simpson trial, where viewers analysed her every gesture and haircut. Despite losing the trial, she wrote a bestselling book and remains in demand as a pundit, journalist and TV personality.

A close friend and former teammate of OJ Simpson, Al Cowlings became infamous across America when an estimated 95million viewers tuned in to watch him drive his pal in the white Bronco down the highway, eventually arriving at Simpson's mansion where he turned himself in. Cowlings faced no charges, and never spoke to the media properly about the case.

An American businessman and attorney, Robert Kardashian did more than most to help his friend OJ, who stayed at his house following the murders of his ex-wife and her friend. Kardashian championed OJ's innocence and re-validated his legal licence to join OJ's defence team. Despite all this, he later voiced his doubts about his pal's innocence, saying the blood evidence was his biggest obstacle. He died of cancer in 2003.

One of the investigating police officers in the case, Mark Fuhrman's testimony became notorious once the defence team argued that he had planted evidence against OJ Simpson, based on racial motivation. Fuhrman was later convicted of perjury and is retired from the police. He is an author and commentator.

Despite his acquittal, OJ Simpson's life as an American hero came to an end with the trial for the murder of his ex-wife and her friend. He later lost a civil suit for their deaths, but paid little compensation. In 2007, he was arrested in Las Vegas, charged with felonies including robbery and kidnapping, and convicted the following year. He is serving his sentence of 33 years at a Nevada prison.