It's often been mentioned that Robert Rauschenberg always kept a window open in his New York drawing room in order, as he put it, "to let life in". His work, as anyone who has visited the current retrospective at Tate Modern will attest, is crammed full of everyday found objects. He's probably best known for his three-dimensional sculptures he named "combines" in which he included umbrellas, socks, buckets, paint cans, newspaper headlines and tyres to name but a few, an example of the last famously encircling the body of a stuffed goat.
Rauschenberg re-drew the parameters for what an art work could comprise, inspiring along with such as Jasper Johns and Andy Warhol, the pop-art movement that developed from the late 1950s. After his combines phase, he was looking at ways of using the same techniques for "ennobling" everyday ephemera but in a quicker, more accessible two-dimensional form.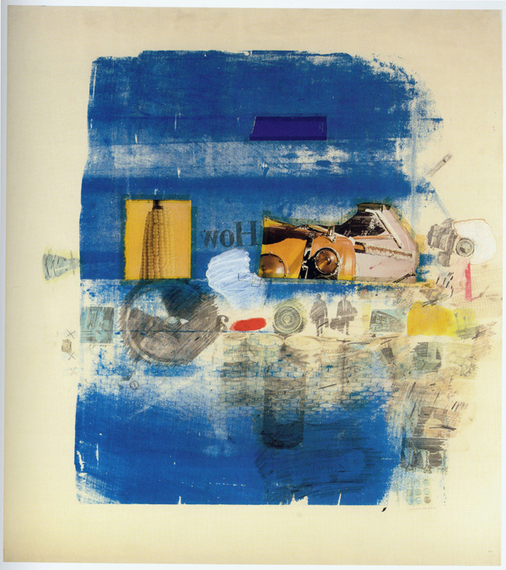 He discovered that by applying lighter fluid to a magazine clipping and rubbing the back of it with a dry nib pen, he could transfer the image onto another drawing sheet. This results, as with Umpire from 1965 (above) in the images being seen in reverse. In this case, he has then painted over sections. Some 26 of these transfer drawings are currently on show at the Offer Waterman Gallery in London's Mayfair, almost half of them for sale. The exhibition is the first in the UK devoted to this particular aspect of his work created between 1958 - 1969.
Unlike Rauschenberg's interpretations of Danté's Inferno, the series of transfer drawings in the Tate Modern show, these are less compressed leaving him more space to play with ideas and images reinterpreted from the US mass media. According to curator, Polly Checker, the transfer concept is interesting because Rauschenberg plays with the idea of the artist's hand.
"It's a drawing process that's once removed. The hand is there because it's a very visceral process but actually it's mechanical to an extent and then he'll paint over them afterwards. That's interesting because it's playing with that relationship of who's actually producing something."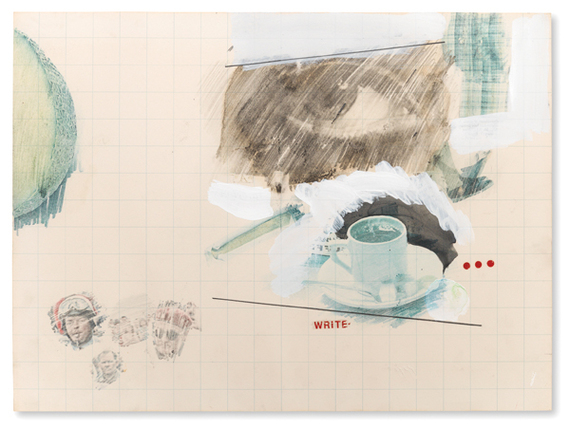 Rauschenberg's transfers are effected on Archers paper, the one exception being Paragraph II from 1966 (above) that's drawn on card on which there are graph lines. The other unusual aspect is that the word "write" is the "right" way round, adding to the playful nature that is a hallmark of the artist's style. It's my favourite piece. The motorcycle rider bottom left typifies the artist's keen interest in sport. The magazine Sports Illustrated is one of the prime sources for his collages.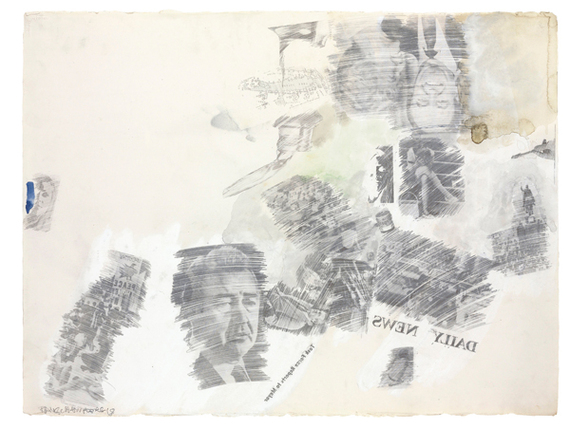 It's often been remarked too that Rauschenberg always kept a TV in his studio. The Vietnam War that raged from the mid-'60s has been dubbed the first television war, its horrors being transmitted nightly throughout the country. Political Folly from 1968 (above), shows how news and current affairs were great influences on his material, this work focusing on the anti-war demo that took place outside the National Democratic Convention in Chicago when its Mayor Richard Daley whose portrait you see, sent in 23,000 police and National Guardsmen to crush the dissent.
One of the Democratic nominees, Hubert Humphrey, is the upside-down man at the top. Rauschenberg created the work specifically for Response to Violence in Our Society, a one-day group exhibition shared by 10 Chicago galleries. Though it may lack the poignancy it would have held at a tumultuous period in American history - a time of civil strife, war and assassination - the overtly political examples retain an historical worth.
The trademark inclusion of headlines, clippings and newspaper images often of sport stars and things military, creates the impression of someone flicking through a newspaper and magazine.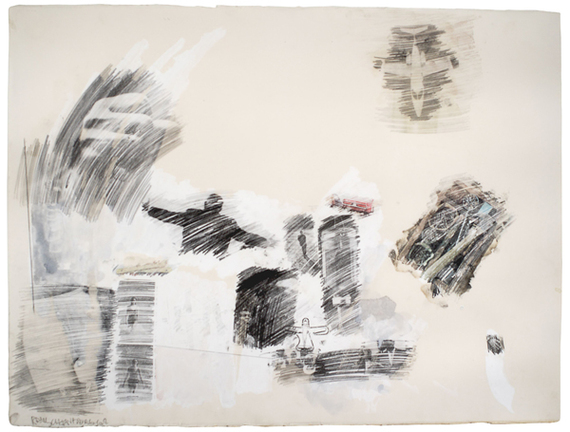 Apology (above), as the title suggests pulls no punches, emphasised by the black-power fist salute that dominates. Also featured are iconic images of Ursula Andress appearing from the sea in Dr No, a woman's corset and US fighter planes. There's a theory that Rauschenberg liked the idea of the reverse image because, as a dyslexic who found reading difficult, this was a way of giving the viewer an idea of what the disorder feels like.
Robert Rauschenberg, Transfer Drawings from the 1950s and 1960s is showing at the Offer Waterman Gallery, 17 St George St, London W1S 1FJ until 13 January 2017.
All images are used with the permission of the gallery.
This Blogger's Books and Other Items from...
SUBSCRIBE TO & FOLLOW UK ENTERTAINMENT