This time last year Ireland was undergoing one of its most turbulent political shifts since the 26 counties of the Irish Republic gained independence from British rule. Indeed on 25 February 2011 the country who was in the grips of a crippling economic contraction and under the direct economic rule of the Troika (EC, ECB and IMF) handed the reins to the electorate and let its people speak. They delivered a clear message which saw the in situ party, Fianna Fail, who had been in government since 1987 and who had presided over the Celtic Tiger years utterly destroyed at the ballot box, stripped of 51 seats.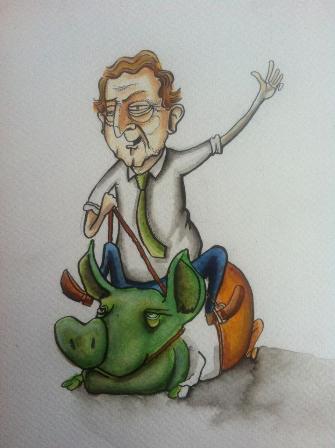 Into the fold came Fine Gael and their leader, an elected representative of the Dail Eireann since 1975, Enda Kenny who was given an overwhelming stamp of approval from the voting peoples with 36.1% going his way. However the peculiarities of the Republic's party system saw Fine Gael, who had won 76 seats in Leinster House, fall 7 seats short of a ruling majority. Despite speculation that Enda Kenny and Fine Gael would form a one-party minority government with a number of independents or TDs from Fianna Fail, the Fine Gael leadership decided to go into coalition with Eamon Gilmore and the Labour Party.
12 months on and its apparent that it's been a real roller coaster first year in office for the Irish Prime Minister and looking back the Taoiseach has much to cheer about, yet still very much to work on. Indeed the former teacher whose election manifesto was "let's get Ireland working", has spent his time in office doing his utmost to reinvigorate Ireland and to restore Ireland's prominence and respect among the international community. However unemployment remains painfully high at 14.5% and symptomatically the Irish are leaving the shores of the emerald island in their droves.
On the one hand the small open economy has had incredible success riding off the back of foreign direct investment, of which American companies employ one of seven in the country. Moreover the county maintains strong export-based growth and tellingly remains on positive terms with its Troika masters.
However there is only so much that multinationals can do for employment and the economy and it remains palpably clear that the domestic economy is still in the doldrums.
Certainly Kenny has much more to do in order to deliver in order to orchestrate a tangible recovery.
More broadly the first 12 months has seen the Irish premier preside over some pretty historic moments which will leave an indelible mark on the nation. Notably, Kenny welcomed Obama in May 2011 during his week-long tour of Europe. However there was the monumental occasion which David Cameron called the 'game changer' when Queen Elizabeth visited the Republic on the first Royal visit to the Republic since 1911. Ostensibly the four day state visit had massively positive implications for Anglo-Irish relations, in what Fintan O'Toole of the Irish Times called 'the week that Anglophobia died.'
The start of 2012 has been a particularly busy period for Kenny who has been a real statesman on a global charm offensive on a mission to garner further investments, restore confidence in Ireland and ensure its recovery. Already he has visited Downing Street at the start of February; he welcomed Nick Clegg in January and has crossed the Atlantic twice. A notable event occasion of which included the Invest in Ireland event sponsored by Clinton and attended by American big business. His 3 day trade-focused America stint surely has done much to cultivate already strong business relations between the two nations.
Only last week Dublin hosted China's Vice-President Xi Jinping who was presented with all that Ireland has to offer. A few days later Kenny visited Merkel in Berlin for talks on the fiscal compact and progress with Irish austerity. Then on Friday past Kenny hit Rome for discussions with the Italian Prime Minister Mario Monti.
Then of course there's domestic politics to consider and then the 17 March calendar topper Saint Patrick Day celebrations in the White House which will again give Kenny prime exposure to put Ireland on the market.
All in all its been a thoroughly action packed and jet-lagged year for the Irish premier who has done much for the nation, however there remains a long road ahead.
SUBSCRIBE AND FOLLOW
Get top stories and blog posts emailed to me each day. Newsletters may offer personalized content or advertisements.
Learn more