Most Londoners have a complex relationship with the tube. Connecting around 12 million people, the urban rail network is one of the city's most valuable assets. Yet at the same time, due to recurring delays, disruptions, strikes and a fairly hostile commuting culture, London Underground is a common and constant source of stress and aggravation in Britain's capital. But in sickness or in health, the tube has become synonymous with London. And in this, our Olympic Year, there seems to be no better place to showcase the artistic capabilities of the nation than its well-worn walls.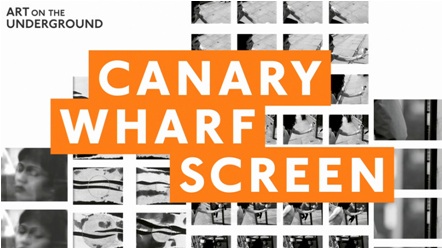 In the vast ticket hall of Canary Wharf station a large screen has been set up which will, over four seasons of programming, project films by artists and filmmakers, turning the spotlight onto the UK arts community. The program is initiated and presented by Art on The Underground, and hopes to inspire and provoke the estimated 40 million people who use the station each year.
London Underground has always had a close relationship with art and design. In the early 20th century, Managing Director Frank Pick's vision for the transport system ended up becoming a pioneering example of the concept of 'total design'. The logo, distinctive typography, designs of the stations themselves and of course the iconic map -- each element has been vital in creating a palpable entity that has character as well as serving a function. Critic Sir Lawrence Weaver wrote in 1928 that the underground, "has provided the people of London with a picture gallery as fine in some ways...as the Tate or the National."
Almost a century later, Art on the Underground was established; a formal body that aims to support the arts whilst also filling public spaces with elements that enrich and engage those who travel through its tunnels, imbuing a 'strong sense of shared ownership'.
Past projects have included the work of American neo-Bauhaus artist, Jim Isermann, who wrapped an entire Picadilly line train in a geometric pattern in 2007. Michael Landy's, 'Random Acts of Kindness' (2011), asked people to share moments of helpfulness they have experienced on the tube, and in 2010, Dryden Goodwin created 60 portraits of Jubilee Line staff to 'evoke both a physical and emotional mapping' of the line.
But regardless of innovation or aesthetic, one could question the point of all this. Can art really make a difference to our daily lives? At 8:45 am on a Monday morning, stuffed like sardines with complete strangers, does it help to know that our tube carriage is painted bright colors? It's a worthy debate. From the established work of Gaudi in Barcelona to the innovative and often controversial ways that street artists adorn our communal spaces, it is clear that there is a natural desire to democratize and share art. By creating a formal space for this to occur, initiatives like Art on The Underground are tapping into this. A city filled with art has the potential to inspire and ultimately by inciting any response, even if it's one of exasperation, the work serves its purpose.

Additional reporting by Angelica Pursley for Crane.tv
Crane.tv App now available for Nokia devices from the OVI Store

SUBSCRIBE TO & FOLLOW UK DAILY BRIEF