The Kansas City Chiefs lost to the Oakland Raiders on Sunday 28 October. I was there. The score was 16-26.
I was due to follow that opening sentence up with, "In their last game, against the Denver Broncos on 25 November, they lost 17-9, a defeat officially leaving the Chiefs 1-10 and securing their position as a no-good, ugly, viciously-poor team in serious decline and rooted to the bottom of the NFL pile".
A decision was then made to hold the publication of this piece after news broke that Chiefs player, Jovan Belcher, 25, killed his girlfriend, Kasandra Perkins, 22, and then himself on Saturday 1 December. Out of respect for the team, the fans and those close to Belcher and Perkins, this feature was put on hold and the bashing of the Chiefs, which will inevitably come, had its top-slice of venomousness removed.
The team's long awaited victory on Sunday over the Carolina Panthers proved that life goes on and darkness can give way to light. The win was celebrated with such vigour as it proved that the team can draw themselves together and perform. It was celebrated as a team achievement when it mattered most, but not as a sporting-nod to Belcher. The team decided against any badge or patch in remembrance of their teammate. Shocking and saddening news it is, but murders are not honoured on the field.
Prior to the win, the Chiefs became the first team since the 1940 Philadelphia Eagles to finish the first seven games of the season without ever having a lead in regulation. They are the most turnover-prone team in the NFL and were positioned to have first overall pick in the draft come April. Now, however, a 27-21 victory has momentarily lifted the team, leaving them tied with Jacksonville Jaguars for the worst mark in the NFL and losing the first selection in the draft.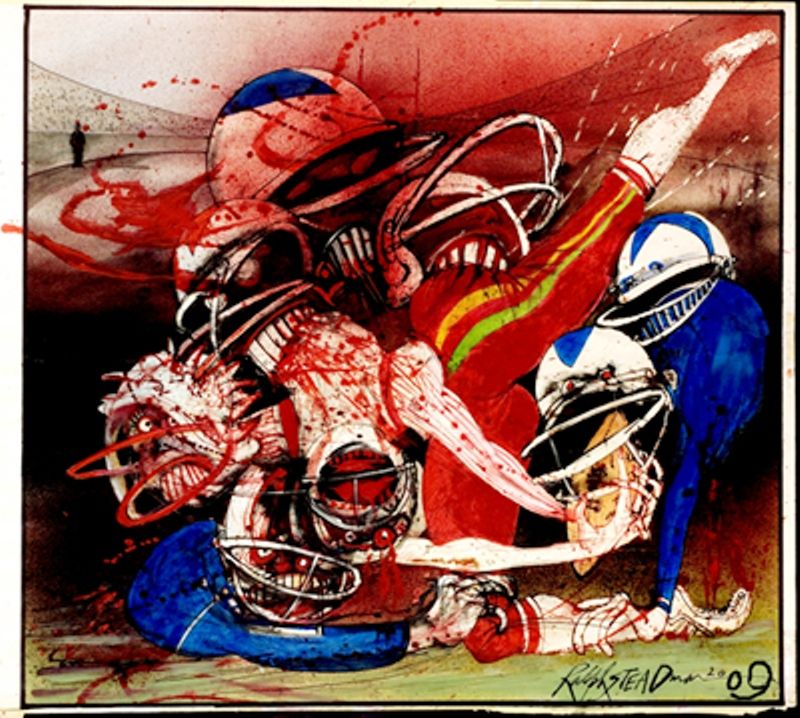 While having my photograph taken with two Raiders fans, they asked me why I was here. Out of everything they could have said to me, they questioned my attendance. They could have ridiculed my Kentish twang, the fact that rugby is sillier than their so-called 'football', poked fun at the British weather and asked if it was true that all English people live in castles and have met the Queen; but no, they laughed at me for supporting the Chiefs. In his ESPN column Hey Rube, Hunter S. Thompson once described the Chiefs as, "...a gang of helpless losers known mainly for their failures".
But the Chiefs are good, right? Joe Montana played for them. Len Dawson, Willie Lanier, Tony Gonzalez. The Arrowhead Stadium is one of the largest in the American football league, seating over 76,000. Chiefs fans are regularly regarded as some of the most die hard in the NFL, the red & white army.
Attending a 'football' game in America though is not about the score. It's not even about the game, thankfully for the Chiefs. It's about the fans. Facepaints, fantasy football, family, friends, fundraising, fried chicken, the fundamentals and football fanaticism. All the Fs. And the 'A'; attendance. Not even attendance in the stadium, but in the car park. But it's really about the 'T'; tailgating.
Tailgating is an American past-time, like peanut-butter-jelly-sandwiches and owning a gun. It's possible because of available space in the car-parks of sporting grounds and because every American owns a car bigger than a European's house.
The beer is "Lite" so plenty can be consumed and the grills are hot and fiery, filling fanboy bellies before stadium entry. The tailgate party is the necessary pre-game festivity. In the Arrowhead car-park there are grills fired-up, steaks being flipped, burgers being chomped, sausages squealing and hotdogs being popped. Beers are chugged and pre-game drinking games are well under way.
What begins in the parking lot is taken inside during game time. I'm told to consume as much as humanly possible, because beer inside the stadium is $8.00 and a small bag of peanuts $5.00. I oblige and consume six turkey rolls, a bag of Lays Hickory crisps (chips), some pasta salad, a Hershey's chocolate bar (Cadbury's has nothing to worry about), red and green fizzy laces, two Kronenbergs, two Bud Lights, one Rolling Rock and a can of Miller High Life ("The Champagne of Beers"). I play a game involving red and blue balls, sit-down, stand-up, mix with Raiders fans, put on my silly supporter hat, take some photographs, inhale the smell of steak and sausages from seventy-six-thousand barbecues and study the array of fanmania in the frenzy of Chief silliness.
During the game men boom their voices until they cry, and women scream as if caught in the thrusts of orgasm. A six-year-old boy sitting behind me wearing Chiefs paraphernalia and sporting a blonde mullet that he parents must be making him wear as punishment, screams like a car alarm, "RAIDERS SUCK!!!" His father pats him on the back, "FUCKING YEAH, BOY! Y'ALL GOT IT", and encourages him to bellow louder. Next to me a fat man in a XXXL Chiefs jersey, who looks like an obese tomato, sighs as loud as a gorilla breaking wind.
The Chiefs are being hit hard on the field and fall like dead birds. Passes are intercepted and fakes and trickery read, as if discussed with the opposition prior to kick-off. The Raiders don't look great but they're playing better than the Chiefs, and that's enough.
Just when the Chiefs look set to attack, there's a stop in the play. This happens every few seconds resulting in a 60-minute game lasting over three-hours. Just as the action heats up, a whistle is called to stop play or yellow flags are thrown on to the field. At half-time the young-little-bendy cheerleaders rush on to do their thing, followed by a procession of veterans with their families who are introduced to the crowd to rapturous applause and then a cowgirl on a horse strides the length of the field waving a giant flag in between a gazillion announcements. There's no explanation. It's a circus. An orchestrated jamboree with everything impressing except the home team's performance.
The man in front of me has his head in his hands and the couple next to him get up and leave in frustration, before fourth-quarter. Perhaps they're protesting $5.00 peanuts? These are upset fans. Angry fans. Lifelong supporters wondering what the hell is coming next.
Next was a home victory against the Panthers and a player murdering an innocent and then himself. Where does this leave the Chiefs? Where does it leave the affected families, the supporters, the city? Well, it's Cleveland Browns on Sunday 9th December. Time for an investigation to begin, questions to be asked and a team in rapid decline to put their heads together and pull through. To run faster, throw further and hit harder. Tailgating will continue, but will the team bounce forward from here?
SUBSCRIBE AND FOLLOW
Get top stories and blog posts emailed to me each day. Newsletters may offer personalized content or advertisements.
Learn more