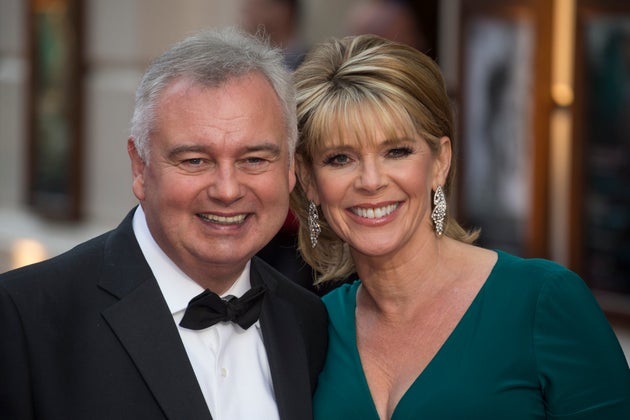 "We were in Leicester Square and she went to a cash point, and the machine spat our her card or ate it or something, she got all flustered and the shock caused her to drop her purse.
"It all fell on the ground on Leicester Square, and she bent down, all flustered. I remember this because it brought out a protective instinct in me.
"I bent down, and I told her, 'While you're with me, you won't have to worry about this ever again.'
With perfect timing, Eamonn adds, "And, judging by my credit card bills, she took me at my word."
The pair enjoy a bantering relationship both on TV and off, and Eamonn says that laughter is the backbone of their connection, although the presenter reveals one viewer annoyed him by completely missing the point of their bickering.
"I was annoyed when someone said in a Q&A session recently, 'You so disrespect your wife, how does she stand you?'
"I exploded. I josh with my wife, she has a sense of humour, and some people, usually old men, think that's terrible. But I think what a boring twat they must be not to have that banter.
"I don't understand people who can't have a joke. If you watch Ruth and I long enough, there'll be a lot of laughter. That's who we are."
'It's Not Me, It's You' begins on Thursday 23 June at 10pm on Channel 5. Tap the first picture below to open the slideshow:
Accidental Daytime TV Swearing
SUBSCRIBE AND FOLLOW
Get top stories and blog posts emailed to me each day. Newsletters may offer personalized content or advertisements.
Learn more