Look left, a heavyweight boxer dances in the corner to the rhythm of his every punch. Look up; a young artist sketches the grandiose image of angel wings onto a scaffold canvas. Listen, to the voice of the disillusioned youth through the spoken words of a blinged up poet. On the eve of the London mayoral election this was the scene at Broadwater Farm, where over 400 guests from the local community gathered to celebrate film-making and youth culture with The Other Cinema and their screening of the revolutionary film La Haine.
The Other Cinema is another branch of Future Cinema, the experiential production company behind Future Shorts and Secret Cinema. Through this 5-day tour that began in Tottenham and ends in Paris on the eve of France's 2nd round of presidential elections, they are building a platform for communities across the world to connect and creatively engage on important debates through the medium of film.
So with the memory of last summer's riots still fresh in our minds, Tottenham was more than a fitting location for the presentation of this cinematic picture of rebellion, and in turn gave the locals something more positive to rally together for. Even La Haine's director Mathieu Kassovitz voiced his support for the choice of location, in a visual prologue to his film:
"The choice of Tottenham for the first screening is a symbolic one; youth are still at a loss in this globalized political world and don't have any other voice to be heard than violence..."
A gripping concept, but this event was more than a comment on the pitfalls of society and politics. It was a platform to showcase the talents of the community; getting the young and the old to not only work with The Other Cinema production, but to channel their energy into creating a short black and white film of their own design on the subject of Hate.
With a little help from Future Shorts, Buddy London production company and Revolver Entertainment, 3 young filmmakers from the Broadwater Farm community wrote, produced and directed their own short film over 2 weeks. One in particular stood out in my mind for its simple yet surprisingly brave narrative.
This was Max Witting's 'Cross Over', a story of a young boxer and his best friend which went on to win the prize that will see it screened before audiences at 11 participating Other Cinema network partners, from Estonia to France and distributed through Future Shorts network of community cinemas.
After watching these short films, a quirky music video and performances from local artists and break-dancers, the community presence swelled with appreciation and awe for the talent being showcased. And I too, felt the pleasure of being a part of something so culturally significant for such a deserving group of people.
That feeling only intensified with the special appearance of London based rapper, poet and journalist Akala, who went on to deliver some of the most intelligent and resonant acapella rhymes I've heard in a long time. The Black Shakespeare has never been more of a fitting moniker for Ms. Dynamite's younger brother.
With such a build up to the main feature, I couldn't have been more inspired and ready to watch the classic French film that has eluded my viewing for far too long. And with the Asian Dub Foundation in place to soundtrack the feature, the opening scenes of riots, youth violence and police brutality played out to the sound of hard ragga-jungle rhythms, indo-dub basslines and searing sitar- inspired guitars.
For 98 mins ADF's live score overlaid the French dialogue and action leaving the audience with only the subtitles and actors to guide you through the intense story. Altogether, a reimagining of the live orchestra and silent film presentations for the modern, urban age.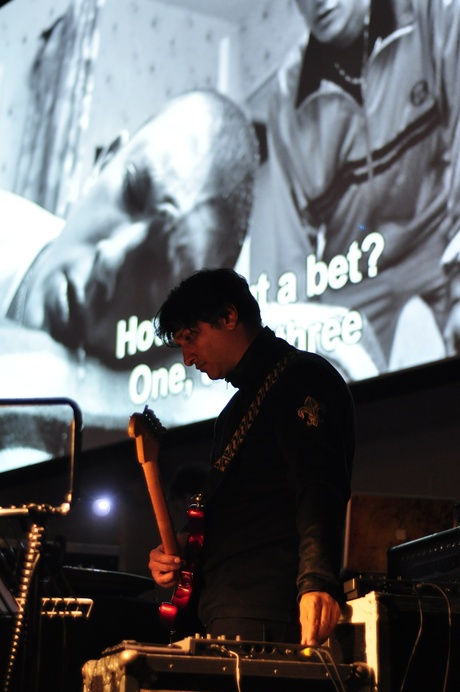 But, although I celebrate The Other Cinema for pushing the boundaries of the cinematic experience, the live score felt overwhelming and proved detrimental to my enjoyment through ADF's rigorous attempts to reflect the tension and emotion in each scene. At times I struggled to decipher which subtitle went with which character's voice, like I was in a nightclub watching a classic film play out behind the bar whilst I wait for my drink.
Maybe it wasn't Future Cinema's most successful presentation, but this partnership with the Broadwater Farm community was triumphant in giving the people a chance to express themselves through an avenue normally closed off to them. Filmmaking is now an open platform for the local people, and it is admirable that The Other Cinema, will continue to support them in this endeavour.
SUBSCRIBE AND FOLLOW
Get top stories and blog posts emailed to me each day. Newsletters may offer personalized content or advertisements.
Learn more