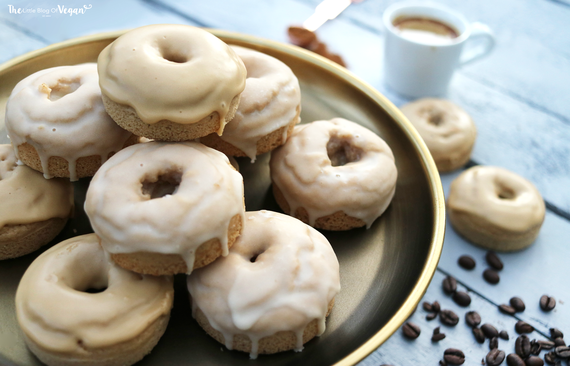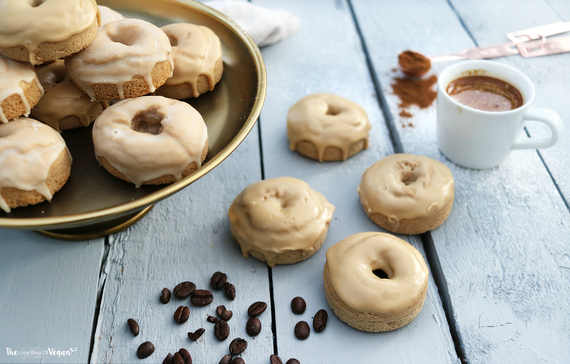 These doughnuts are extremely moorish and flavoursome enough to be served as christmas/party treats!
They are wheat-free and gluten-free. I used 'Doves farm' self raising flour as this helps the doughnuts to rise.
They are a moist, mildly spicy and ideal served with some fresh coconut cream. Even writing that is making me hungry! yum!
Preparation- 5 minutes
Baking time- 15-18 minutes
Makes- approximate 18 mini/medium sized doughnuts
...
Dry ingredients
-2 cups of gluten-free self raising flour (I used Doves farm)
-1 & 1/4 cup of fine caster sugar
-1/4 teaspoon of ground ginger
-1/4 teaspoon of ground nutmeg
-1 teaspoon of ground cinnamon
-2 teaspoons of baking powder
Wet ingredients
-1 & 1/4 cup of unsweetened soya milk
-1 vegan egg (I used VeganEgg)
-1/4 cup of dairy-free margarine
-2 teaspoons of vanilla extract
Coffee glaze
-1 cup of powdered sugar
-2 & 1/2 tablespoons of brewed coffee
-Pinch of espresso powder
Vanilla Glaze
-1 cup of powdered sugar
-1 teaspoon of unsweetened soya milk
-1 teaspoon of vanilla extract
...
To make the doughnuts
Step 1- Pre-heat the oven to 180 degrees and grease your doughnut tins.
Step 2- In a large mixing bowl, mix together the dry ingredients.
Step 3- In a small saucepan over a low heat, melt the margarine until smooth.
Step 4- In a separate bowl, mix together the vegan egg, melted margarine, soya milk and vanilla extract until smooth.
Step 5- Pour the wet mixture into the dry mixture and mix until fully combined.
Step 6- Add the doughnut mixture into a piping bag, fitted with a round tip nozzle and pipe into the tins, until 3/4 full.
Step 7- Pop the trays into the pre-heated oven and allow to bake for 15-18 minutes.
You will know they are done when you put a knife or skewer in and it comes out clean.
Step 8- Place the doughnuts onto a cooling rack and cool fully before glazing!
To make the coffee & vanilla glazes
Step 1- In a mixing bowl, combine the icing sugar and coffee until smooth and shiny!
Repate to make the vanilla glaze using the vanilla ingredients.
Pop into the fridge to set for 5 minutes.
Step 2- Dip the doughnuts into the glaze and place back onto a cooling rack.
This is the time you can decorate your doughnuts with nuts, coconut curls, coffee beans, cacao nibs, coffee powder...anything you fancy!
Step 3- Pop the tray in-to the fridge for 5 minutes, to allow the glaze to set.
Store is a sealed container to keep fresh & delicious!
SUBSCRIBE TO & FOLLOW UK LIFESTYLE