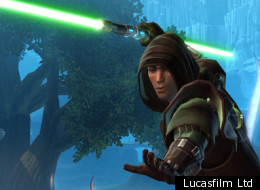 Many great games (and some not so great) have appeared across all the systems this year, some launched with public frenzy or huge media campaigns (I'm not sure if anyone is unaware of Call of Duty: Modern Warfare 3's release).
 
However some games don't have their own hype machine for every Uncharted there's an El Shaddai.
Here are 11 games you may have missed this year and should look out for if you need something inbetween those killer Skyrim or MW sessions, they might not be AAA but they are quality titles.
 
El Shaddai: Ascension of the Metatron is a fantasy action game that will draw players into a rich storyline inspired by events in the Old Testament's apocryphal Book of Enoch. More then just a action game El Shaddai: Ascension of the Metatron is a gorgeously crafted game with platforming elements. I almost cant put into words how great this game looks, with some sections in water colour or cel shading, this is one beautiful game. Lucky the beauty is more then just skin deep with a very unique game where you must use holy weapons you cleanse from your enemies , El Shaddai offers something different to the many games out there and is worth one heck of a long look.

Alice: Madness Returns is a twisted take (isn't that the best kind) on Alice in Wonderland which sees Alice struck by an hallucination and believes herself to be in Wonderland. Shortly afterwards things take a turn from wonder to ruin and Alice is in the centre, working your way through this game you will see many familiar faces including the Mad Hatter, the Mock Turtle, the Walrus and the Carpenter, the Caterpillar, Queen of Hearts, and of course the Cheshire Cat. Alice: Madness Returns may be far from perfect but with a fantastically imagined vision of Wonderland it is defiantly worth a look.

Rayman may have taken a back seat to the Raving Rabbids in recent years but he is finally back in this delightful side scrolling game. Our favourite limbless hero returns and this time can be joined by up to 3 friends. Rayman: Origins sees Rayman venturing across levels taking on the Livid Dead, this charming platformer(properly the best not called Mario) is wonderful to look at and even better to play with little breaks to keep everything fresh it is one impressive title. With its four player co op (ala New Super Mario Bros) really is worth a shot if you and some friends want to adventure together.

Shadows of the Damned is a third person shooter brought to you by collaboration of legendary game designers Goichi Suda aka Suda51 and Shinji Mikami. Combining their different styles Shadows of the Damned balances strong gameplay with artistic delights to create a mesmerizing experience, that will offer humour and rich experience to any who dare to try it.

Cole MacGrath's latest adventure didn't quite get as much attention as it deserved with I'm sure most purchases of this game just so gamers could get their hands on a Uncharted 3 Beta code. But inFamous 2 is more then just a game bundled with access to Uncharted, but a very enjoyable experience in its own right, getting to be a hero or anti hero is really gives the game at least two playthrough's , morality may not have as much impact as other titles out their but it does enough to let you feel you are choosing your destiny.

BloodRayne Betrayal puts you in charge of half-vampire vampire hunter Rayne and a new ally take on a new group of evil vampires. May not be a classic (neither where the original titles) but with a highly stylised look and who doesn't enjoy some good ol 2D and with all the chance to be the one biting vampires for a change, BloodRayne Betrayal is an enjoyable downloadable title if you can pull yourself away from a AAA game or just fancy some nice side scrolling action(I'm aware many of these games where side scrolling this the last one honest)

Being on the Wii may of attributed to this great game going by unnoticed by some, but Xenoblade Chronicles is one amazing title revitalising the J-RPG, this perfectly paced role playing game is one any gamer who just has a Wii for those party games since "it has no serious titles" really needs to check out. With great visuals and story not to mention the amount of things to do, Xenoblade Chronicles is truly a marvel that needs to be bought just so developers know we appreciate games that are not just sequels.

Catherine is a thrilling action adventure game from Atlus, that is quite unlike anything you have likely of played before. With more adult theme Catherine has unique feel about it but don't let that fool you under the anime style outer shell hides a truly interesting game with an deceptively difficult puzzles, for those looking for something a little different then killing stuff Catherine is one to try.

Ok I lied here is the last side scrolling game, Outlander is another example of a high styled side-scroller, following Braid which widely considered one of the great gaming experiences on the current generation of consoles, and Limbo (a candidate for this list if you somehow misses this amazing game) with its twisted atmosphere and wicked aesthetics. Simple enough story poor man who is suffering from a fatal disease and, out of options, hears of a cure at the center of a dark, dangerous jungle, like I said simple but that is all you need to start you off on one exciting adventure.

The Witcher 2: Assassins of Kings is the sequel to developer CD Projekt's mature-themed fantasy role-playing game based on the works of author Andrzej Sapkowski. The Witcher 2 is the sequel (the whole two part may of given it away) of The Witcher a much acclaimed 2007 title. With moral choices a plenty, level uping and an engaging story which you shape The Witcher 2 is a beautiful title that all should try and with the announced console version for Q1 2012 hopefully a lot more will.
Follow Jamal Wright on Twitter: www.twitter.com/JamalWrightGDE