It is a a wet and windy Tuesday night on the banks of the river Clyde. Showers of rain keep coming down without any sign of abating, drenching hundreds of loyal Dumbarton fans who have made their way to the Cheaper Insurance Direct stadium. Queen of the South have also furrowed a 95 mile line north from Dumfries for the Scottish Championship game expecting to roll the home team over. Dumbarton understand that having a rich history dating back almost 150 years is not usually enough to beat teams superior in finances and budget in the struggle that is the second tier of Scottish football.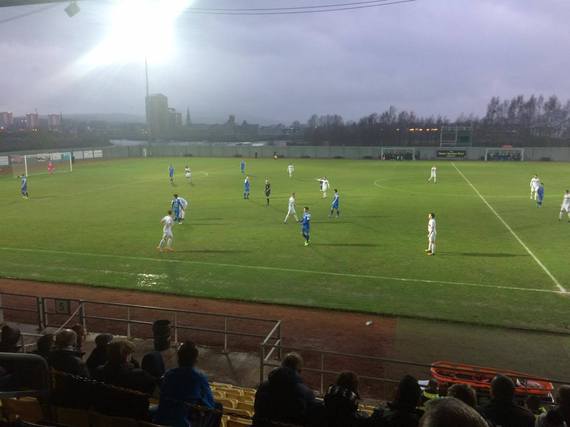 Dumbarton hold the unfortunate record of being the only former champions of Scotland to have not appeared in the current top division, the SPL. It is looking like this season will end in another safe mid table finish with fans understanding the might of a resurgent Rangers FC were always going to dominate. Yet this evening the focus is on Queen of the South. As the sun light fades along the Clyde and air temperatures drop the small 2000 capacity stadium bellows out it's finest "Dumbarton, Dumbarton, Dumbarton" as the players take to the field. 5 hours south of here by train Manchester City entertain the might of Paris Saint-Germain. Two oil rich Arab owned teams living a fantasy far away from the struggles of semi-pro football in Scotland. Ironically it is a Parisian who dominates the game on a night when Paris and Manchester are far from the minds of Scotland's loyal fans. Christian Nade a former Sheffield United and Hearts player grabs the game by the scruff of the neck scoring two stunning goals and driving his team forward. Dumbarton eventually win 4-2. Alongside Nade are factory workers, fathers and husbands who by day work 40 hours a week to put food on the table and one night or noon get to add a few hundred pounds more to their monthly income by playing for a team they love.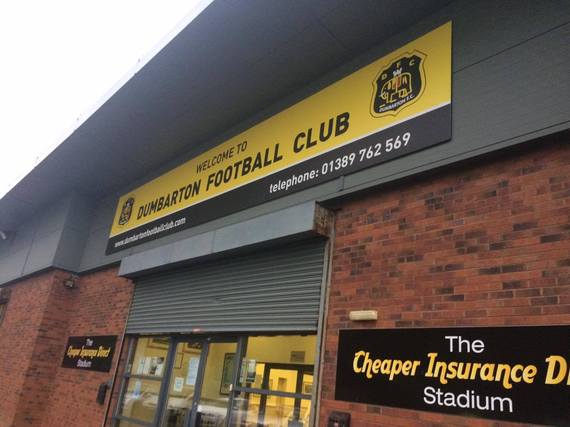 There are no big cars in the car park, Range Rovers and Ferraris, there is no hair styling or dramatic diving. This is football in it's purest form. 22 men hoping to out wit each other with a ball and passion. Dumbarton's players are journeymen who have plied their trade in the lower leagues of Scottish and English football for often just 300 pounds a week. Tonight they are applauded off the field at half time and full time. Worshipped by the fans young and old who have sat in the shadows of the 18th century castle that stands sentinel like overlooking their proud little stadium. Sitting amongst those fans are brothers Alex and Ian Couper whose company Cheaper Insurance Direct have committed thousands of pounds to sponsoring their hometown team. The yellow and black logo hangs over the outside and inside of the stadium with Alex acknowledging it is a decent amount of money to hand over but then this is his team and it belongs to their community. Scottish football critics are concerned that teams like Dumbarton with a semi-professional structure struggle against bigger teams with bigger pockets attracting bigger names. However the underdog won on April 12 2016.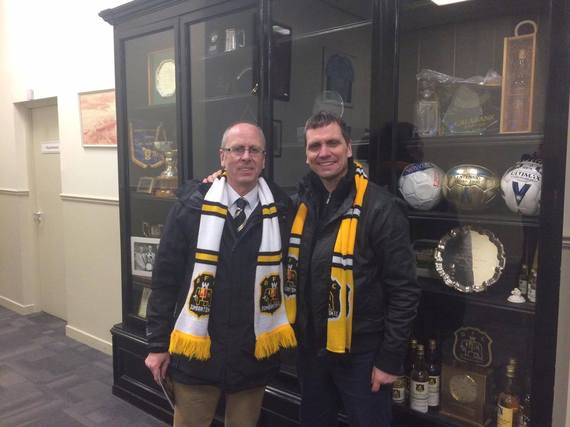 Dumbarton know they will not attract big name players, they understand they cannot compete against their namesake, The Championship in England who despite being the second tier of English football is amongst the 5 richest leagues in the world. Yet tonight is about Dumbarton "The Sons of the Rock", as 45,000 fans empty out to the sounds of the Champions League theme song in Manchester a few hundred happy Scots sing their own way home on the banks of the river Clyde knowing no matter what, this is their team and they have the history to prove it.
Full video report at following link: https://www.youtube.com/watch?v=AvM4C5rRgSY
SUBSCRIBE AND FOLLOW
Get top stories and blog posts emailed to me each day. Newsletters may offer personalized content or advertisements.
Learn more