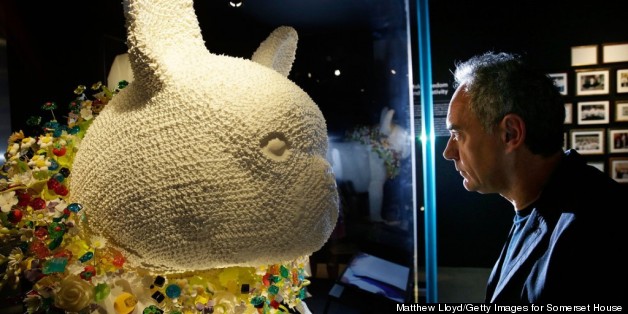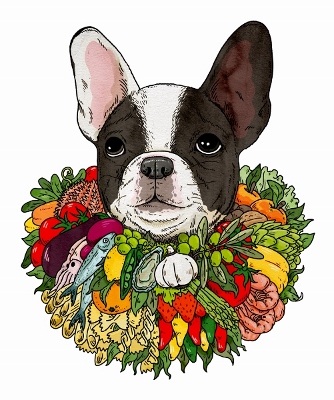 All I personally know about elBulli is that, up until a year ago, this restaurant was in top position on the list of best 50 restaurants in the world. I certainly had never experienced eating there; but I had heard about it and its avant-garde approach to cooking. The few people I know who had exprienced and written about elBulli, discussed the restaurant in hushed tones. Almost as if they were not talking about cookery at all but about art. And part of this magic is the location. Cala Montjoi is a hide away on Catalonia's Costa Brava that is imbued with rugged beauty. As my personal interest in food is growing, I decide to visit the newly opened exhibit at Somerset House in London.
At the entrance to the exhibit are dozens upon dozens of magazine covers featuring Ferran Adrià himself. This being the age of celebrity, the head chef's name is synonymous with the stature of a famous restaurant, particularly a restaurant as famous as elBulli.
@Matthew Lloyd/Getty for Somerset House
There is also an enormous French Bull Dog, about 5 ft. tall, created out of hundreds of tiny meringues normally used for cake decorating. The beautiful coloured collar around this dog's neck appears to be made out of sugary dyed confections.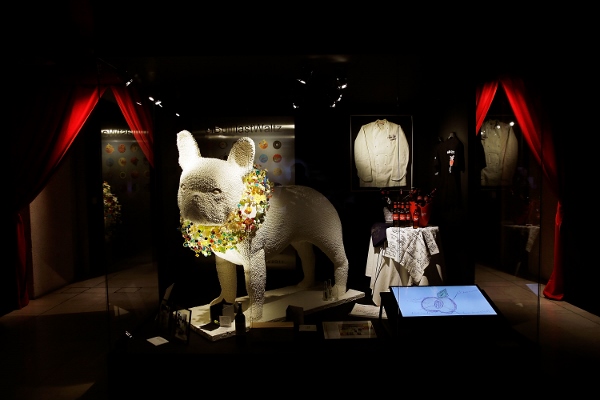 @Matthew Lloyd/Getty for Somerset House

What draws my attention immediately is the re-created dessert/chocolate/petit fours box that would have been presented after the main meal to the delight of customers. It consists of 17 different items. Far to many to list here, but I have included them at the end of the article *.
To have a selection of miniature treats as diverse as this is quite over the top. During its heyday, a customer would have been served 35 dishes over a period of three hours. A gastronomic experience as opposed to a meal.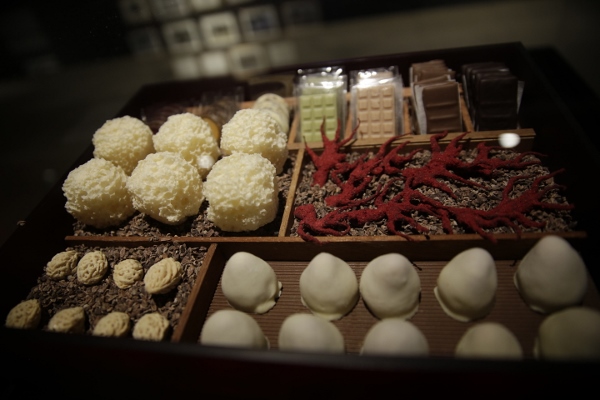 @Matthew Lloyd/Getty for Somerset House
The name elBulli was based on the pet name given to Marketta's French Bull Dogs. Marketta and Hans Schilling were the owners of the Cala Montjoi property in Catalonia and opened the original restaurant in the 1960s. What started as a grill bar with miniature golf and apartments, grew into a restaurant that would ultimately garner world fame.
Ultimately, the style of cooking at elBulli would end up being revolutionary. The sophistication and gastronomic genius of its head chef was becoming known back in the 1980s. It was when Ferran Adrià and Juli Soler bought elBulli from the Schillings in the 1990s, that a new, avant-garde style of cooking began to emerge. When the 50m2 kitchen was deemed to be to small, an enormous 325m2 kitchen was installed with the latest and best technology available at the time. It was shortly thereafter, in 1994, that the many inspirational trips to France led to the new approach that questioned everything previously taken for granted. The priority was now to create concepts and an 'experience', not just dishes. The Textured Vegetable Panaché became a seminal moment for the restaurant.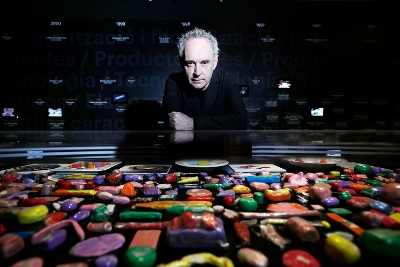 @Matthew Lloyd/Getty for Somerset House
On watching the video that can be purchase at the exhibit, (an important accompanying document) I am fascinated by the military precision with which elBulli was run. It is not surprising to discover that Ferran Adrià began cooking while doing military service in Cartagena and was working in the Admiral's kitchen.
In the introduction written by Gwyn Miles, the Director of Somerset House to the eBulli exhibit, he notes that academics have been relatively slow to study the subject of cooking. I think this is true and partly due to a degree of sexism in current Western thought. After all, cooking is still considered 'woman's work' in the minds of a great many people.
I am sad that elBulli has closed and I will never be able to experience this exceptional restaurant. However, the baton has been passed on to another eatery in Gerona not far from Cala Montjoi. The new Number one restaurant is El Celler de Can Roca. Perhaps I will get lucky and be able to get a snag a table reservation before 2014. You never know.
elBulli, Ferran Adrià and The Art of Food, in partnership with Estrella Damm, is running until 29 September 2013 at Somerset House. Cost is £10/£8 concessions. Open Daily.
* list of petit fours in the chocolate box:
1. Black sesame rocks 2009
2. Chocolate and feuillantine tuile 1992
3. Mandarin and toffee bonbon 1994
4. Toasted peanut with chocolate croquant 2008
5. Green pistachio with milk chocolate croquant 2008
6. Chocolate coral 2005
7. Strawberry-LYO with chocolate 2006
8. Raspberyy-LYO in chocolate 2005
9. White chocolate and cocoa mimetic peanuts 2010
10. Coconut macaroom-LYO 2010
11. Peach bones-LYO melba 2011
12. Choco-air 2007
13. Palet-croquant: raspberry, chocolate and hazelnut
14. Palet-croquant: passion fruit, chocolate and hazelnut 2005
15. Soy sauce wafer 2009
16. White chocolate and matcha tea bar 2008
17. White chocolate, strawberry and yoghurt bar 2008
SUBSCRIBE AND FOLLOW
Get top stories and blog posts emailed to me each day. Newsletters may offer personalized content or advertisements.
Learn more